Canon imagePROGRAF PRO-1000 Photo Printer Empowers Professional Quality Printing at Home
The Canon imagePROGRAF PRO-1000 is a professional photo printer and arguably the best printer a photographer can buy. Your images can look every bit as good on your wall as they do on your monitor when you control the final creative output and use the right equipment.
Online printing services are great—some we use are definitely world class. But having a print made is not the same as making a print. If you need an odd size or some special print stock like metal or wood, online is your best choice. If you need several copies of the same print, you can't beat online printers for speed or cost. But when it comes to expressing your creative vision, in a version that's 17-inches or smaller, you'll be happier if you print it yourself.
Canon's imagePROGRAF PRO-1000 is a Wi-Fi enabled, 17-inch wide-format professional printer that utilizes 11 ink colors plus Canon's renowned Chroma Optimizer. Canon acknowledges it as "…one of the best printers we've ever engineered" and differentiates it with a bold red line near the bottom of the front.
It All Starts With the Inks
Canon's professional printers use the Canon LUCIA PRO 11-color pigment ink system, plus Canon's Chroma Optimizer cartridge. The system delivers denser droplet placement which provides broader color gamut. Enjoy accurate color reproduction, exceptional image clarity and enhanced detail. The LUCIA PRO-11 inks also deliver deeper black tones thanks to an all-new Photo Black ink, and use newly formulated blue and magenta inks to render colors with greater fidelity.
Canon's Chroma Optimizer is flat-out amazing. In a nutshell, it fills in the bumps between ink droplets thereby levelling the ink droplet height and enhancing the glossiness and flatness of the print surface. By doing so, it expands the color gamut and enhances the density of black. It also suppresses the Bronzing Effect that can severely degrade the appearance of predominantly black & white prints.
About the Black Ink
Without the right Blacks, you cannot create an accurate image. Canon's new Photo Black enables the perception of deep, clear details. And you won't waste ink (or time) like you might with other brands of printers because it's not necessary to switch black inks. The imagePROGRAF PRO-1000 works seamlessly when changing media types; Matte Black and Photo Black inks have their own dedicated nozzles, so you can print on thick fine art paper then thinner glossy paper without unnecessary interruption.
Canon uses proprietary FINE technology. FINE stands for "Full-photolithography Inkjet Nozzle Engineering" and it produces faster print speeds with less clogging. Because this is a professional printer, ink activity is monitored with micro sensors. If a clog is detected, another nozzle automatically provides backup. This feature prevents wasted prints due to clogging and reduces the need to clean nozzles.
Some Amazing Numbers
There are 18,432 nozzles (1,536 nozzles x 12 inks) and sensors that continuously monitor status. Ink droplet size is 4 picoliters per ink. A picoliter is one-trillionth of a liter. One trillionth is a lot to get your head around; according to online sources, $1 million in single one-dollar bills make a stack about 360 feet high, whereas $1 trillion worth is nearly 68,000 miles tall. Keep this thought when you read about government spending.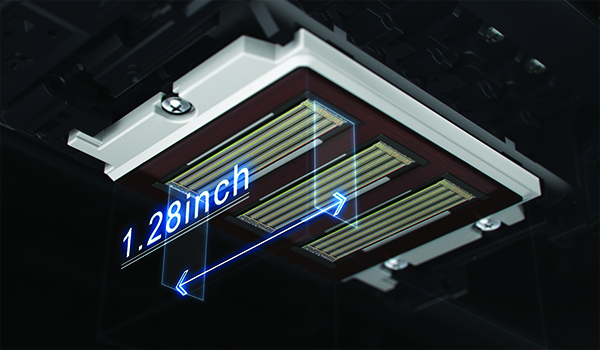 The Canon imagePROGRAF PRO-1000 Photo Printer features a print head that is 1.28-inches wide for faster printing. Typically it can produce a 17 x 22 inch bordered photo in around four minutes, and a 13 x 19 inch in about two-and-one-half. These are approximate times since image composition determines print speed to a large extent. Print resolution for color or black-ink-only is up to 2400 x 1200 dpi.
Paper Stays Flat
Handles paper up to 17 inches (43.2 cm) wide and 23.4 (59.4 cm in length). Vacuum openings at the top of the platen grip the paper as it feeds through the Canon imagePROGRAF PRO-1000. The Canon Air Feeding System prevents side-to-side and corner-to corner movement (skewing) and maintains a constant distance between the print head and the media. This also means that you can use thick and thin paper without misfeeds or redos. I'll bet you never even thought about the absolute need for precise and consistent distance between the print head and the paper, did you?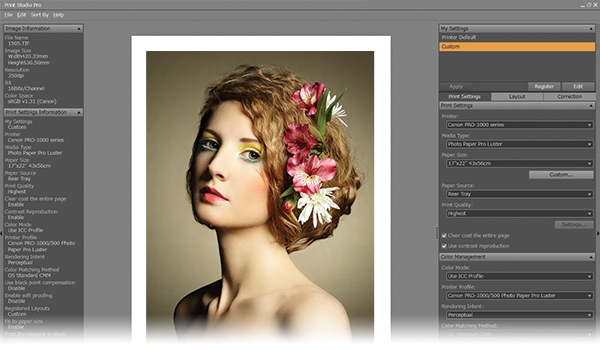 Included Software
Canon provides a potent plug-in called Print Studio Pro (V 2.0) to facilitate workflow. It enables features like soft proofing, 16-bit processing of images and integration with the Digital Lens Optimizer that's included in Canon's Digital Photo Professional (DPP) image software.
You also get an array of other hyper-useful applications, including Quick Utility Tool Box for access to all printer management tools and a Color Calibration Tool. The included Accounting Manager tallies every sheet of paper and the amount of ink that was used so you can easily track the costs of every single job.
Physicals
Tipping the scales at a nudge past 70 pounds, you won't be carrying this professional printer in your pocket. The extra weight dampens the minute vibrations caused by moving parts and provides a steady platform for the printing process. Despite its weight the desktop footprint is remarkably small, extending just 28.5 x 17 x 11.2 inches (72.4 x 43.2 x 28.4 cm).
The Downside
You are going to create so many outstanding prints that you'd better get a few more walls to hang them on. Seriously, learn to matte and frame 17 x 20 inch prints and get yourself a kiosk at the next farmers' market or street fair. There go your weekends.
Price and How To Buy
The Canon imagePROGRAF PRO-1000 Photo Printer costs $1299 and can be purchased from your local photo dealer or ordered directly from Canon. It's also available from Amazon (check for pricing).
—Jon Sienkiewicz
(As an Amazon Associate, Shutterbug earns from qualifying purchases linked in this story.)
FEATURED VIDEO