Canon imagePROGRAF PRO-2000 24-Inch Photo Printer Review
About a year back I reviewed the first of the "red line" Canon imagePROGRAF printers, the PRO-1000 (you can see the review at this URL: http://bit.ly/2gdZwqJ). Selling for around $1,300, this desktop, 17-inch cut sheet model passed my tests with flying colors and remains my main printmaking system to this day.
At the time of the PRO-1000 launch, Canon promised to bring out a lineup of larger width, roll paper-based printers that would follow up on the "red line" theme, i.e., enhanced inks and printer driver workflow, upgraded print head, anti-clogging nozzle technology, and more. (Incidentally, the red line design element on these printers is borrowed from Canon's L-series lenses, which the company says is indicative of high-end build and quality.)
One thing the PRO-1000 lacked was a roll paper adapter and while this didn't stop me from making the most of what it had to offer, it might have given pause to those who look to make larger print editions or whose work required higher capacity runs, such as pro photographers (and the labs that service them) who want personal print control for their portrait, commercial, and fine art work.
Canon fulfilled their promise with a lineup of four roll paper printers, including the new imagePROGRAF PRO-2000, the subject of this review. As I found out, anyone who works or worked with the PRO-1000 and moved up to the PRO-2000 should feel right at home.
Features
At $2,995 MSRP, this 24-inch paper width printer is clearly aimed at pros and pro labs and a select group of well-heeled enthusiasts, especially those who want to make large prints from their high-resolution Canon EOS—and other—digital cameras. In fact, the PRO-2000 marries Canon's DLO (Digital Lens Optimizer) with the new printer's "Contrast Reproduction" preset, a vision Canon calls "Crystal-fidelity," which it had way back about joining their cameras and printers for enhanced image quality from end to end. The PRO-2000 uses the same ink set as the PRO-1000, and I refer interested readers to my PRO-1000 review for the description of the shared 11-color (and gloss optimizer) Lucia Pro inks.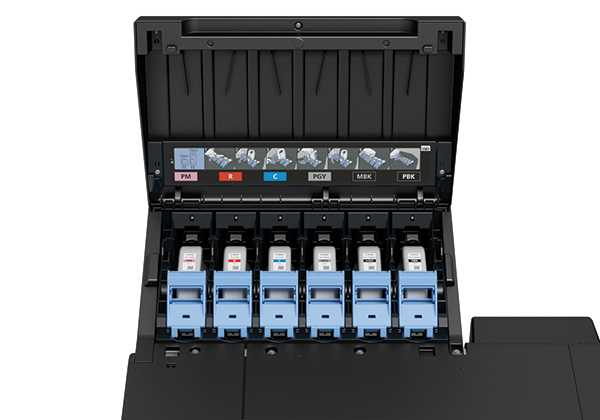 The PRO-2000 has a new, wider 1.28-inch print head, which means a wide-format model with only one head, not the usual two. Having one print head allowed Canon to make this unit "smaller" than might be expected in a 24-inch model; an added benefit is that print throughput is faster than working with two heads. According to Canon, the head has 18,432 nozzles of fixed size; this allows for any clog compensation and has an "auto-compensation" feature that reroutes ink to surrounding nozzles when needed. The printer's head is of the "thermal inkjet" type with fixed nozzle sizes and temperature control (as opposed to the electrical nozzle control in Epson's piezoelectric setup that uses an electrical charge to "fire" the nozzle; check the web for the gory details and the ongoing debate).
A multi-sensor aids in printer calibration to Canon and third-party papers. A bonus is that once you are calibrated to one Canon paper, quite a few others will be calibrated as well, as the unit figures out the deviation between, say, Pro Glossy and Fine Art Matte, including the "vacuum" setting (print flatness), head height, and the all-important profile.
If you use Canon paper and Printer Managed Color you will not have to struggle with calibrating and profiling; of course always check for updates. You can download ICC profiles from "third-party" papers since Canon sent those paper brands units to test months before the PRO-2000's rollout and most of the leading brands have those on their sites today. The Media Configuration Tool allows for what is known as a AM1 profile to be loaded as well (you may have to dig deeper in the third-party paper sites and do some additional linking), which sets head height, vacuum strength, and a host of other settings for both Canon and non-Canon branded papers. Canon's Printer Managed workflow already has those AM1 profiles loaded.
As to the PRO-2000's build, Canon Product Planning Senior Manager of the Large Format Solutions Division Brian Coombs, who walked me through the features and loading of paper rolls, informed me that the printer has a uniform, rigid frame to reduce vibration during printing and afford easy media feed.
Optional in the PRO-2000 (add $800 to the price) and standard in the 60-inch-wide models is a Multifunction Roll System, which means that users can load one roll with glossy and the other with any other surface, matte in my case. Like the PRO-1000, there is no ink switching required when going from one to the other surface and while printing I was pleasantly surprised at how fast the unit handled the switch. A further advantage is that the second of the rolls can act as a take-up unit for bidirectional rewind for long, uninterrupted print runs—in other words, you can wind the printed images onto a long take-up roll, which some printers will find advantageous. Otherwise, the printer smoothly cuts each print as you work and drops it gently into a catcher.
The PRO-2000 has three on-board processors and 3GB of RAM, which shifts the bulk of image processing from the host computer to the printer. In my tests, throughput was very quick and almost instantaneous with a click on the Print button. This means that image tasks can be queued with little lag time between initiations of subsequent prints in the queue after the first in line is done. The processing engines handle the anticipated high-res data the printer will receive, and you can replace inks when needed mid-run.
There's a redesigned, 3.5-inch color touchscreen LCD panel, direct USB drive input, including thumb drive input for JPEGs and PDFs, and mobile connectivity for wireless LAN. Last but not least, Canon's Print Studio Pro software acts as a plug-in for Adobe's Photoshop, Elements, and Lightroom, and Canon's Digital Photo Professional software (for easy settings that will not be challenging to those with modest experience). For those who want to price their prints right, a built-in Accounting Manager tracks consumable costs. Speaking of inks, the 11 inks (and Chroma Optimizer) come in 160ml, 330ml, and, for power users, 700ml tanks, with prices being $97, $173, and $294 each, respectively. The Chroma Optimizer is $94, $166, and $283, respectively.
The Test
I chose to run the actual printing tests at Canon HQ in Melville, Long Island, to have a tech at hand for my queries and because the unit itself weighs over 200 pounds, not something I wanted to lug up and down the steps to my studio before and after testing when returning the unit. I selected monochrome and color images as well as some graphics. I printed through both Adobe Photoshop and Lightroom, my usual workflow, and chose images that ranged from full-scale monochrome to color-rich Adobe RGB graphics.
I loaded the printer driver into my MacBook Pro and Canon was good enough to supply a roll each of their Pro Premium Matte and Premium Semi-Glossy papers. Anyone who has used roll paper (and even those who have not) will find it quite easy to load: you use cores and spools and guide the paper into a take-up slot and initiate the wind. The profiles were already loaded in the printer. This meant that I could easily go back and forth between the two surfaces. I did this to test the "switch" time and it was minimal, thanks in part to the fact that there is no ink dump between the matte and photo black inks. It also automatically adjusted for head height, vacuum and ink distribution, a benefit of the "cross-calibration" of Canon surfaces described above.
While the size of the printer seemed at first a bit intimidating, the experience was akin to working with a desktop unit, albeit with many more nuances and controls. The interactive LCD unit could be used to switch to third-party media, assuming the calibration process (using the software in the unit) and profiles, etc., had been handled beforehand; once stored they are readily available and can even be shared in a shop, for example, between a number of printers. See the illustrations and captions for further comments and results.
Conclusion
My feeling is that a printer should act like a toaster—it is there to follow your instructions and should not stand in the way once you begin printing. But while a toaster only wants to know whether you want your bagel lightly toasted or crisp, this printer requires prep before you press the Print button. Clearly, the Canon imagePROGRAF PRO-2000 is neither aimed at nor recommended for the casual user, even those who will not blink at the price tag. To get the most from it, and it can deliver a lot, you have to be prepared to enter the world of calibration, profiles, and working to prep it for any tasks that you might want it to accomplish. Yes, you can work it like a desktop, but only if you put in the time to learn the myriad nuances to benefit from its many capabilities.
But having come in cold and spending only a couple of hours making prints, the PRO-2000 delivered a smooth and easy operating experience and excellent quality photo prints. Fine art photographers, especially those working with high-res cameras; pros wanting full control over their portrait and wedding work; and of course service shops printing for others will all appreciate what the PRO-2000 delivers. Once understood and applied, the features allow the printmaker to get to work and create images that display a clarity, richness, and quality unrivaled among large format printers to date.