Stocking Stuffers & More; A Happy Digital Holiday Page 2
DeNoise, Boss, DeNoise 5
DeNoise 5 noise reduction from Topaz Labs (www.topazlabs.com) is a no-cost upgrade for users of Version 4, so you should upgrade today! Many noise reduction methods utilize a range of subtle blurring techniques that remove detail as well as noise but DeNoise 5 recovers crisp detail while simultaneously removing up to four stops of noise. The plug-in uses IntelliNoise technology with a goal of making ISO 1600 photos look like they were shot at ISO 100 on a tripod. Like EPA mileage ratings, your experience will vary based on image and camera sensor but there's no doubt that DeNoise is a powerful tool.

Part of the plug-in's secret is the built-in presets; there are two kinds in DeNoise 5. Adaptive presets use noise estimation techniques to figure out the best settings for your image but sometimes require tweaking for best results. Camera presets are noise reduction settings fine-tuned for a particular camera at a particular ISO, such as a Canon EOS 5D Mark II at ISO 3200. These appear to be extremely accurate, work well for batch processing, and, because they are created for specific camera/ISO combinations, produce great results. There's no more fiddling with sliders or trying out different setting combinations.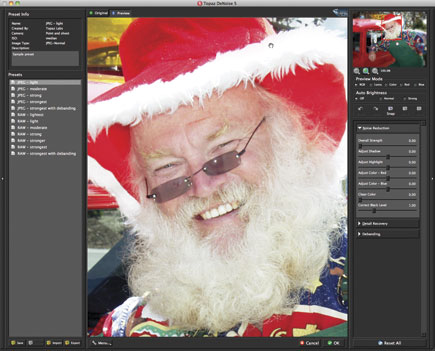 © 2010, Joe Farace, All Rights Reserved
Firefly For Speedlights
For the location photographer, speedlights eliminate lugging around heavy monolights or power pack and head systems. In addition, because of a speedlight's links with a camera using Nikon's i-TTL or Canon's E-TTL, it makes creating great-looking images easier. The Aurora Firefly Beauty Box (us.boothphoto.com) combines the function of a compact umbrella and a light bank in one clever package. Everything you need, except for the flash, comes in a compact (6x6x12") tote for $199. Assembly is simple and only slightly more complex than any photography or rain umbrella that you've ever used. When assembled, the Firefly Beauty Box has a 20" diameter. You install the speedlight on a bracket that looks a lot like every flash bracket you've ever seen but in this case holds flash and bumbershoot. The bracket lets you adjust the speedlight so its head is inserted into a ring that makes the Firefly function differently than most photographic umbrellas. Then you add the front diffuser which gives the Firefly its light bank function. The inside of the diffuser has a reflective silver circle at its center to eliminate hot spots while reflecting light back into and all around the Firefly to produce softer lighting. It's not an umbrella or a light bank but a hybrid of both that portrait and wedding photographers will find invaluable.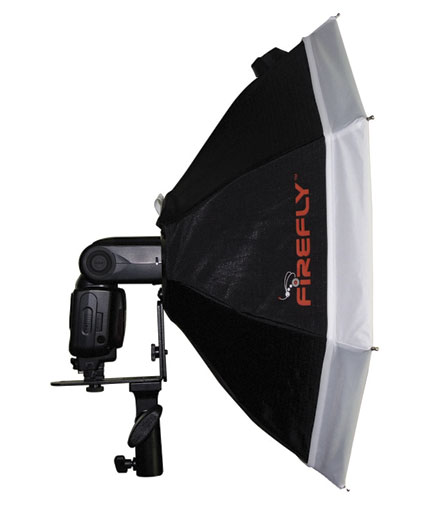 LATEST VIDEO