Freezing Time With Your Camera: Instant Memories From An SLR
"We all have our time machines, don't we. Those that take us back are memories...And those that carry us forward, are dreams."—H.G. Wells
I don't knOw if Mr. Wells would agree but I see a camera as a time machine that shows how people and places look at a particular point in time. Many people think they need to travel in order to make photographs, but if they took the time to look around they would discover photo ops are just around the corner. For 30 years my self-assignment has been making images near where I live. How close? I like making photographs that I can walk to from my front door but will stretch the rule to include car travel when confronted with irresistible subject matter. This self-assignment isn't done for any commercial purpose; it's just a way for me to show an appreciation of daily life that so many take for granted. It's personal projects like this that help us stretch our talents, skills, and imaginations. Give it a try and think of it is as digital yoga.
Plug-In Of The Month
Alien Skin Software's Exposure 5 is powerful monochrome conversion software that lets you produce accurate film simulations while adding a range of creative effects. Wrapped up in a redesigned and easy-to-use interface, Exposure 5 can also be launched as a stand-alone application, which can be useful in a workflow that doesn't support plug-ins. This latest version includes controls for emulating color or black and white so you don't have to switch between modes or, as in previous versions, separate plug-ins. It's all one happy family.
Exposure 5 lets you apply the look of discontinued films, such as Kodachrome, Polaroid, and Panatomic-X, classic darkroom tricks, and "lo-fi camera quirks"—think Holga. The plug-in contains hundreds of presets that can be applied with a single mouse-click, helping you achieve a specific look quickly; a new visual preset browser shows how each preset will look when applied. There are separate controls for adding borders, dust and scratches, and light leaks. A new Randomize option lets you explore multiple variations of a particular look. The darker-toned interface minimizes distractions and preset and editing panels can be hidden to further remove distractions, allowing more on-screen space for the photograph you're working on. Exposure 5 works with Adobe's Photoshop and Lightroom, as well as Apple's Aperture, and costs $199. Owners of previous versions can upgrade for $99.
Protect And Serve
It doesn't matter if you're an expert or a novice photographer, we end up lugging a lot of expensive and fragile gear so it's more than a good idea to protect it while traveling. When people think of Pelican and cases, the Pelican ProGear S130 Sport Elite Laptop/Camera Divider Pack is not the image they conjure up because part of it is constructed of rip-stop nylon. This high-tech, top-loading, TSA-ready backpack features a protective divider that protects a camera body, lenses, and flash gear. There's also a built-in watertight and crushproof case for laptops, tablets, or other accessories. The ProGear S130 measures 18.5x13x10" and has a nylon chest clip with a removable hip belt to help with balance and load distribution. I've seen it for sale for around $260.
I am not a fan of the SD card format but my Micro Four Thirds cameras and more and more of my SLRs use these little Wheat Thins-like memory cards that I have a tendency to lose. One way to keep track of them is with a secure storage case and lately I've been happily using Pelican's 0915 Memory Card Case. It's made of tough polycarbonate resin and holds up to 12 SD cards, six mini SD cards or six micro SD cards. The 4.79x2.25x0.55" water-resistant liner absorbs shocks and further protects the SD cards from damage. Shutterbug advertisers are selling these nicely crafted cases for $18 in basic black.
Mirror Or Monitor?
Back in the day, many studio photographers would set up a full-length mirror in their camera room so their subjects could see what they looked like during a portrait session. Today, many of us just show the subject what the image looks like using the LCD on the camera's back. The downside is that if you want to continue from that point in the session the mood is often broken and I've found it's difficult if not impossible to get the subject back into the same pose.
Enter the Marshall M-CT6 camera-top monitor. If you use the included hot shoe camera mount adapter and place it facing the subject they'll be able to see what the camera sees. Or you can mount it on a light stand closer to them, mimicking the way mirrors were used, but without the parallax problems. The Marshall M-CT6 costs $359.95 and is a lightweight 6.2" 800x480 LCD monitor that has two composite video inputs and one audio input, along with HDMI and VGA connections. On location you have the ability to power this monitor using a standard SLR battery with adapters for Canon BP511 and LP-E6 or Nikon EN-EL3e batteries.
A Clean Camera Is A Happy Camera
A friend once told me that a clean car ran better and faster than a dirty one and while on the face of it that doesn't seem likely, the truth lies somewhere in the middle. I feel the same way about clean cameras, which is why I've used LensPen products since their introduction. Dust and fingerprints can appear all over your camera seemingly out of nowhere and if it's dirty chancesare LensPen has something to clean it. Their new DSLR Pro Kit has everything you need to clean your camera's optics: the Original LensPen for lenses, FilterKlear to clean filters, and MicroPro for eyepieces.
All three feature two working ends with a retractable natural brush for removing loose dust and a carbon-impregnated cleaning pad for removing smudges and fingerprints from the optic's surface. Included in the kit is a microfiber pouch that holds all three pens and can be used as a cloth for other cleaning applications.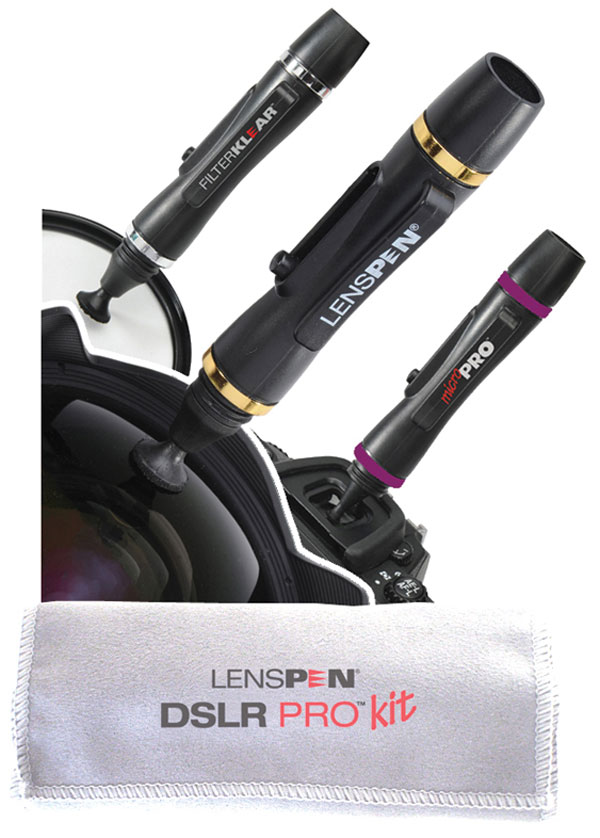 App Of The Month: Perfectly Clear iPhone & iPad
Athentech Imaging has redesigned their $2.99 Perfectly Clear app with new presets and has added a Beautify retouching tool along with noise removal capability. There's also a De-Purple correction that fixes a phenomenon found on some iPhone 4S and 5 smartphones that's created by lens flare and causes the image to look, well, purple. Now, with this app, it's a one-click fix. Their cool before and after slider automatically peels off your original photo to reveal a new fully color-corrected photograph with crisp details. Perfectly Clear then gives you the ability to fine-tune its automatic corrections with intuitive, easy-to-use controls.
There is also an Android version and, according to Athentech, "they update the two versions separately but eventually they will have the same functionality."
Contacts
Alien Skin Software: www.alienskin.com
Athentech Imaging: www.athentech.com
LensPen: www.lenspen.com
Marshall Electronics: www.marshallmonitors.com
Pelican: www.pelican.com; www.pelicanprogear.com
FEATURED VIDEO