Stocking Stuffers: My Annual List Of Holiday Gifts And Goodies
"Christmas is the season for kindling the fire of hospitality in the hall, the genial flame of charity in the heart."—Washington Irving
Wherein I hereby submit your Secret Santa's A-list of gizmos, gadgets, and gear for the digitally minded who may have thought they had everything but didn't know that they needed more stuff to produce that ultimate image. This month's column can be used as a shopping list for your favorite photographer or you could grab a Sharpie and circle all of the goodies you like and leave it near where your spouse eats their Wheat Chex. It's worked for me.
Plug-In Of The Month
Topaz Labs' (www.topazlabs.com) photoFXlab is a stand-alone application that can also be accessed as a Photoshop-compatible plug-in and collects lots of different Topaz effects in a searchable library for easy access. You can use its library of 500 effects to explore and apply presets without having to access external Topaz plug-ins. The software features a layered workflow that offers masking capabilities and selective enhancement brushes, plus uses edge-aware technology. You can set the edge awareness strength and brush in adjustments wherever you need them. Some of the selective adjustment brushes built into the program include Dodge/Burn, Saturation, and Smooth/Detail.
In addition, photoFXlab is a new way to InstaTone your images using a module that lets you apply the toning from another one of your photographs. While photoFXlab costs $79.99, the last time I visited the site there was a sale going on. Download the free trial version to see how you like it with your own images.
Bumperize Your Lenses
OmegaBrandess (www.omegabrandess.com) has introduced a new line of protective covers for camera lenses from DeluxGear (http://deluxgear.com). Designed for working photographers, the Lens Bumper absorbs impact and prevents scratches, dents, and cracks to lenses during the inevitable scrapes that pros encounter when hard at work. The Lens Bumper has a 2mm santoprene (thermoplastic elastomer) cover with a water-resistant 6mm cell neoprene inner core. It slides over the end of your lens or hood for a snug fit. Or, you can reverse the hood over the lens and slide the Lens Bumper over the inverted hood. When rain or dust kicks up, you can put a lens cap or filter on the lens through the Lens Bumper's front opening. On lenses with a built-in hood, such as the Nikon 14-24mm fisheye, you can mount a filter on the Lens Bumper. They are available in seven sizes to fit lenses and hoods from 2 7/16" in diameter to 8 1/8". Made in the U.S.A., Lens Bumpers are priced from $24.99 to $74.99.
Green Screen For The Holidays
When I first tested FXhome's (http://fxhome.com) PhotoKey a few years ago I thought it was one of the easiest green screen software programs then available. Now PhotoKey 5 Pro has kicked it up a notch by allowing you to import multiple backgrounds and easily switch between them at any time using a new background list. This feature makes experimenting with different backgrounds faster and more fun, too.
A new bilateral blur effect is ideal for hiding blemishes and providing smoother skin surfaces or for creating a comic book, cel-shaded visual style. The software's spill suppression technique provides higher quality and more realistic results and the new e-mail system supports publishing to Facebook and Flickr. PhotoKey 5 Pro comes with 50 royalty-free background images so you can get started right away. At $299, PhotoKey 5 Pro is not inexpensive but event shooters should be able to pay for it and be in the green after their first shoot.
Camera Clipping
Peak Design's (http://peakdesignltd.com) $79.99 Capture Camera Clip System replaces your neck strap, case, sling, or holster by allowing you to safely carry your camera on a backpack strap or belt. Multiple quick-release plates are compatible with digital SLR, Micro Four Thirds, and point-and-shoot cameras as well as Manfrotto and Arca tripod systems. The clip is a simple, intuitive, and lightweight solution for securely holstering that pricey new SLR when working in the field. It's an impressively useful gift for anyone into active lifestyle photography.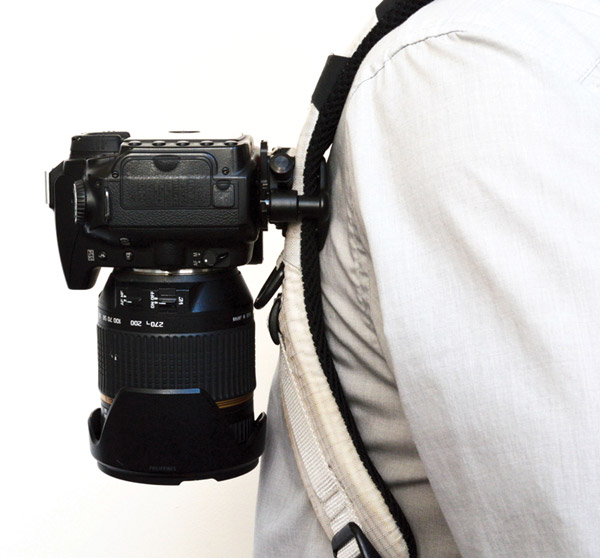 The Drobo Mini
The Drobo Mini (www.drobo.com) is a blend of advanced storage technologies put into a small package. It measures 7" square and is less than 2" tall and weighs less than 3 lbs. Drobo's "carrierless" design allows up to four 2.5" drives to be inserted into the Mini without requiring additional drive carriers or screws and the design also accommodates a common industry size, so you can choose the drive, type (HDD or SSD), capacity, speed, and price. It provides fast (20 Gbit/s) Thunderbolt performance along with RAID protection in a compact package that's not much larger than a typical single external drive. The Drobo Mini has a custom, miniaturized power supply and its optional carrying case makes for an ideal storage solution for professionals who travel.
Free Plug-In Update
RadLab from Totally Rad! (www.gettotallyrad.com) combines effects from the company's popular action set but wraps it up in an elegant interface. The free Mac OS and Windows upgrade to Version 1.3 adds Lightroom compatibility, two new stylets (Skinny Jeans and Handlebar Mustache), and a new party-themed recipe pack that crams even more effects into this clever software package. If you haven't tried RadLab before, download the Test Drive and use it with some of your own photographs. Be sure to have fun with your photography during the holidays.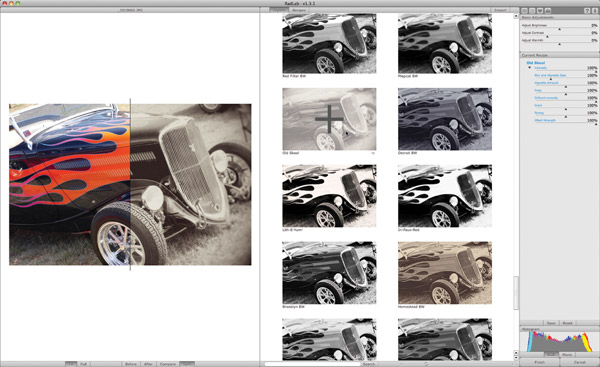 App Of The Month:
Over Potluck's (http://madewithover.com) Over app lets you add text to your photos then share them on Facebook, Twitter, Tumblr, and Instagram. You can create inspirational, informational, or funny images that can be shared quickly and easily. In just a few seconds you can add captions, quotes, jokes, memes, poems, or anything else you can think of to a photo. It has loads of features to make your text look just right on that photo, including a selection of fonts as well as a tinting effect that makes your text pop off the photograph.
Sizing and alignment options include re-size, click, drag, position, and even shake to re-center. Once you've crafted the text over your photos you can share them on some of the popular social networks or regular jumping-up-and-down e-mail. Over costs $1.99 in the App Store and includes 19 different fonts. For 99 cents more you can upgrade to more than 60 additional fonts. For $1.99 (or another buck more) you just can't have more fun with your smartphone photography.
FEATURED VIDEO