Capturing Digital Images One Day At A Time: See You In The Funny Papers
"Life is like an ice-cream cone, you have to lick it one day at a time."—Charles M. Schulz
On October 2, 1950, the first Peanuts comic strip appeared in a daily newspaper. As a lifelong Peanuts fan and Snoopy collector it's fitting that this month's column is my 2100th published magazine article and I'd like to thank the best editorial team I've ever worked with—Shutterbug's Editorial Director George Schaub and Managing Editor Andrea Keister—without whom none of this would be possible. I would also like to thank all of those readers who have hung in there with me for all these years. You are the reason I do this.
Plug-In Of The Month
Clarity from Topaz Labs lets you adjust contrast levels within a photograph without degrading image quality with halos or artifacts, producing a natural-looking image. A well-designed interface includes sliders for micro to high contrast that refer back to the original image, allowing you to increase or decrease contrast for that specific variation. The plug-in's Tone section lets you modify tonal levels while retaining a wide range in your image; black, white, and mid-tone sliders let you recover details in shadow and highlight areas that can be lost during typical contrast adjustments. The HSL (Hue, Saturation, and Lightness) module controls let you divide your image into eight different colors and selectively enhance specific colors within your image, providing maximum control over a photograph's colors.
Clarity contains three different kinds of brushes—normal, edge aware, and color aware—to adjust specific areas of your image. You can also use masks, including linear, radial, and reflected types of gradients, and separate masks can be applied for clarity and HSL, providing even more adjustment areas within an image. The plug-in comes with more than 100 presets that are categorized by type of photography and should help you identify which presets would be most useful for a particular kind of image. It did for me.
Film Stocks In Digital Imaging
Film Stocks 1.5 from Digital Film Tools is a beautifully executed Photoshop-compatible plug-in that's been supercharged to take advantage of modern graphics cards but worked just as well on my aging Mac Pro. It also works with computers running Windows Vista 64-bit, Windows 7 64-bit, and Windows 8 64-bit. Film Stocks processes images using 32-bit floating-point precision and its intuitive and fun-to-use interface has 2048 pixel default resolution (instead of the previous 1024). The plug-in offers 288 simulations of color as well as black-and-white film, motion picture stocks, and historical photographic processes.
In addition to built-in presets, Film Stocks includes all of the necessary controls to create your own film stock presets from scratch, including color correction, curves, colored filters, sharpness, diffusion, vignetting, and grain. You can start with simulations for Agfa, Fuji, Ilford, Kodak, Polaroid, or Rollei color and black-and-white films and then continue to have fun tweaking to get the desired effect. The plug-in supports Adobe's Photoshop, Photoshop Elements, Lightroom, After Effects CS5 and up, Premiere Pro CS5 and up as well as Apple's Aperture, Final Cut Pro 6 and 7, and Avid's editing systems.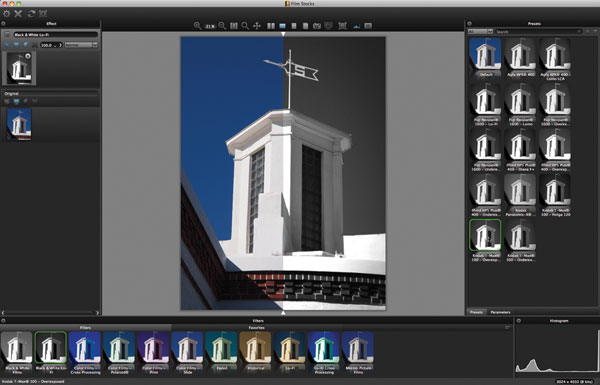 Get A Grip
Cotton Carrier's Hand Strap adds an extra-secure and adjustable grip on any camera, providing comfort and security while holding your SLR. A heavy-duty Velcro fastener lets you tighten or loosen your hand inside the strap and against the camera's body, making holding even heavy cameras and lenses straightforward at the same time. The Hand Strap attaches to the base of your camera using the included hard anodized aluminum Arca-Swiss-style plate that uses the standard 1/4"x20 threaded fitment. That way you can attach any number of popular quick-release plates to a tripod and clamp your camera directly to it. The Hand Strap can be purchased online for as low as $19.95, which is less than the price of some Arca-Swiss-style tripod plates all by themselves, so it's a bargain.
In The Zone
The Windows-only Zoner Photo Studio is a relatively inexpensive ($69.99) image-editing software from the Czech Republic that appeared in the September 2012 Digital Innovations. Version 15 has a few new features that should make a photographer's job trouble-free. Its new Import Module image management tool not only looks nice on your monitor but also helps you organize captured photographs immediately after download. And the new Quick Search feature makes finding them just as easy. Zoner's Folder Synchronization feature makes backing up your image files easy, too. New Quick Filters lets you apply Polaroid and Lomo (Holga) looks to your files and the Tilt-Shift Tool lets you "make objects in photos look like miniatures," although I'm sure you can think of other uses. Sharing of finished photographs on Facebook, Flickr, Picasa, and the company's own Zonerama is a slam-dunk. As I write this I've heard that Version 16, with several new features, should be available real soon now. Stay tuned. For this look at Version 15, I ran Zoner Photo Studio under Windows 7 on my iMac through Apple's Boot Camp. It's also designed to run on Microsoft Windows XP SP2, Vista, and Windows 8 (32 or 64 bits).
Metallic Inkjet Media
Metal prints are one of the biggest trends in fine art, portrait, and commercial photography these days. Up till now all of the metallic inkjet stock that I've tried has been too flimsy or difficult to tell which side is printable. Not anymore. Moab by Legion Paper's Slickrock Metallic Pearl 260 and their heavier Slickrock Metallic Silver 300 that I tested is shiny metallic inkjet media that has an instant dry coating. The metal-like surface produces images that jump off the paper and can be handled immediately after printing. Black-and-white photographs, including infrared, appear perfectly neutral, producing deep, dark blacks and bright highlights. The paper's high gloss and unique sheen make Slickrock Metallic Silver ideal for capturing the beauty of the original image with a bit of metallic enhancement. A 25-sheet A4 sized box of Slickrock Metallic Silver 300 sells for about $40 with larger or smaller sizes priced accordingly. I printed A4 and 11x14 prints on an Epson R2880 and look forward to trying bigger sizes (up to 13x19 sheets and 44" wide rolls) on my large format printer.
App Of The Month: Halftone 2
In keeping with the Peanut's anniversary, Halftone 2 is an app for Apple's iPad that turns your photographs into comic book pages. You can invent stories and put words—WHAM, BAM, and POW—in your friends' mouths or thoughts in their heads and then share the finished creations with the world. A radial menu makes it easy to customize the comic book elements and you can explore worry-free, knowing that Undo and Redo are a tap away. Halftone 2's graphics engine is vector-based, so all your elements look crisp and clean at any size. Best of all, Halftone 2 "hand draws" its captions and balloons, so no two panels look exactly alike. When you're done, you can share your masterpiece with family and friends via e-mail, Twitter, Facebook, Flickr, Dropbox, or any of the usual social media suspects. Halftone 2 runs on iPad 2 or later and is $3.99.
Contacts
Cotton Carrier: www.cottoncarrier.com
Digital Film Tools: www.digitalfilmtools.com
Juicy Bits: www.juicybitssoftware.com
Moab by Legion Paper: www.moabpaper.com
Topaz Labs: www.topazlabs.com
Zoner Software: www.zoner.com