New Year, New Tools, And A New Outlook: A Funny Thing Happened On The Way To New Year's Eve
"I am always doing that which I can not do, in order that I may learn how to do it."—Pablo Picasso
Not too long ago there was an online discussion about what inspires people to create new images. For me, new things are what inspire me. It can be a new lens, a new accessory, or maybe just a new place to make photographs. Here are some new tools for your inspiration along with a few ways to make old things reinspire you.
Realgrain 2: Plug-In Of The Month
Imagenomic's Realgrain 2 is a plug-in for black-and-white conversion, toning, colorizing, and other darkroom effects, all the while simulating the grain, color, and tonal range of traditional silver halide films. The Mac OS and Windows software is 64-bit compatible and works with Adobe's Photoshop Creative Cloud, CS5/CS6, Photoshop Elements 11 as well as Apple's Aperture. Users of older versions of Photoshop can still use Realgrain 1.
Imagenomic tells me the new version is four times faster than its predecessor, although I didn't notice on my middle-aged Mac Pro. A new Preset Manager lets you create an unlimited number of presets collected in multiple categories and provides a place to make notations about specific settings. Realgrain comes with a number of predefined effects as well as a library of 25 color and 20 black-and-white film presets. The software's History Control permits an unlimited number of history steps for fine-tuning, giving you the elbow room for experimenting to find the perfect look. Realgrain 2 is available as a download for $99.95, but is a free upgrade for current owners of Realgrain 1.
Rad Presets For Lightroom
Since Adobe launched Photoshop CC I've noticed more activity in the availability of Lightroom add-ons and it will be interesting to see if this trend continues. The newest set of Lightroom presets from Totally Rad! is Replichrome. These presets let you process digital images, giving them the tones and palettes of traditional film. To accomplish this, Totally Rad! researched 19 cameras, 137 rolls of film, and more than 4400 images, producing 13,294,118,900 bytes of scanned film. What this study produced inside Lightroom is 13 film styles (nine in color and four in black and white). If you look in the submenus on the right side of the screen you'll see that each has different variants that let you express differences in exposure and processing. Using Replichrome was a hoot, especially when working with images of classic sports cars to create retro looks. And kudos to Totally Rad! for providing a real installer to minimize the brain damage often associated with installing presets in Lightroom. No free samples but you can purchase it for $99 at http://gettotallyrad.com/store.
Wi-Fi & Wallee
It won't be long now before every camera has built-in Wi-Fi, which opens up all kinds of opportunities for image preview during photo sessions, especially in the studio. None of my current cameras has built-in Wi-Fi but I've been looking at ways to integrate my iPad into studio shoots and found Wallee by Studio Proper.
Wallee is part of the Tether Tools collection that makes studio shooting smoother and better because less time is spent messing with gear and more time can be dedicated to making images. The Wallee Case leaves the iPad's buttons, ports, cameras, and speaker accessible and even works with Apple's Smart Cover. For extra protection the optional ($24.95) Wallee Pro Bumper adds a shock-, drop-, and bump-proof second skin to the case. The iPad has a smooth slippery shape and it's that slippery part that can get you in trouble, so you want to mount it securely. The X-shaped opening in the center of the case is a receptor for the Tether Tools locking system that lets you mount an iPad in different ways, including the optional ($125.90) Articulating Arm + Clamp Kit that I plan to try in my in-home studio.
Long-Exposure Digital Infrared
One way to capture digital infrared photography is by attaching filters to an infrared-capable camera (see the sidebar "Is Your Camera IR Compatible?") but that also means you'll be making long exposures. Black-and-white shooter Joel Tjintjelaar makes exposures in excess of five minutes using a technique that involves dark Neutral Density (ND) filters. Working with Formatt-Hitech, he developed a kit for long-exposure fine art photography that contains three dark ProStop IRND filters with three, six, and 10 stops of neutral density.
The ProStop IRND filters eliminate contamination and artifacts, rendering the image's dark areas crisp and black. The kit includes a booklet detailing Tjintjelaar's technique for creating long-exposure infrared exposures. Formatt-Hitech offers kits with the Lucroit holder system for large-barrel lenses such as the Nikon 14-24mm, Canon 14mm L, Zeiss 15mm, and other wide-angle lenses. The kit is available with either circular screw-in filters (67mm, 72mm, 77mm, and 82mm) or rectangular filters (100mm and 165mm) for holder systems.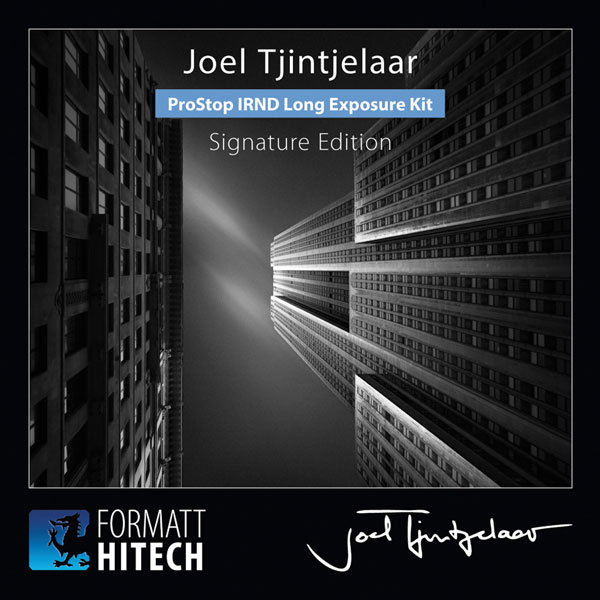 Gear For Outdoor Photographers
MindShift Gear was founded by Think Tank Photo and nature photographer Daniel Beltrá. MindShift Gear's Contact Sheet is a 3.5x5-foot waterproof ground tarp that provides a barrier from the elements. Designed for photographers who work in wet or dirty environments and who need a clean, dry work area, it can be spread out so you can put delicate electronics down on it with the knowledge that the gear is protected from the elements. Made of 30D ripstop polyurethane cloth, it packs into a mesh pouch for transportation and storage. Contact Sheet weighs 5 oz and costs $39.99. In addition to nature and outdoor photographers, event and automobile photographers should find it indispensable for motorsports and outdoor car shows.
Scanning Your Photos
Scanning prints isn't all that hard and most of us have some kind of desktop scanner, even if it's just an all-in-one. The problem is that the scanning process, while relatively simple, becomes mind-numbing when you have to scan lots of pictures. So why not let somebody else do it? "Too expensive," you say? For the person with shoeboxes full of photos I found the answer: ScanMyPhotos.com's Prepaid Photo Scanning Box. For $159 they will scan as many photos as you can fit into the box as 300dpi JPEG files and put the resulting files on a DVD for viewing or editing on your computer. Need high-res? They will upgrade the scans to 600dpi for $247 per box! How many photos can you expect to fit in the box? ScanMyPhotos tells me most orders are about 1800 photos but you can expect variations due to packing and size of photos. This deal is for prints only but ScanMyPhotos offers other services for scanning negatives and slides, too. Mary and I are stuffing a box full of photos this weekend and shipping it next week. I'll give you an update next month.
Is Your Camera IR Compatible?
Whenever I get a new digital camera, I give it the remote control test. One of the easiest ways to check if your camera is infrared capable is to point a TV remote control at the lens and take a picture or look at the image on the LCD preview panel. If you see a point of light, you're ready to make infrared digital images. Some readers told me this test is not infallible but that has not been my experience. So if your camera passes the TV remote test, all you need is a filter, such as Formatt-Hitech's, to capture infrared images in camera, but you'll also need a sturdy tripod for those oh-so-long exposures.
Contacts
Formatt-Hitech: www.formatt-hitech.com
Imagenomic: www.imagenomic.com
MindShift Gear: www.mindshiftgear.com
ScanMyPhotos.com: www.scanmyphotos.com
Tether Tools: www.tethertools.com
Totally Rad!: http://gettotallyrad.com
FEATURED VIDEO