Our Top 7 Underwater Tough Cameras For Your Next Outdoor Photo Adventure
Active lifestyle cameras -- aka "tough" cameras -- are aimed at photographers who don't want to worry about their equipment during their adventures, but do want to capture images they can be proud of—even under challenging conditions. The seven tough underwater cameras we picked as our favorites on this list are virtually indestructible, high-performance compacts that are perfect for skiing, surfing, taking to the beach, boating, hiking or any other activity where an unprotected DSLR or mirrorless camera could be damaged. They feature rugged, assertive styling combined with waterproof, dustproof, shockproof and freeze-proof construction.
While submersible action cameras have existed for years, sophisticated, updated digital models in the point-and-shoot, mirrorless, and luxury classes are now offered by virtually every major camera maker. Most deliver an impressive array of high-tech features, including full HD video, higher-res sensors, larger LCD or OLED monitors, and built-in Wi-Fi and NFC connectivity. Many have GPS capability and enhanced waterproof ratings to appeal to SCUBA divers.
Positioned at the intersection of high style, high adventure, and cutting-edge technology, they deliver a satisfying blend of performance and shooting flexibility that makes them a high-value proposition for serious shooters who want to go anywhere, in any weather and capture memorable images.


While there have been few genuine technological breakthroughs in this unique camera category over the past 6-12 months, many of the models below sport significant upgrades and tweaks to keep them competitive. Here's our pick of the latest adventure-proof models, all of which are superb choices for this year's outdoor picture-taking season.
Nikon Coolpix AW130
Sleekly stylish but with plenty of attitude, the upgraded Nikon Coolpix AW130 is waterproof to 59 feet (up from the AW 100's 33 feet), freeze-proof to 14° F, and bombproof enough to withstand a drop up to 6.6 feet. It features a 16MP CMOS sensor, a 5X 28-140mm equivalent f/2.8-4.9 zoom lens, and has a new 3.0-inch 910K-dot OLED monitor. Other capabilities include hybrid Vibration Reduction, built-in Wi-Fi with NFC, GPS and electronic compass, and remote control via a Smartphone or tablet. It even has a built-in map displayed on the LCD.
The camera also features Full HD 1080p Video capture at 60, 50, 30 and 25fps with stereo sound, 20 scene modes including Easy Auto Mode and Underwater Scene, and a unique Action Control that lets you control selected camera functions one-handed by shaking the camera!
Street price: $296 in black, blue, and yellow.
Olympus Stylus TOUGH TG-4
The Olympus Stylus TOUGH TG-4 is a crisply styled successor to the TG-3 iHS waterproof adventure camera and incorporates the same fast f/2 lens (a 4X, 25-100mm equivalent f/2-4.9 zoom), but this new flagship of the iconic TOUGH line now sports a 16MP 1/2.3–inch BSI CMOS sensor (up from 12MP), the latest TruePic VII image processor, sensor-shift image stabilization, and built-in Wi-Fi. It's waterproof to 50 feet, shockproof to 7 feet, crushproof to 220 pounds, and freeze-proof down to 14° F.
Other features of the TG-4 include a 3.0-inch 460k-dot OLED monitor, Full HD 1080p video capability at 60fps with Multi-Motion Movie IS, full-res burst capability of 5fps (60 fps at 3MP), interval shooting and Microscope mode, built-in GPS, and Manometer functions, and four underwater modes including macro. The camera's e.Compass helps you find, shoot and share your images.
Street price: $379 in red or black.
Panasonic Lumix DMC-TS30
This sleek, slim Panasonic Lumix DMC-TS30 is waterproof, dustproof, freeze-proof, and shockproof, with a 16.1 MP 1/2.33 CCD sensor and 25-100mm-equivalent Lumix DC Vario lens. The optical 5-way MEGA O.I.S. image stabilization system can capture sharp, shake-free images and videos even in low light. A digital Intelligent Zoom feature extends the effective reach of the lens to 8X.
The camera's bright 2.7-inch 230K-dot TFT LCD facilitates composition and image review, and 23-zone AF plus Quick AF deliver fast, precise autofocus with a wide variety of subjects. Other features: Intelligent Auto mode automatically selects the optimum scene mode; 8fps maximum burst rate; Creative Control Mode enables time-lapse sequences in standard and panorama formats, and 720p HD video capture in the MP4 format.
Street price: $139 in blue, red, or black.
Fujifilm FinePix XP90
With eye-catching contemporary style, the Fujifilm FinePix XP90 has an upgraded 1/2.3-inch 16.4MP BSI CMOS sensor, is waterproof to 33 feet, shockproof to a 5-foot drop, freeze–proof down to 14° F, and dustproof. It delivers ultra-fast start-up, can shoot continuous full-res bursts up to a blistering 10fps, provides a new 2.7-inch 460K-dot AR LCD,.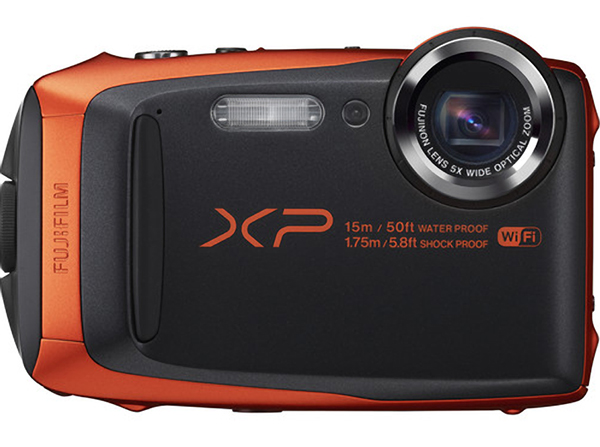 The camera has a Fujinon 5X, 28-140mm equivalent f/3.9-4.9 zoom lens with aspheric elements for enhanced image quality, a hardened glass lens barrier and water repellent coating. Other features: Full HD 1080p video capability at 60 or 30fps, advanced sensor-shift image stabilization, built-in filters, AF tracking, 3-frame Dynamic Range (HDR) mode, and built-in Wi-Fi connectivity.
Street price: $229 in black, blue, yellow or orange.
Canon PowerShot D30
Canon's ergonomically contoured PowerShot D30 is a 12.1MP entry into the adventure-camera sweepstakes . This upgraded version of the popular D20 is waterproof to an impressive 82 feet (up from 33 feet), shockproof to a drop of 6.5 feet, and temperature resistant from 14-104° F. It features a 5X 28-140mm equivalent f/3.9-4.8 lens, a 3.0-inch, 461K-dot, Pure Color LCD with a delta dot pattern for enhanced performance, Intelligent Image Stabilization (IS) and built-in GPS.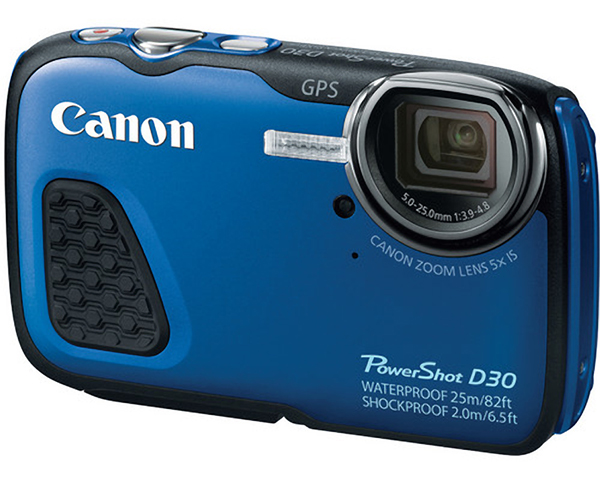 The D30 can shoot Full HD 1080p video at a cinematic 24fps, has a wind filter feature, and offers optical zoom while shooting for maximum movie flexibility. It can shoot up to 280 shots or play back five hours of video per battery charge.
Street price: $329 in blue.
Ricoh WG-30W
This rebadged iteration of the very successful, uniquely styled Pentax Optio WG line continues the tradition with waterproof, shockproof, crushproof and cold–proof construction. The Ricoh WG-30W has a16MP 1/2.3–inch BSI CMOS sensor, a 5X 28-140mm-equivalent lens, a newly designed image processor enabling low-light sensitivity up to ISO 6400, continuous full–res shooting at up to 1.08fps, and up to 10 fps at lower resolutions.
New to the WG series is built-in Wi-Fi connectivity, enabling wireless image transfer and remote control of camera functions via smart devices. Other features: High–speed video capture in MPEG-4 and AVC/H.264 formats, slo-mo capability, and a built-in micro-HDMI port for full content output to HD TVs and other compatible devices.
Street price: $278 in Flame Orange, $224.00 in Carbon Black.
Sony DSC-TX30
The compact Sony DSC-TX30 is only 0.6 inches thick and weighs a mere 4.4 ounces sans battery. Sony's latest pocket-sized gem with sliding protective lens cover is waterproof to 33 feet and shockproof for impacts up to a 5-foot drop. It now provides an 18.2MP Exmor sensor, a 5X, 26-130mm Carl Zeiss Vario-R Tessar zoom lens, and a new, larger 3.3-inch, 1229K-dot OLED Touch Screen monitor,
It can capture Full HD 1920-1080 AVCHD video at 60i, and capture full-res bursts at up to 10fps. Other features: Face, Blink, and Smile detection, SteadyShot sensor-shift image stabilization, Clear Image Zoom for "lossless" doubling of focal length, and 360-degree Intelligent Sweep Panorama 360.
Street price: $228 in black.
Bottom line: These seven favorites are all great little cameras, so choose one that suits your needs and head out into the great outdoors!
FEATURED VIDEO