Digital Innovations
Whats In Your Utility Belt?
Tools To Save The Day
No, it's not Bruce Wayne, but the closest I ever got to owning my own personal Batmobile, a black Greenwood C4 Corvette. It is this very car that I let slip through my fingers last year and regretted it ever since.
© 2003 Mary Farace, All Rights Reserved
Robin: "I want a car; chicks dig the car." Batman: "This is why Superman works alone."--from the film Batman & Robin
OK, so I'm obsessed with Batman the way Jerry Seinfeld is obsessed with Superman. It goes back to an aimless childhood spent reading comic books and watching Saturday afternoon serials featuring the Caped Crusader. Like any superhero's sidekick, software utilities help fix problems, repair damaged image files, and come to your rescue when everything else fails. See Sidebar for real or fanciful utility belts that are indispensable for photographers working out here in the real world. In the meantime, here are a few new tools for your software utility belt.
I tried Kodak's Digital ROC Professional plug-in on an old faded slide that was shot at the US Grand Prix in 1964 on Perutz Color. Anybody remember that stuff? Like SHO Professional, this is a more robust tool for serious users.
Photos © 2003 Joe Farace, All Rights Reserved
Plug-In Of The Month
Kodak's Digital ROC Professional Photoshop compatible plug-in (www.asf.com) adds more features and functionality to ASF's original ROC software, enabling you to correct, restore, and balance the color quality of digital images, especially those subjected to wear and tear from neglect or fading. Digital ROC Professional analyzes all of the image's color gradients to remove color casts or tints and restore faded or lost color by generating optimal tonal curves for each color channel. This Pro version provides advanced controls for precise adjustment of both image brightness and image contrast as well as the color tint control. Digital ROC Professional supports the 16-bit color images that are typically generated by high-end scanners and other capture devices. It costs $99.95 for online purchase.
More Than Just Cropping!
AutoCrop (www.autocrop.com) is a package of Photoshop Actions that bills itself as the "easy and affordable way to create wedding albums in minutes" but works for any photographer who needs to create composite images fast. AutoCrop is different from other template software I've tried because you can do everything from within Adobe Photoshop, so there's no interface to learn and no need to switch back and forth between programs to build album pages.
AutoCrop is an amazing package of Photoshop Actions that's specifically designed to produce wedding album
pages using a single mouse click, but that doesn't mean you can't use it for model composites as well, such as this photo of Andria from So-Cal Professional Model.
Included in the package are 168 photojournalistic, magazine style designs and, because of the interactive nature of Actions, you can adjust and redesign every page design any way you want. Each page has four or more options (producing a total of 840 actions, in case you're counting) that let you change colors, borders, or effects with just one click. All you have to do is select one of the page designs, choose your photographs, and sit back and watch as AutoCrop grabs your selected photos, re-sizes them, and puts them in the appropriate place. At that point, you simply Save the page and send it to your lab for printing or print it yourself. AutoCrop offers square, rectangular, and panoramic album pages and formats. They include a detailed on-disc manual so you can get started right away, but I took advantage of the How-To QuickTime movies on the disc and was producing composite pages in no time.
Windows Screen Capture
Wondering how I make the screen images that appear in this column each month? For my Windows XP computer I use TechSmith's SnagIt (www.techsmith.com) and have used it for all my books and magazine articles for as long as I can remember. Over the many years I've used this wonderful product, TechSmith has continued to upgrade and improve so now you have 40 different ways to capture images, text, video, web content (I use it for Web Profiles), and printer output. You can also organize your snapshots, browse, batch convert, and even create web pages using an easy step by step process. During installation you have the option of adding a SnagIt button to the toolbar of all of your Microsoft Office applications. Files can be captured to the clipboard or as a file in any one of 23 formats, but most importantly for publication they can be scaled up in size so that 300dpi reproduction quality images can be produced. This is all done through the use of customizable "profiles" that give you quick access to the utility's most commonly used features. Version 7.0 not only lets you capture stuff, but you can edit your screen shots using drawing tools and image controls as well as add text and arrows.
TechSmith's SnagIt screen capture remains an indispensable Windows utility and one that I install first on any new machine.
CD Saint Bernard, Or Just A Dog?
CD have your digital images and won't them let go? Recordable CDs are not all of the same quality. The data stored on some will last 100 years while others won't last 100 minutes. And it's not just photographic files--you don't want to lose any accounting and tax files either. Arrowkey's CD/DVD Diagnostic (www.arrowkey.com) is a Windows-based rescue utility that's supposed to recover data from unreadable, scratched, or corrupt CD-R, CD-RW, DVD+R, DVD+RW, DVD-R, and DVD-RW discs, including those created on Mac OS and Linux systems or produced on dedicated consumer video DVD recorders. CD/DVD Diagnostic searches for and should reconstruct damaged files and directories regardless of the software that was used originally to record it. The program scans any disc inserted in the computer's CD or DVD drive and should display a list of all the files discovered. All this sounds great but I only have one problem: It wouldn't work and I couldn't get anyone from the company to respond to my requests to solve the problem. Caveat emptor.
CD/DVD Diagnostic is a Windows-based rescue utility that recovers data from unreadable, scratched, or corrupt CD-R, CD-RW, DVD+R, DVD+RW, DVD-R, and DVD-RW discs, but every time I ran it this is all I saw. And oh, it never asked for a serial number on installation.
Lost Your Photos? Lost Your Mind?
Just as you can accidentally forget there's film in your camera and open the back screaming, "I closed it in 1/250 sec, hope everything is OK," it's possible to do similar boneheaded stunts with your digicam, such as yanking a memory card out of the camera while it's still writing. Waddya gonna do? Call FlashFixers (www.flashfixers.com)! ImageRecall 2.0 software offers features I have not seen in similar programs, such as the CD Writer utility's ability to save recovered files directly onto CD instead of having to save onto a hard drive and then copy to a writable CD or DVD. ImageRecall 2.0 recovers photo, video, sound, and other data files, including JPEG, CRW, RAF, BMP, X3F, PNG, DOC, XLS, PPT, PST, PDF, ZIP, PSD, AVI, MOV, WAV, WMA, MP3, and TIFF. The package also includes Card Checker that tests memory cards for errors and Secure Erase that completely deletes all data (not just a directory) from cards, but not all features are yet found on the new Mac OS X version. This Mac OS and Windows program may be downloaded as a free trial or full version for $39.95 and can be ordered on CD. A commercial license for photo retailers, service bureaus, and labs costs $129.95, but it will make you a hero to your customers.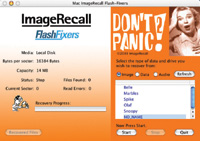 Dog ate your memory card or some other lame excuse for screwing it up? FlashFixer's ImageRecall 2.0 works on both
Mac OS and Windows computers and can put you back into the imaging game.
Speaking Of Memory Cards
Alex Slawsby, an analyst for IDC, a leading market intelligence and advisory firm for the information and telecommunications industries, stated, "In 2003, camera phones outsold digital cameras and may soon emerge as a leading consumer of memory cards." The tiny MiniSD card is specifically designed for the mobile phone market, which is increasingly adding storage intensive applications including digital cameras, digital video, MP3 players, PDAs, games, and e-mail. MiniSD is electrically compatible with the existing SecureDigital standard and includes the same security features for data protection. MiniSD occupies approximately 60 percent less area in a device than the standard SecureDigital card. The cards are 20x21.5 mmx1.4mm thick. By comparison, SecureDigital Cards use the same 32x24mm form factor as MultiMediaCards but are slightly thicker (2.1mm vs. 1.4mm).
Do we need another memory card format? No. Are we gonna get another memory card format? You bet your sweet bippy we will. Enter MiniSD, something as small as an XD card and just as easy to lose. I am still ticked off about losing a 64MB MMC card at the NECCC conference in July!
Lexar Media's (www.lexarmedia.com) packaging includes an adapter allowing MiniSD cards to function in the broad base of existing SecureDigital compatible devices.
Your Own Photographic Utility Belt
For all of those Batman fans out there who want to have their own utility belt, visit these websites for a look at some alternatives that might fit your personal or photographic life:
Lightware Inc.'s GripStrip--www.lightwareinc.com
Lowepro's Street & Field--www.lowepro.com
Ninja Utility Belt--www.blackbeltshop.com/ninja_utility_belt.html
Urban Utility Belt--www.urbanutilitybelt.com
Ripoffs' UB-3053 Utility Belt--www.ripoffs.com/ub3053new.htm
And for the terminally funky, the prize of all Batman toys, an original 1966 Batman Utility Belt at www.cyproductions.com.

LATEST VIDEO