Digital Innovations
The Law Of Unintended Consequences Redux
Shooting runway shots at New York's Fashion Week was more like photographing race cars than I thought. While not doing 200mph down the "straightaway," the models prance down the runway at brisk speeds and don't stop until the show is over. This image of Cat Swanson's model was made with a preproduction Olympus E-1, with the Zuiko 50-200mm ƒ/4
(100-400mm equivalent on the 4:3 standard) set on Shutter Priority at 1/250 sec. All 1150 plus images I made during Fashion Week were shot onto a single, speedy Lexar 4GB card, which is compatible with the Olympus E-1.
Photos © 2003, Joe Farace, All Rights Reserved
"It's déjà vu all over again."--Yogi Berra
One of the most surprising, to me anyway, unintended consequences of the digital revolution is increasing marginalization of medium format. This was forcefully brought home to me while photographing Fashion Week in New York City with a preproduction version of Olympus' E-1 digital SLR. In downtime between runway sessions, I talked with other photographers. An underlying theme was the future, if any, of medium format. When I asked one of the few fashion shooters, maybe the only one, who was using film about this, he told me the Hassleblads of all the photographers he knew were either "on a shelf or on eBay."

Digital photography is all about timing. A while ago, when I asked major photo retailers if lowering medium format equipment prices helped boost sales, they all emphatically answered "yes," but it may already be too late. These companies should have started aggressive rebates two years ago, followed by permanent price cuts, but instead, they gave their business to digital SLRs such as the Canon EOS-1Ds and Kodak DCS Pro 14n. In Shutterbug's Photography Buyer's Guide 2003, I urged manufacturers to produce a $1995 (or less) 6-megapixel digital back for the medium format cameras out there, otherwise these wonderful, precision devices are going the way of the Yashicamat, an interesting but obsolete camera that used something we used to call "film."
The latest version of iView MediaPro can display up to 128,000 thumbnails while supporting long file name, improving layout management, and enhancing slide show features. It supports lots of image file formats, including MultiAd's Creator, Kodak's professional SLRs, and Minolta raw. It'll also display Olympus .ORF thumbnails, but not full images.
iView Therefore I Am
The latest version of iView MediaPro (www.iview-multimedia.com) increases thumbnail display capacity to 128,000 while reducing catalog file size. It also supports long file names, has improved layout management, and enhances its slide show features. New supported formats include MultiAd's Creator, Kodak's professional SLRs, and Minolta's raw. It also supports IPTC (see sidebar), Exif, GPS annotations, voice recording, user fields, keywords, and categories. A catalog finder locates and previews iView catalogs located on any volume, while file and folder management offers control over all files, including individual or batch renaming and moving or deleting of files and folders. A built-in PDF maker produces customized high-resolution PDF files using media in a catalog.

On the presentation side, iView MediaPro has improved web page generation using "theme" based customizable HTML templates; advanced slide show and movie creation, including the ability to save as a QuickTime movie; and editing tools such as preset and auto enhancement (based on Minolta's Image Enhancing Technologies), such as redeye reduction, re-size, and automatic use of color profiles. The iView MediaPro 2.0 for Mac OS 9 and OS X costs $160 and a Windows version should be available by the time you read this. The iView Media is a $30 cross-platform solution that offers entry-level cataloging of digital media assets. The iView Catalog Reader is a royalty-free, cross-platform utility that permits sharing iView catalogs.
Auto FX Software's landmark Photo/Graphic Edges Photoshop compatible plug-in has been upgraded to deliver increasingly sophisticated capabilities as well as in its compatibility with other plug-ins.
Plug-In Of The Month
I've always been a fan of Auto FX Software's (www.autofx.com) Photo/Graphic Edges and it may be one of the most popular Photoshop compatible plug-ins ever created, but the last version did not "play well with others" and created conflicts with some of my other favorites such as nik Color Efex Pro!. The new Photo/Graphic Edges 6.0 not only includes 14 new effects, but works well with every other plug-in I threw at it and is compatible with Adobe Photoshop CS (a.k.a. Photoshop 8). Some of the new effects include Acid Brush, Ambient Brush, Burned Edges, Distort Edge, Edge Brush, Edges, Frames, Montage, Photo Border, Photo Tabs, Putty Brush, Smudged Edge, Transfer, and Vignette. Whew!
Here the Distort Edge filter, that's part of Auto FX Software's Photo/Graphic Edges 6.0 plug-in, is used to add edges that are not only graphically interesting but are transparent as well in this photograph of model Leslie Fisher.
Photo/Graphic Edges 6.0 includes more than 1000 surface textures that can be used behind the edges and three CDs of professionally created presets that make creating really special looks a matter of a few mouse clicks. User defined visual presets can be saved for capturing the exact look of an effect for later use. File loading and saving support is provided for .PSD, .TIF, .BMP, .JPEG, and .PNG formats, and saving your final images in Photoshop's format exports the effect onto a layered document with full transparency. The street price of Photo/ Graphic Edges 6.0 is $179. Upgrades from any previous version are $79.
It Isn't Really A Filter But It's Cool
FaceFilter is a clever little program from Reallusion (www.reallusion.com), the dudes and dudettes who produced the insanely cool It'sMe software. While FaceFilter isn't really a "filter" in the Photoshop compatible plug-in sense of the word, it's a nifty bit of Windows-only software that lets you enhance facial images and adjust facial expressions in digital photos. I've been using Photoshop's Liquify tool to do this, but it isn't all that easy to get the same kind of results FaceFilter produces by giving you control over all aspects of a subject's face, including eyebrows, eyes, nose, or mouth as well as the shape and size of their head.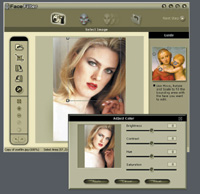 Instead of using trial and error with Photoshop's Liquify tool, Reallusion's FaceFilter gives you control over all aspects of a portrait subject's face, including eyebrows, eyes, nose, or mouth as well as the shape and size of their head.
You start by importing any digital picture (JPEG, BMP, or GIF) and selecting a face. The fitting process lets you define the primary regions of the face you want to adjust. Next, you can select automatic enhancement of the selected face with one of FaceFilter's templates (I really like that approach), or manually adjust physical features. During the entire process preview and comparison images serve as a reference. FaceFilter is priced at $29.95 and a free trial version can be downloaded from www.facefilter.com.
Holy Acronym, Batman, Not Another One
IPTC is the International Press Telecommunications Council (www.iptc.org) that develops and publishes industry standards on data interchange that includes caption data that can--get this--be embedded inside a JPEG file. It associates an object, usually an image, with its description within the same file format. Although a clever idea, not many software applications are capable of interpreting this data, but my guess is that, over time, more will. Two of the programs featured this month, iView MediaPro 2.0 and LaserSoft's SilverFast DCPro plug-in can read, write, or extract IPTC data, so maybe it's the beginning of a trend.

LATEST VIDEO