Digital Innovations
Stocking Stuffers
"You can't have everything. Where would you put it?"--Stephen Wright
After you open an ink jet printer's box, the manufacturer warns you about using third-party inks and how doing so can void the warranty. In the automotive world, the federal Magnuson-Moss Warranty Act (www.enjoythedrive.com/content/?id=8128) states that auto makers may not condition a warranty based on using parts identified by brand, trade, or corporate name unless those parts are provided free. This means that using an after-market part on my VW GTI is not a reason for denying warranty claims, but the law does not cover situations where after-market parts were the actual cause of damage.

Magnuson-Moss may not apply to digital imaging, but certainly has interesting consumer-protection implications for the whole third-party ink saga.

Copy Systems Industries (www.tonerland.com) offers color ink cartridges for the Epson Stylus Photo 1280 for $4.35 and black ink cartridges for $3.15 each. They also sell Epson-branded inks for $17.10 and $15.75, respectively, which is still a pretty good deal. Shutterbug reader, Jerry Evans prints images using Copy Systems' inexpensive inks on Epson's Heavyweight Matte papers and claims that the combination "looks best with portraits." A Tonerland.com representative told me that their inks are formulated with the same properties as the originals, so archival quality should be the same. Evans also said that one of his colleagues placed a print made using this same paper/ink combination in the Southern California sun each day for two weeks (inside at night) and experienced "no fading."

Analog Filters On Digital Cameras
I love using Leica's Digilux 2. It looks and feels like a real camera, makes great images, has a huge 2.5" LCD screen, and filter threads on the front of the 28-90mm (equivalent) zoom lens. Oops. Did I mention its 69mm threads? I like using filters with the Leica; especially Cokin's (www.cokinusa.com) new 87C Infrared filter but had to hold it in front of the lens with my fingers, which is not the most elegant solution for a most elegant digicam. Leica offers a 69-77mm adapter but I've been waiting for several months to get one and none of my favorite Shutterbug advertisers have any in stock. (There was one on eBay with a "Buy-It-Now" price of $69.77.) I let my fingers do the walking on Google.com and found a company called LensMate (www.lensmateonline.com) that not only offers a 69-77mm filter adapter but also a more practical 69-72mm adapter. Each adapter costs $24.95, so you can get both for less than the eBay price or one of Leica's.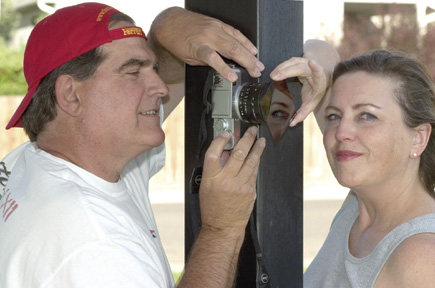 How many photographers does it take to use a camera filter with a Leica Digilux 2? Two. Here Joe braces the camera against a support for the slow shutter speeds produced when shooting digital infrared, while Mary holds an 87C Cokin Infrared filter flat against the Digilux 2's Vario-Sumicron lens. Self-portrait.
© 2004, Joe Farace, All Rights Reserved
Never Enough Hard Disk Space
I replaced both my Apple Power Mac G4s' internal hard drives, increasing capacities from 40MB to 120MB each, but I still don't have enough "cold" storage space for image files. My Canon EOS-1D Mark II produces larger raw files than my other digital SLRs and I keep shooting "billions and billions" of megabytes, as the late Carl Sagan once warned me. My solution is to add a 400GB SimpleTech (www.simpletech.com) SimpleDrive external hard drive.
SimpleTech's SimpleDrives have both FireWire and USB 2.0 interfaces for fast data transfer and capacities from 120GB up to the 400GB model, making them perfect for backing up or storing lots of digital images or DV clips.

LATEST VIDEO