Digital Innovations
Small Wonders
It's A Small World, But I Wouldn't Want To Paint It
Building image collages using LumaPix's FotoFusion v3 PRO is mostly a matter of collecting the images that you want to use. The software does all the hard work.
Photos © 2004, Joe Farace, All Rights Reserved
"I am a Shutterbug subscriber and recently received the June issue." So begins a recent e-mail. "On page 74, Mr. Joe Farace describes the xD card as being `mostly useless.' I recently purchased an Olympus C-750 that uses xD, have used it several times and am quite pleased with the quality of prints I get from the card. If you could, explain your reasons for this denigration." Let's get this out of the way first: There is nothing inherently wrong with the xD Picture Card. I own an Olympus Stylus 400 digital camera that uses xD, love the camera and the pictures it makes.
There are so many other image storage formats that having a new one just "to have a new one," which seems like the only reason for xD's existence, doesn't seem reasonable. We need fewer formats, not more. The same group that gave us the now-failed SmartMedia is touting the xD. Don't get me wrong, I liked the Wheat Thin-sized SmartMedia but its inherent capacity problems doomed it. Instead of developing a new format, they should have adopted an existing one. If you had a SmartMedia camera now, instead of xD you would feel the same way.
Even a finished collage can be tweaked by cropping, re-sizing, and moving images around to produce aesthetically pleasing results.
What is wrong with xD? They are so small that they're easy to lose. If you lose a card, what are you going to do except make sure you have lots of other cards stored someplace close to your body? The xD cards are also fragile and unable to withstand the use that other, more rugged formats, such as CompactFlash, can handle. Contrary to what manufacturers say, this smaller format has rarely produced smaller cameras. Canon's Digital Elphs are tiny and use CompactFlash cards. The Canon PowerShot SD10 is the smallest 4-megapixel digicam available; it uses a SecureDigital card and is smaller than my Olympus digicam that uses xD.

There are too many formats. The more formats there are the more difficult it will be to find what you want when you need it. I think that when the dust clears there will be just two memory card formats in widespread use: CompactFlash for pros and SecureDigital for amateurs. But you hit it on the head, Frank. It's just my opinion, I may be wrong.
This limited edition Stylus 400, like many Olympus digital cameras, uses the xD Picture Card for image storage.
Collage College
I receive lots of imaging software to test, especially Microsoft Windows-only products and, to tell the truth, most of it is junk. Every now and then I find a diamond among the lumps of coal and LumaPix's FotoFusion v3 PRO (www.lumapix.com) is one of these gems. FotoFusion v3 PRO lets you produce high-resolution photocompositions, such as collages, class composites, scrapbooks, contact sheets, wedding albums, and other multi-image tasks with just a few mouse clicks. All you have to do is select the images you want and after even one mouse click produce a collage that is editable and saved as a template. A resolution-independent framework lets you interactively arrange images in multiple layers, with vector-based mattes and text and support for transparency.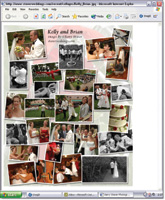 My pal Barry Staver uses Gary Fong's Collage Builder for Photoshop 6/7/CS to build the wedding collages on his website.
Text controls provide interactive control over placement, size, and appearance. The results can be scaled from e-mail to large format output without quality loss. You can even e-mail a collage from within the program. An integrated FTP client manages uploading collages and source images to web servers for online album publishing. Copyright can be protected with watermarks and e-mails sent to customers can include customizable linked banners to draw viewers to your website.

Another approach to producing collages is Collage Builder for Photoshop 6/7/CS by Gary Fong (www.digitalphotographers.net). It's a set of Photoshop Actions, so it's compatible with both Mac OS and Windows, and costs $98. It lets you place the first photo as a background if you like, then size and place other images on the page, where you can rotate, add borders, drop shadows, add type, all from within the Actions. There's no guesswork or Photoshop expertise required, just click the buttons and watch the page automatically build itself. All the while you're also able to override and do other Photoshop stuff along the way. Also included is an e-book instruction manual with step by step images that takes you through all of the steps of building the collage. My pal Barry Staver made all of the collages on his wedding website (www.staverweddings.com) with Collage Builder. Select Recent Photographs, and then click on one of the couple's photos to see them.
In addition to gray, the Digital Gel-Card includes six color patches that you can use to warm up or cool off your image, when applying your profiles.
Profiles In Cameras
Every digital camera is unique. Most camera manufacturers apply some sort of correction to the files, but they apply the same corrections to every camera. So why not create a camera profile? Some experts say digital cameras can't be profiled, but based on the observed variations in the hundreds of cameras I've tried, I must respectfully disagree.

Integrated Color (www.integrated-color.com) offers two profiling packages, including Commercial versions that include a batch reference file made from a group of targets and ColorEyes 20/20 that uses a custom reference file for its target. The Commercial version is aimed at the average photographer, but large format photographers who want critical color or fine art reproduction will find that 20/20 is more accurate.


(Top) Last month, I showed you some power tools that made people look beautiful. This month, here's something to make them look like monsters. (Center) The "Monsters Ick" Actions were applied to a duplicate layer, and the background was erased on the top layer allowing the real background to show through. This one is Gunk, which tosses sticky neon digital "rust" onto your images, while Gunk 2 adds "zombie juice." (Bottom) The "Monsters Ick" Actions include Complexator Alien, which produces wrinkly and shadowed monsters.
We used the Commercial version to create a profile for my Canon EOS 10D. If you can read and follow instructions and use only one light source (I used a borrowed Elinchrom monolight) you can light the target and make an even exposure. The lighting setup may take some time, but after you've got the shot the software will cook up a profile quicker than your Starbucks barista can whip up a latte. The software calculates the difference between what the camera saw and what the reference file says the color is supposed to be. The profile is based on using a custom color balance, so Integrated Color includes a Digital Gel-Card that lets you shoot the card, color balance the camera, and apply the profile with complete consistency between shots and even under different lighting conditions. The chart includes six other smaller patches that you can use to warm up or cool off your image when applying your profiles (Image>Mode> Assign Profile in Photoshop CS).
Digital Monsters?
Last month, I showed you some power tools that made people look beautiful. This month, here's something to make them look like one of Van Helsing's monsters. Monsters Ick is a set of eight Photoshop Actions that turns people into monsters quicker than you can spell lycanthropy. Dave Harty created the Actions and you can download a set from Adobe Studio Exchange (http://share.studio.abobe.com). Monsters Ick consists of Complexator Alien, which produces wrinkly and shadowed monsters, while in Complexator Alien 2, some skin tone is brought back; Gunk tosses sticky neon digital "rust" onto your images, while Gunk 2 adds "zombie juice"; Moldaction makes your portraits look a little moldy, much like extras from Dawn of the Dead; Monster Maker is just creepy, Monster Maker 2 is more gross, while Monster Maker 4 tosses in the climactic scene from Brian De Palma's Carrie. All you need is a picture (Harty said it "works best with a person") open. Be sure to take Actions out of Button mode and click Play, but hit Stop if you see something you like.
Postscript
"It's a small world, but I wouldn't want to paint it" is a quote from comedian Steven Wright, just in case you thought I made it up.

LATEST VIDEO