The Architecture Of Photography; So Long, Frank Lloyd Wright
"I can't believe your song is gone so soon."
--Paul Simon
Many readers e-mailed about my participation in Great Race 2006 (www.greatrace.com), asking if the event was going to pass through their town, but our 1953 Packard Clipper was withdrawn from the event. Without sponsorship, the event became too big of a financial burden. I asked many companies in the photographic industry to sponsor our entry, but only MediaStreet.com was interested. Unfortunately, the cost of driving a 50-year-old car 4000 miles cross-country from Philadelphia to San Rafael, California, requires multiple sponsorships (ever see a NASCAR race car?) but no others were forthcoming and Mary and I were forced to pull our entry. If you want to see our Packard in person, it will appear at a few auto shows this year, including Hot Times Kool Cars (www.hottimeskoolcars.com) which benefits Denver's Children's Hospital. Hope to see you there.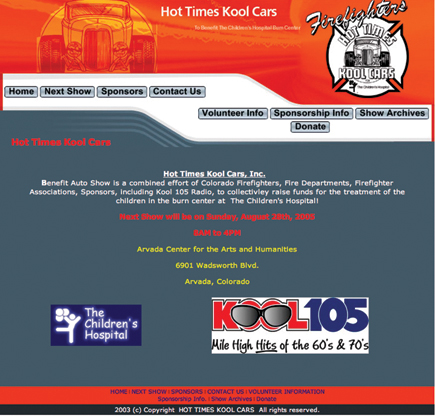 I think Al Bello is the best sports photographer in the world. Don't believe me? Look at his website. Here you'll not only find a collection of dynamic sports action images but also strong portraits of the men and women who inhabit the world of amateur and professional sports. The athletes in the Portfolio section are not just swimming or playing tennis, they are engaged in balletic performances that Bello captures in ways you've never seen before. His precisely composed and operatic images portray the drama, the pathos of sports in ways only the best artists achieve.

Bello's Portraits are collected in Action, Corporate, and Posed galleries: Posed contains lots of monochrome images featuring the strength, dignity, and character of his subjects. Corporate contains photographs of the people behind the athletes. The image titled "number 10" seems lifted straight out of my favorite baseball movie, The Natural. In Specialties you're treated to more Bello magic, including images of boxing and the Summer and Winter Olympics that feature moments demonstrating how Bello has the soul of a poet. Picture Story is a collection of six photo essays, each one of which is more surprising than the others in its treatment of the subjects. The most amazing is "Seniors of the Freeport Recreation Center," showing older people engaged in sports who are photographed with the same style and sensitivity Bello applies to all his work. The superb site design is by Patrick Sutton (www.nottusp.com) who provides a dramatic showcase for Bello's photography.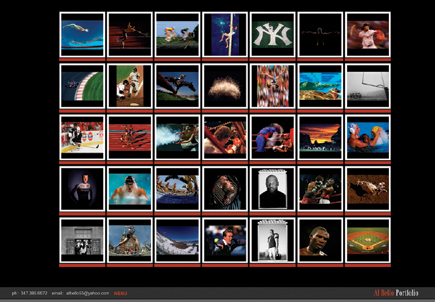 © 2006, Al Bello, All Rights Reserved
Alia Al Shamsi is the first female professional photographer in the United Arab Emirates. Currently she works as a photojournalist for Al Emarat Al Youm and Emirates Today, two of Dubai's newspapers, and she is their only female photographer. When given the job she was told that the future of female photojournalists was in her hands. "If I don't succeed it will be seen as a bad experience," she said, "but if I do a door may open for the future generations."

Whatever you know or think you know about the United Arab Emirates should be dispelled when you visit her website. It's a Flash-based design with three major sections: Bio, Photo, and Awards. The seven galleries in Photo show a photographer equally at home in monochrome or color with a wide array of subject matter ranging from a wonderful photo essay called "Behind the Scenes Fashion" to dramatic and humanistic images made in the aftermath of a Pakistani earthquake. In this essay, she shows the heartbreaking personal cost of natural disaster; the human rubble, not just the concrete. On the lighter side, you'll enjoy her travel images of Italy that transcend both her gender and nationality and would be just at much home in the pages of National Geographic as Al Emarat Al Youm. Al Shamsi says that she is not only trying to prove herself as a photojournalist, "but as a woman in a field dominated by men." As you can tell by the images on her website, Al Shamsi is a world-class photographer.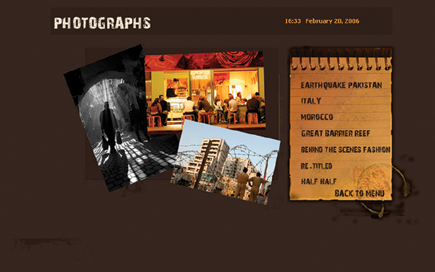 © 2006, Alia Al Shamsi, All Rights Reserved
David Bazemore is a performance photographer, but when visiting his website you won't find the kind of out of focus, overexposed or underexposed, blurry or sloppy composition that bedevils similar photographs. There is a sense of the theatrical in his site design where images are collected in nine galleries, including one called "Sings Like Hell" that is illuminating because if you look at his work on this series staring in 1997, you will see his astonishing growth not just as a technician but also as an artist. These early concert images contain some of his weakest photography, while the latest contains some of his best!


FEATURED VIDEO