Our Favorite Reader Websites: Look and Learn from These 3 Awesome Online Photo Portfolios
A few months ago I made some suggestions for improving your website. One of these was to avoid using Adobe's Flash mainly because it blocks the millions of potential visitors to your site who are using Apple iDevices.
But there are other reasons related to the security of your computer. Recently ARS Technica (www.arstechnica.com) reported that researchers sifting through material from Italian spyware developer Hacking Team uncovered a weaponized exploit for a currently unpatched vulnerability in Flash. Virus protection software company Symantec confirmed the existence of a new zero-day vulnerability in Adobe Flash that allows attackers to remotely execute code on a targeted computer.
This occurred after repeated attempts by Adobe to fix what appears to be a cascading amount of defects in the browser plug-in. Shortly thereafter Adobe updated Flash to patch a vulnerability attackers exploited soon after the Hacking Team's attack code was leaked but the popular browser Firefox now blocks Flash by default until "publicly known vulnerabilities" are fixed. As I write this, your Flash-based site is now also blocked from Firefox's estimated 450 million users.
You don't need Flash: YouTube, which was formerly used Flash as the default for playing videos dumped it in favor of using HTML5 as its default web player. To protect your system from attacks, you can uninstall Flash, like I did.
And now back to our regularly scheduled programming including a look at some photographers whose image making and website design enhances the way potential audiences or clients see them.
ralexandertrejo.com
Another suggestion I made for photographer's websites was having a dramatic opening page and R. Alexander Trejo hits the ball out of the pack with a deceptively simple site design that contains eight collections in a portfolio, with one of them—By Locale—having eight sub collections! A native of Philadelphia, Alex Trejo mixes two seemingly contradictory styles. His architectural images found throughout the site are angular and powerful, yet the photographs in the Alternatives collection are filled with romantic and sometimes mysterious photographs, echoing Stieglitz' Photo-Secession. You'll especially notice this in his Holga Effect gallery and while many people, including myself "play" with these toy cameras it takes an artist, like Alex Trejo, whose consummate aesthetic skills transcend the capture method to create powerful, often minimalistic images that make you not care about how it was made, just that is was made. Occasionally his images dabble in whimsy, such as the photograph in the Montréal sub-gallery of an old man talking to a horse but, like all his work, it's done with an innate sense of style and artfulness. And yes, he photographs real estate (in a separate portfolio, because even a talented artist like Trejo has to pay the bills. If you want to see how to create a photographer's site that focuses on their vision, not the photographer, studio, or exhibits, Alex Trejo's is hard to beat.
photonate.com
Portrait photographer Nathan Smith uses a simple site design that forces you to directly confront his photographs rather than being distracted by flashy graphics or animations. Smith's site focuses on his portraits although he tells me changes are coming, so the site may look a little different when you visit. Large portraits dominate each page with forward and back arrows for navigation and a grid icon tucked in the right-hand corner so you look at the portfolio as thumbnails. Nudity alert. Some of Nathan's images contain tasteful nudity and if this offends you, please don't visit the site. Yet there is dignified black and white portrait of what appears to be a monk or priest juxtaposed with a stylish and nostalgic picture of an aviator that echoes Hollywood portraits of the 1930's. Other wistful, historically inspired portraits include a seaman with a sailing boat in the background that looks like it could have come from Ernest Shackleton's expedition archive and that's followed by a Bunyon-esque portrait of a lumberjack. Yet you'll also find the kind of images that any workaday portrait studio might be called upon to make. Nathan Smith does not want to be pigeonholed and is creating images that interest him and his clients producing a classy portfolio of diverse portraits that place the emphasis on the subject—the way it should.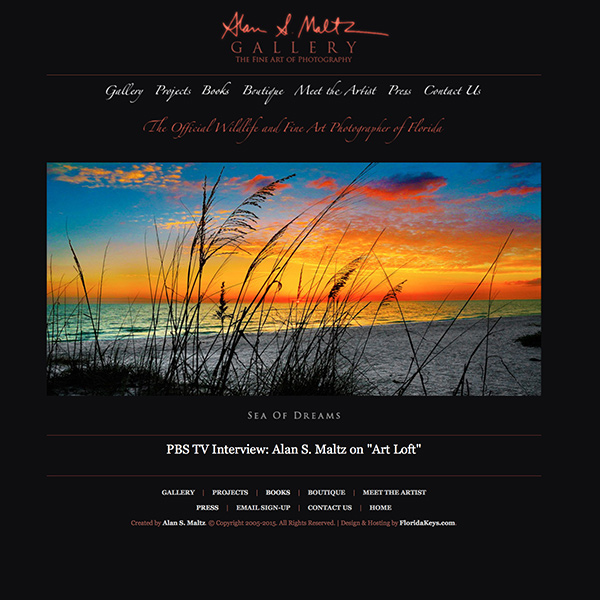 alanmaltz.com
Alan Maltz lives and works in my favorite place in the US. No, it's not Disneyland, it's Key West, Florida and Alan is the "Official Fine Art Photographer for the State of Florida." One look at the photographs in this elegantly styled Web site tells you why he received that honor as well as "The Official Wildlife Photographer of Florida." His on-line Galley contains 11 collections all of which can contain up to 25 sets of images. His wildlife photography visibly transcends the genre and images such as ""Last Flight to Paradise" of a Great White Heron flying in front of a rainbow (no kidding) in the Wildlife and Flowers galley demonstrates why his titles were justly earned. There's no greater flower photo cliché than photographing Water Lilies but Maltz turns that misconception on it's head with "Reflection of Beauty" featuring intense color—his hallmark—and precise composition creating a hyper-realism that will have the uninitiated asking "is that a photograph" As Jack Ridley says at the end of The Right Stuff, "You damn right it is." And while Alan's flower and wildlife photography is both beautiful and sometimes other-worldly, he also photographs Florida lifestyles featuring both superbly executed National Geographic-style shots of people at work and play along with intensely, personal and highly graphic images of architecture that literally scream FLORIDA. Key West is truly a magical place and Alan Maltz is it's photographic magician.\
If you want your photography website to be considered for inclusion in an upcoming edition of Web Profiles, click the contact button on my website (www.joefarace.com) and tell me about your site. You could find your online portfolio featured right here in this space!
(Joe Farace invites Shutterbug readers to visit www.JoeFarace.com and www.JoeFaraceShootsCars.com, which has a blog containing tips on photographing automobiles.)
FEATURED VIDEO