Our Favorite Reader Websites: Four Online Photo Portfolios That Turn Heads (and Get Clicks)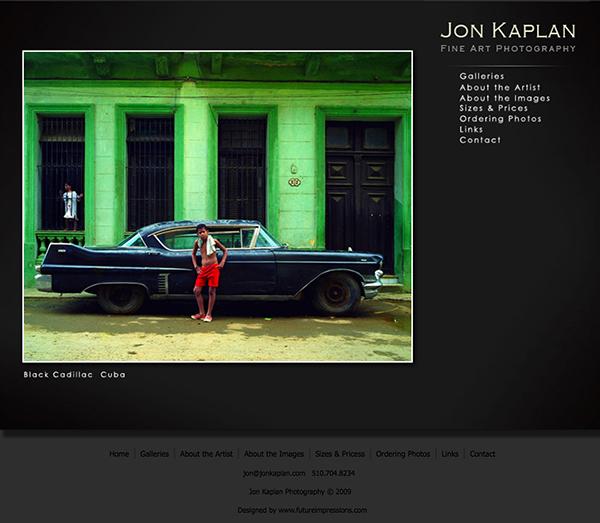 Every month, Shutterbug columnist Joe Farace chooses his favorite photography websites and online photo portfolios from readers. Here are four photo sites he thinks are a cut above.
jonkaplan.com
Jon Kaplan has been taking pictures since the day his father gave him a Polaroid camera when he was six years old. His understated website (see image at the top of this story) contains nine galleries identified only by numbers. RTo begin, you can just jump in, and start with "One." But prepare to be amazed by his innate sensitivity to the subjects of these portraits of children. Kaplan's obvious rapport with his subjects is reciprocated by them as shown in how relaxed they appear in front of his camera. These portraits are ablaze with the kind of color I haven't seen since the Technicolor brilliance of Jack Cardiff's cinematography for The Red Shoes. While you may initially be drawn by the color and the way Kaplan designs this photographs, you'll ultimately be swept away by the children themselves behaving in wonderfully natural ways yet unaware of the classical lighting and composition that elevate this images from anthropological studies to high art. These types of images continue through the rest of the several galleries, occasionally featuring adults such as Blue Wall Woman made in made in Nepal that will make you rethink everything you thought you know about photographing people in exotic locales. Blue Wall Woman is a truly universal image but at the same time extraordinary photograph that lets viewers create their own internal stories as only true artistic endeavors allow. "The message in my photography is about cultures, about humanity, about the richness of people's lives," explains Jon but at the same time his photography enriches our lives as well.
nantucketphotoart.com
Garth Grimmer lives on Nantucket and creates limited edition fine art photographs. His classy-looking website collects images into four galleries. In Nantucket, Grimmer's talent is on display with elegantly crafted images of this charming island through the four seasons. These are not your typical touristy images of the island (I've made plenty of those) but instead give you the sense of place that only a resident who's there year-round can bring to the experience. In Second Look, he takes a look at the small things that you might not even notice, except for his sensitive eye picking up patterns, colors and shapes that are mixed with some monochrome images of great subtlety and mystery showing a side of Nantucket life most of us never get to see. In Off Island, Grimmer reveals his take on the rest of the world, with five sub-galleries featuring his introspective travel photography of China, Europe, Africa and India. In these galleries the format changes displaying large thumbnails that, when clicked, reveal larger images. Finally Monochrome features a mostly seascape and nautical theme that works well with these finely-crafted and sepia toned images recalling older, simpler time. Most of Grimmer's photographs have a large ghosted copyright symbol that is not present in images displayed in the Shop section, where you can order prints at affordable prices.
jimmywilliamsfineart.com
Jimmie Williams is a North Carolina photographer who works on commercial assignments as well as fine art photography projects that this impeccably crafted site showcases. ('About the Artist' has a link to his assignment portfolio.) Print Series contains 16 collections of photographs showing the breadth and depth of Jimmie's talent and vision. In Music Makers, you'll find black and white and color environmental portraits of musicians whose panache matches the style of his subjects. Switching gears, Dreamscapes offers colorful neorealistic images of children at play with a worldview that's opposite his musician portraits, showing Jimmie is not a one-note photographer but one with a vast imagination along with the technical skills to pull it off. His immersive take on travel photography in Forever France appears to have made by someone who's lived in France their whole lives and has sought out the little slices of life only a native could be find and capture with a delicate and selective eye. This series expands the travel photography genre beyond National Geographic standards. In Singular Moments, Williams embraces his inner Cartier-Bresson creating monochrome images of great beauty and sometime, as with his images of dogs, tickle the same funny bone as Elliott Erwitt. If you haven't already figured it out, Jimmie Williams is a brilliant photographer who has the talent and technical skills to execute impossibly beautiful images. He is a post-modern Mr. I-Magination.
jonmichaelphoto.com
Jonathan Castillo's site is built on the LiveBooks platform (www.livebooks.com) that presents this innovative photographer's portraits in engaging ways. The nine collections in his Portfolio combine traditional and environmental portraiture along with photo essays focusing on people. None more so than Car Culture that raises street photography to new levels by actually being shot on the street—not sidewalk. People are captured driving their cars with the photographer in another car shooting out the back using a clever setup that includes electronic flash studio lights. The result is a different look at what car culture usually means and is an insightful as well as wonderfully realized series of images of life on the busy streets of Los Angeles. Bending the street photography genre again, Jonathan's Long Beach Portraits is a photo essay of delightfully captured black and white images that blend classical black and white portraiture (shot in a square format) with contemporary street photography and the results are stunning. He takes a hard right turn with All Puppet Players with studio portraits of puppets in performance mode shown next to the unposed puppet itself in colorful diptychs demonstrating yet another example of Jonathon's remarkable versatility. To see what Castillo's up to right now, don't miss his blog. You'll find the link under Info. His clever self-portraits (no one would call them selfies) on the CV page shows that Jonathan Castillo is a young man but with brilliant images such as are displayed on this site, he clearly has a bright future.
If you want your photography website to be considered for inclusion in an upcoming edition of Web Profiles, click the contact button on my website (www.joefarace.com) and tell me about your site. You could find your online portfolio featured right here in this space!
(Joe Farace invites Shutterbug readers to visit www.JoeFarace.com and www.JoeFaraceShootsCars.com, which has a blog containing tips on photographing automobiles.)
FEATURED VIDEO