Our Favorite Reader Websites: Shutterbug Photographers Find Beauty in the Strangest Places
"I was one of Them: the Strange Ones. The Funny People. The Odd Tribes of autograph collectors and photographers. The Ones who waited through long days and nights, who used other people's dreams for their lives."—Ray Bradbury
This month marks the anniversary of a column that began in Shutterbug magazine in 1999 as Website of the Month and along the way evolved into Web Profiles. We've now moved the column exclusively online and I continue to seek out seek out new websites, to boldly go…sorry, I got carried away.
If you want your photography website to be considered for inclusion in an upcoming edition of Web Profiles, click the contact button on my website (www.joefarace.com) and tell me about your site. You could find your online portfolio featured right here in this space!
Edin Chavez is a Miami-based photographer whose philosophy is "smile, love and live to your full potential. Never look back and wish what you could have done, go out and do it!" His cleanly designed, boldly image-focused website contains four collections in a Portfolio but 15 collections in Personal Projects. It's here you'll find diverse themes such as Miami Beach Surfer, featuring dramatic monochrome images of surfing—a most difficult sport to capture—and Zombies nStuff, a George Romero-inspired black-and-white romp. Who doesn't love zombies? Chavez captures these photographs with consummate technical skill and a sympathetic feel for his subjects. In contrast to these images, photographs in Burning Man in Portfolio are often poetic, not a word I'd normally use to describe typical images of this event with some images echoing Mad Max and Lawrence of Arabia but all with a deep sense of style and an obvious affection for the people being photographed. And if Chavez doesn't already seem versatile enough, The Streets features poignant, monochrome street photography, with a sometimes whimsical and upbeat touch. His versatility (and virtuosity) is compounded looking at the high-end architecture faultlessly captured in Real Estate. Take your time and explore Personal Projects and witness the genius of a photographic Renaissance Man who brings passion along with his philosophy into capturing whatever subject he makes up his mind to pursue.
John Richter has been photographing our natural world for the past 18 years and in 2001 began shooting with a large format view camera to "accurately capture the detail that can found in nature." The exceptionally clean site design via SmugMug Pro (www.smugmug.com/pro) enhances the overall presentation of Richter's images that are collected into eight galleries under the "Photographs" menu. Each gallery is subject-based featuring classically styled and beautifully executed, panoramic black-and-white and color images. There are small thumbnails at left and a larger image at right that when clicked reveals information about how and where each photograph was made. This philosophy caries over into the About section; this one titled "John," featuring several menus each containing information about Richter and how he works. When you click Field Notes, you're taken to a separate Blogger (www.blogger.com) partition; so you'll need to hit your browser's back button to return to John's site. Desert/Dunes, for example, features more of his introspective landscape images with each one crafted with the kind of impeccable discipline that working in large format brings to the process. Ultimately it's up to the photographer as to what to do with the gear and Richter delivers consistent and often breathtaking images of the natural world. This can especially be seen in Water that smoothly transitions from the harshness of the desert to lush, colorful and thoughtful images such as "Harmony" that demonstrate the wide range of this Richter's skillset.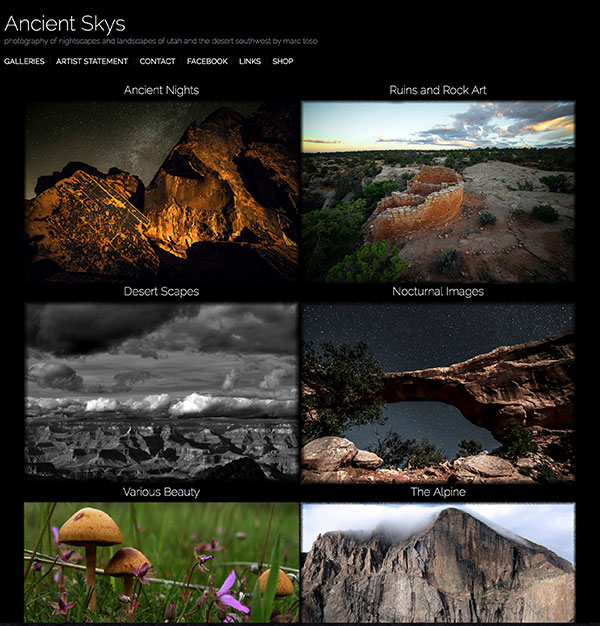 Marc Toso photographs ancient ruins and landscapes often under the backdrop of the night sky. The six galleries containing his images feature many photographs that help redefine nature and landscape photography. One look at the images in Ancient Nights tells you everything you need to know about the craftsmanship and skill Toso brings to these hauntingly beautiful images. Otherworldly images such as "The Citadel" fill your screen with what could only be called the ability of photography to capture images so far removed from the mundane that Toso seems to be a visual magician. Look at "Redman Pool" in Nocturnal Images gallery for a glimpse at a world that's hard to believe is on this planet. This photograph was clearly previsualized in a way Ansel Adams could never have anticipated when creating that concept. Toso comes back down to Earth in his The Alpine gallery containing landscape and nature images, such as "Sunrise on the Diamond," of haunting beauty whose warm tones and clever composition plays well with the more traditional photographs in this gallery. In Ruins and Ancient Art he takes you into prehistory with images of petroglyphs as well as photographs such as "Hilltop Kiva" that continues the site's overall theme that blends fine art with just a hint of the metaphysical.
It's been a while since I've featured a "Blog of the Month" but it's back this month with Andrea Taurisano's cimento della fotografia. This WordPress blog was inspired by the Italian word "cimento" meaning exercise, experiment and commitment. Taurisano is an Italian photographer based in Norway (the site is in English) who has embraced many different esthetics and in the process created a blog with subject matter that to use a cliché is unique. While many of his blog images have a highly personal, monochrome Lomography approach, photographs from In the Mood for Color, such as "Faces of the Hindu Kush" are a collection of crisply rendered environmental portraits of the people of Badakhshan that couldn't be more different than images in his main blog. His Documentary gallery includes a photo essay called "Over the border (Russian Arctic)" that looks at the Murmansk region in Northwest Russia. What ties the images in the galleries and collections is how Taurisano plunges into an environment making himself invisible, in the best photojournalistic tradition, allowing time to experiment with blog images that blur the space between reality and fantasy, which brings me to… One blog image may or may not contain nudity but it's hard to tell because of the soft focus—it may be a mannequin. If you might be offended, put your hands over your eyes when looking at "Diana F," keeping in mind that the title refers to the plastic Diana F camera that shoots soft-focus photos.
Joe Farace invites Shutterbug readers to visit his personal websites including www.JoeFarace.com and www.JoeFaraceShootsCars.com, which also includes a blog with tips on photographing automobiles and motorsports.