Tough Love: 5 Great Rugged Weatherproof / Underwater Cameras for Summer Fun
Even if you don't snorkel, ski or engage in any outdoor activities that can be unfriendly toward cameras, you need a ruggedized, waterproof, compact zoom that can stay in your pocket through cloudbursts, snowball fights and a capsized canoe without fret or falter. They are the SUVs of the camera world, and they're great for younger kids, too. (And if you're looking for a Mother's Day, Father's Day or Graduation gift, these cameras say, "I love you even when it rains.")
For my money, the two most important specifications for tough/water-resistant cameras are A) how deep can the camera submerge without mishap and B) how big is it? These two specs tell me how much mistreatment it withstands and how often I'm likely to have it in my pocket.
But the list of possible features is truly astounding. And they come in an abbreviated rainbow of colors. Despite being built like a slab of brick, some of these weatherproof babies have built-in GPS units, zooms that begin at 24mm true wideangle, chemical resistant finish and integral compasses. And they all look very cool.
In the spirit of full disclosure, I have not used all of these cameras. I want to clarify this because I rarely write about something I have not used. My rugged camera of choice is an aging 2012-vintage Panasonic Lumix DMC-TS20, a 16-megapixel, 4X zoom model that weighs just 4.3 ounces and measures 4 x 2.3 x 0.76 inches (7.0 cubic inches). How small is that? When bars of soap get this small, I throw them away.
My TS20 can be submerged safely to a depth of 16 feet (5 m) for 60 minutes (IP68) and that's enough for me because I'm only functional to a depth of 8 feet for about 20 seconds. Of course, the primary reason why I favor this camera is its ability to take a good picture.
Olympus Tough TG-5
Olympus has been a major player in this category for years. Their current premium model is the Olympus Tough TG-5 which retails for $449. It's rated for a depth of 49 feet (15 m). The total volume is 14.9 cubic inches (4.4 x 2.6 x 1.3) and it weighs 8.8 ounces (250 g).
Other features include a 12-megapixel CMOS sensor, 25-100mm zoom, 3.0-inch LCD, built-in Wi-Fi and Ultra HD 4K video capability. In addition to being waterproof, it's crushproof, freeze resistant and shockproof (she will withstand a drop of up to 7 feet). It's also arguably the best looking of the lot. And there are a ton of accessories available for it.
But the features that really separate the Olympus Tough TG-5 from the rest of the pack are the fast f/2.0 lens, ability to shoot Raw images and the Action Track Sensors that record location, temperature, direction and altitude data with the image file. You can even attach a teleconverter, as shown in the image at the top of this story.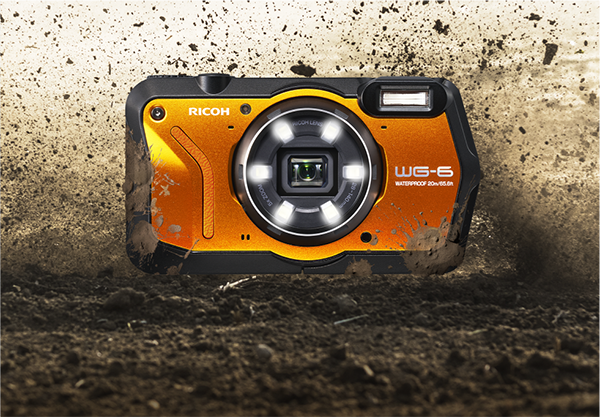 Ricoh WG-6
Another company that's no stranger to the rugged category is Ricoh (via Pentax). The Ricoh WG-6 Digital Camera ($399) has a 20-megapixel BSI sensor, 5X (28-140mm) zoom and 3.0-inch LCD. It's waterproof to 66 feet (20 m) and is crush, shock, freeze and dust resistant. Maximum aperture is f/3.5~5.5. Volumetrically she checks in at 4.7 x 2.6 x 1.3 inches (that's 15.9 cubic inches) and she tips the scales at 8.7 ounces (246 g).
The differentiators for the Ricoh WG-6 are the very cool built-in LED ring light that surrounds the lens and an exterior finish that is chemical resistant (for industrial use, apparently, and probably good for when I photograph my chili recipe simmering).
Nikon COOLPIX W300
Nikon fans have been enjoying the Nikon COOLPIX W300 Digital Camera for about two years now and it's easy to understand why. Priced at $389 she's light (8.2 ounces) and slim (4.4 x 2.6 x 1.1 inches for a cubic volume of 12.6) and features a 24mm true wideangle at the short end of the zoom.
Sporting a 16-megapixel sensor and a 3.0-inch LCD, the Nikon COOLPIX W300 features a 24-120mm zoom (nice range) and includes SnapBridge Bluetooth and Wi-Fi connectivity, plus a built-in GPS. She also supports 4K video (30p) and 7-fps burst mode.
Key feature here is the ruggedness. The Nikon COOLPIX W300 is waterproof to a depth of 100 feet (a whopping 30 meters), drop (shock) proof to 7.9 feet and freeze resistant (14° F).
Panasonic Lumix DC-TS7
The Panasonic Lumix DC-TS7 Digital Camera has a street price of $299. It stands shoulder-to-shoulder with the other cameras listed here in terms of durability and boasts a submersible depth of 102 feet (31 m) in addition to being shock, freeze, and crushproof.
It's a tiny bit on the hefty side, at least within this group. Weighing 11.25 ounces (319 g) and measuring 4.6 x 3.0 x 1.5 inches, the total volume is 20.7 cubic inches. Folks who are looking for a compact camera that offers a bit more to hold on to should look no further.
Other Lumix TS7 specifications include a 20.4-megapixel MOS sensor, useful 28-128mm zoom, 3.0-inch LCD which provides 1.17 millions dots, built-in Wi-Fi and geotagging support and 10-fps continuous shooting. Not to be overlooked: the Panasonic Lumix DC-TS7 features very effective Optical Image Stabilization.
Fujifilm FinePix XP130
At the nearly irresistible price of $179 you'll find the Fujifilm FinePix XP130 Digital Camera. The price is skinny and the volume is too, a scant 10.7 cubic inches (4.1 x 2.6 x 1.0 inches), and the weight is just 7.3 ounces. Despite the diminutive proportions, the features still rock. Packing a 28-140mm (5X) zoom and 920k-dot 3.0-inch LCD, 16.4-megapixel BSI CMOS sensor and cool double exposure option, the FinePix XP130 also offers Wi-Fi, Bluetooth LE, geotagging support and 10-fps burst speed.
The Fujifilm FinePix XP130 is waterproof to 20 meters (that's 65.6 feet for the metrically impaired) for up to two hours (that's IP68 and that's outstanding—probably the best protected camera in this roundup) and is dust, shock and freeze resistant as well. And—if that isn't enough—the XP130 comes in five colors, including a shade of green that should assure that no one would ever steal it.
One word of caution that pertains to all ruggedized, waterproof and dust-resistant cameras: be very careful when opening and closing the battery compartment door—and any other hatch or cover that you encounter. The waterproof protection can be compromised if you allow dirt (especially beach sand) to contaminate the weather seals or o-rings. Needless to say, never open the battery chamber when the camera is dripping wet, covered with sand or during a Jell-O fight.
—Jon Sienkiewicz
FEATURED VIDEO