Sigma's DP1 Digital Camera; Foveon Sensor & 14 Million Photodetectors In A "Compact" Digicam
First announced as a "product under development" in September 2006, the DP1 finally became available 18 months later and it was worth the wait. Aside from solving some image quality issues, the engineers also modified the specifications, delivering a better camera than we had initially expected. In spite of the compact size, this is not a typical point-and-shoot digicam for the mass market but a unique camera that's likely to develop a following among serious photographers.
The handsome all-black exterior hides a tough die-cast aluminium chassis and the camera features a built-in 16.6mm (28mm equivalent) high-grade f/4 lens. There's a very small built-in flash but it's hidden, recessed in the body until it's popped up. The DP1 is also equipped with a hot shoe that accepts optional accessories: a dedicated Sigma TTL flash unit or a rangefinder-style optical finder which may create a hint of nostalgia among long-time photographers.

More importantly, the DP1 employs the largest sensor available in any camera with a built-in lens: a huge 20.7x13.8mm sensor developed for Sigma's SD14 D-SLR. This silicon chip is seven times larger than the typical 1/1.8" sensor used in many high-resolution digicams. Consequently, the pixels are larger, too: 7.8 microns vs. the typical 2 or 3 microns, for greater light-gathering ability that should produce higher image quality.
A versatile camera with the features that serious enthusiasts want for landscape, nature, and travel photography, the Sigma DP1 is equipped with a unique oversized sensor that can produce wide dynamic range, high definition of fine detail, and accurate colors. (This image was made in Large/Fine JPEG capture at ISO 100 and f/11, using a Hoya Pro1 D circular polarizer.)
All Photos © 2008, Peter K. Burian, All Rights Reserved
This sensor is the unique Foveon X3 chip that can capture all three colors of light at every pixel. The specs indicate 14.1-megapixel resolution: 2652x1768x3, denoting the fact that each pixel is made up of photodetectors stacked in three layers.
Features And Operation
Quite compact, this rugged, beautifully finished camera fits into a shirt pocket or a medium-sized purse. When it's turned on, the 28mm equivalent lens protrudes by 1". The DP1 is equipped with several analog controls, including a mode selector dial, manual focusing wheel, an exposure compensation button, a four-way thumb pad, and switches for digital (not optical) zoom. There's no submenu for quick access to frequently used functions, however.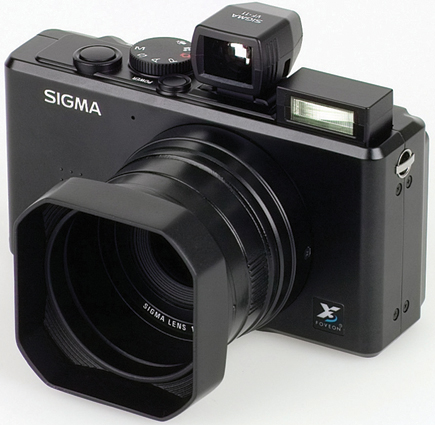 The lens is quite compact although it must project the large image circle required by the oversized sensor because its f/stop range is limited (f/4 to f/11). The maximum aperture of f/4 is fine for a wide angle lens but it would be nice to have an f/16 option for greater depth of field. This is a premium-grade lens with a large-diameter aspherical glass element plus super multilayered coating for low distortion, high contrast, effective resistance to flare, and excellent brightness/sharpness even at the edges. An optional lens HA-11 hood/adapter is available ($20) for additional flare control and for mounting 46mm filters.

Because there's no optical viewfinder, Sigma markets the optional finder VF-11 ($150) that provides a retro look to the DP1. I often used this accessory for composing images when glare obscured the LCD display or simply to save battery power. (The CIPA rating for the BP-31 battery is 250 shots so it's worth buying a couple of extras at $20 each.) The VF-11 is not perfect since it does produce barrel distortion and lacks parallax markings; also, part of the view is blocked when the optional lens hood is being used. Even so, this viewfinder is preferable to the 2.5" (230,000 dot) LCD screen which is not very crisp or contrasty.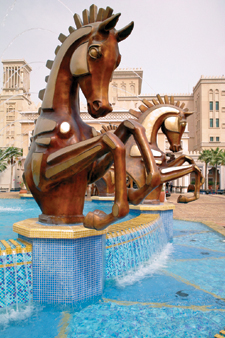 The built-in lens provides a wide field of view that can encompass a large area of any scene, perhaps including a lot of empty space or clutter. Move in close to a primary subject however, and it's often quite easy to exclude most of the unnecessary or distracting elements. (This JPEG image was made at ISO 100 at f/11, with a +5 level for Color Saturation, at the Madinat Jumeirah Resort in Dubai.)
The DP1 is not intended as an alternative to a D-SLR so it's not packed with features like some other high-end digicams. But it does include the essentials as noted in the specifications so I always felt well equipped while shooting travel images in Toronto and Dubai. For my tests, Sigma supplied the small EF-140 DG TTL flash unit ($89), a perfect match for this camera in terms of style and size. The accessory also provides higher power output, with a Guide Number of 45 in feet at ISO 100 vs. a GN of only 19 ft for the built-in flash.

Evaluation: The body is well designed for comfortable handling although it's a bit small for those with large hands. A few extra analog controls--for ISO and White Balance (WB), especially--would have made operation more convenient, reducing the need for scrolling through the menu. And the existing buttons should be more clearly marked as to their purpose in order to make operation more intuitive. While this is not the most full-featured digicam in the world, I was quite satisfied with its functionality, although I did miss an optical zoom lens for greater versatility; digital zoom is available but that really degrades image quality.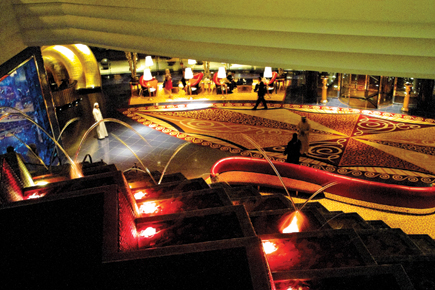 Particularly in low light or in serious landscape photography, manual focusing can be a useful alternative to autofocus. The DP1 is equipped with an old-style manual focusing wheel but also provides a distance scale display in the LCD monitor, ideal for setting focus to any desired distance. (This image was made at the Burj Al Arab hotel in Dubai after setting focus for an estimated distance.)
In my opinion, a 35mm equivalent lens might have been more suitable. Others may disagree, but I often found the 28mm equivalent a bit too wide for general photography and much too wide for many people pictures. My sources tell me that Sigma will eventually market other DP-series cameras with different lenses, including one with an optical zoom. The company would not comment on this statement. It's likely that their future plans will be determined by the popularity of the DP1.

The autofocus system is quite versatile with nine focus detection points and single point selection if desired. Manual focus is also available with a control wheel, part of the retro effect. When selected, a distance scale appears on the LCD monitor. That's a useful amenity because it's difficult to visually confirm focus on the LCD screen even when using the display magnification feature. I usually estimated the subject distance and set focus accordingly. This was a useful tactic for eliminating shutter lag at any time and essential in dark locations where the AF system sometimes failed to find focus.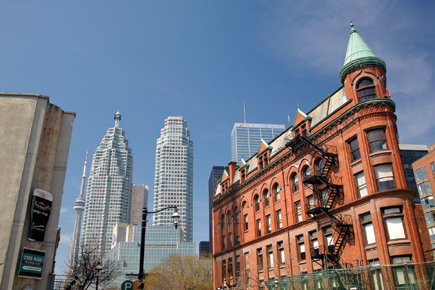 Raw photos can be extensively modified in the Photo Pro converter software, but when shooting JPEGs, it's worth taking advantage of in camera adjustments. On this sunny day in Toronto, I found that a -2 level for Contrast, +2 for Sharpness, and +5 for Saturation provided exactly the desired effect. (This photo was made at f/7.1 at ISO 100, with Auto WB, using a Hoya Pro1 D circular polarizer and cropped slightly.)
The DP1 was optimized for high image quality and not for sheer speed. Start up takes about 3 seconds and focusing in daylight takes about 1 second. The camera can then shoot three JPEG or raw photos in a single second. Afterward, it requires 10 seconds to clear the buffer of JPEGs or 15 seconds for raw photos when using a fast Class 6 SD card. In Single-Shot Drive mode the camera is ready to take the next photo after about 3 or 4 seconds. Occasionally, the delay can lead to a missed opportunity but processing time is not really a huge issue with a camera that's not intended for action photography.

Sigma has a great deal of expertise in optical design and the DP1's lens is first rate in all respects. Under close scrutiny, the images exhibit minimal barrel distortion or chromatic aberration or light falloff at the edges. (In images made with the camera tilted upward or downward, "distortion" of linear perspective is obvious, but that's caused by shooting technique and not by any optical flaw.) By f/5.6, edge sharpens matches central sharpness but I never hesitated to use f/4 for a faster shutter speed. Not many digicams' zooms can come close to the level of quality provided by this single focal length Sigma lens.
FEATURED VIDEO