Our 5 Favorite Photo Gadgets & Gizmos: Rugged Bags, Tripods & Accessories
Manfrotto's 290 Collection: The 290 range features three new tripod models: the 290 Light, 290 Xtra, 290 Dual and a new version of the 290 monopods (all backed by a 10 year warranty). The 290 Light is for hobbyists just starting out in serious photography. It has a solid aluminum body construction, with adjustable aluminum leg locks. The 290 Xtra is available in aluminum with durable construction and ergonomic control and adjustable aluminum leg locks. The carbon version is available as a standalone tripod and in kit with a ball head or a new 3-way head. The 290 Dual features the patented 90° column mechanism. The center column lifts out with one-finger action and swings to the horizontal position without disassembly and removing the head or camera. The 290 Xtra and 290 Dual both have the new 804 3-way head that features retractable levers with ergonomic rubber handles. The 290 Monopod features a technopolymer upper disc with grooves to increase camera stability and also a ¼ inch and 3/8 inch attachment for camera and head. Both the aluminum and carbon fiber four-section versions include a new rubber legwarmer to increase grip and angled wrist strap for great ergonomics. The 290 collection and the 804 3-way head are available now and range in price from $49.99 to $299.99.
More info on the Manfrotto 290 collection here.
Lowepro's ViewPoint Bag Series: This four-piece series of gear bags allows users to pack up to three action kits—depending on the case—with an added focus on additional gear storage, organization and portability. The line includes:
ViewPoint BP 250 AW: Room for up to three GoPro (or similar action cameras), a compact tripod, up to 15-inch laptop, up to 10-inch tablet, action gear (skateboard, helmet or headphones) and a removable action video camera case.
ViewPoint CS 40: Fits a GoPro (or similar action camera) with multiple accessories.
ViewPoint CS 60: Fits up to two GoPro (or similar action cameras) with multiple accessories and features a zippered mesh pocket and organizational panel for cables.
ViewPoint CS 80: Fits up to three GoPro (or similar action cameras), a variety of accessories and features an organizational panel and top lid with zippered mesh pocket.
All ViewPoint bags feature quick-grab handles and built-in straps for extra carry and attachment options and padded, adjustable dividers. ViewPoint cases are built with a wall of accessory straps to keep mounts, cables and batteries neat and secure. Viewpoint BP 250 AW ($129.95), ViewPoint CS 40 ($29.95), ViewPoint CS 60 ($39.95) and ViewPoint CS 80 ($49.95).
More info on the ViewPoint Series here.
LegCoat Tripod Leg Covers: Ideal for outdoor photographers, these covers were designed to protect your shoulders when carrying your gear and the camouflage pattern helps to break up the shape of your tripod when in the wilderness. They are crafted from soft closed cell foam padding and rugged heavy-duty neoprene. The padding also protects your hands from the cold tripod legs in low temperatures, and helps to prevent your tripod from damage. The Velcro fasteners make assembly fast and easy, the covers are available in a set of three. The suggested retail price is $46.99.
More info on LegCoat tripod leg covers here.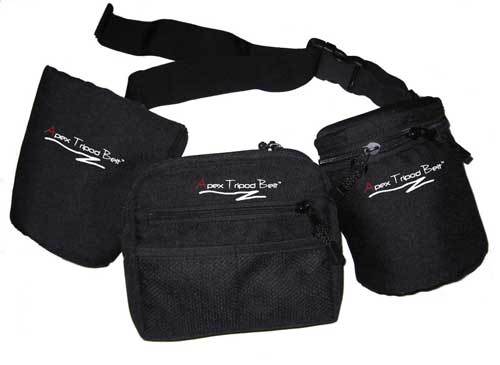 The Apex Photo Gear Utility Pouch Bundle: This belt system provides four cases and a belt for one price. Pouches can safely hold an extra camera body, small lenses or a converter, your cell phone, a flash, Better Beamer and more. The Apex Photo Gear Utility Pouch can also be used around your tripod.
Features:
Camera Bag: measures 7.25x8.5x3.25 inches for a camera body, cell phone, light meter, batteries and more. It has a built-in adjustable divider if using it for lenses or gadgets.
Lens Bag: measures 7x4.25 inches, this zippered bag is for small lenses and/or teleconverters.
Quick Drop Bag: measures 6.7x3.5 inches and is for quick access to gadgets, teleconverters or water bottles (insulated).
Belt: measures 58x2 inches and can be worn around the waist or around your tripod for quick storage. Available in Black or Realtree Advantage Max4.
More info on the Apex Photo Gear Utility Pouch Bundle here.
Phottix Laso: Designed to work with Canon's RT Wireless radio flash system and Canon (non-radio) ETTL flashes. The Phottix Laso Flash Trigger System enables users to control/trigger Canon RT System, radio-enabled flashes (and Canon's non-radio flashes) mounted on Laso Receivers. The Laso Transmitter can control/trigger 5 groups (15 units) of Canon radio-enabled flashes and supports multiple flash modes including: E-TTL II/E-TTL, Manual, MULTI, Ext.A and Linked Shooting. The Laso Receiver works with Canon's non-radio ETTL flashes. Users can control and trigger these flashes from different radio devices, including the Phottix Laso Transmitter, Canon ST-E3-RT flash transmitter, and Canon radio-enabled flashes. The Laso Receiver can also be connected to studio lights, offering the ability to mix hot shoe flashes and studio lights in one triggering system.
More info on the Laso here.
FEATURED VIDEO