New Products Of 2012: Lenses, Tripods, Bags, Lighting, And More
Every year manufacturers and distributors unveil new products at trade show events. They see these shows as the best venues to garner the attention of the gathered members of their industries and to show them their latest wares. In the photo industry this has traditionally been the annual Photo Marketing Association (PMA) Show, which we have always covered. This year that event was subsumed into the larger Consumer Electronics Show (CES) in Las Vegas.
While TVs and such dominated the halls and the show, our reporters sought out the latest photo gear. We began this coverage last issue and continue here with lenses, filters, viewfinders, tripods, tripod heads, camera bags and backpacks, lighting and flash, and more. As usual with these reports we have to say that while we do our best to be as comprehensive as possible, there's no doubt we may have missed something, and we will do our best to follow up and correct those oversights when they become apparent.
Also, we have limited our reports to show attendees, although, when noted, we may discuss a product that was released coincident to the show but was not at the show itself, or just prior to the show if it has relevance to the discussion. And due to the limited space, you will understandably have more questions about the products that interest you, so please visit the various manufacturer and distributor web pages shown at the end of each section of these reports.
—Editor
Lenses, Filters, Viewfinders, And Accessories
Tools For The Camera's Eye
We're seeing more and more filters designed with surfaces hardened against practically any misfortune that may befall them. In the past, my one qualm against using physical filters was that any deterioration to the filter led to a deteriorated image. Now I have fewer misgivings and feel better about adding glass to my prime optics. In addition, we also found some viewfinders that aim to heighten the viewing experience outdoors, where glare is often a problem. And we even have a few new lenses worthy of note, especially one very long, fast macro.
Argraph Corp. showcased Marumi Digital High Grade (DHG) Filters. These filters are specifically designed for digital cameras/lenses and aim to eliminate flare and ghosting that may result from the sensor. They incorporate a proprietary high-tech ultra-low reflection coating for increased light transmission. To minimize internal reflection Marumi uses a proprietary outer, satin-smooth rim with an ultra-thin matte black filter frame. The newest filters to join the lineup are Super DHG Filters (featuring a scratch/dirt/oil/water-resistant coating for outdoor work), Variable Neutral Density Filters (continuously variable from ND2 to ND400 and color-neutral), and Achromat Macro Lenses (providing edge-to-edge sharpness).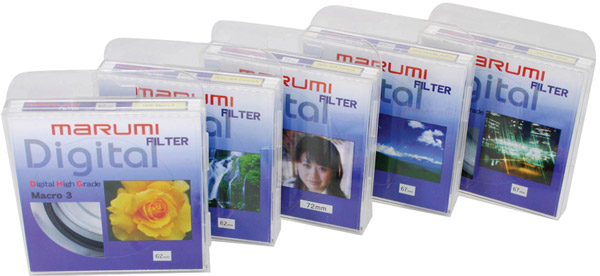 Dot Line Corp. previewed the SWIVI External Monitor ($330). This is a vari-angle, external 5.6" 800x600 (4:3) diagonal LCD screen that attaches to a D-SLR via the tripod socket and uses the HDMI port and Live View function. Additional features include Peaking Mode to verify sharp focus, Zoom In and Zoom Out functions, as well as stereo speakers and hood, plus a choice of power sources (six-AAA battery module included sans batteries; optional Canon-type LP-E6 battery can be used).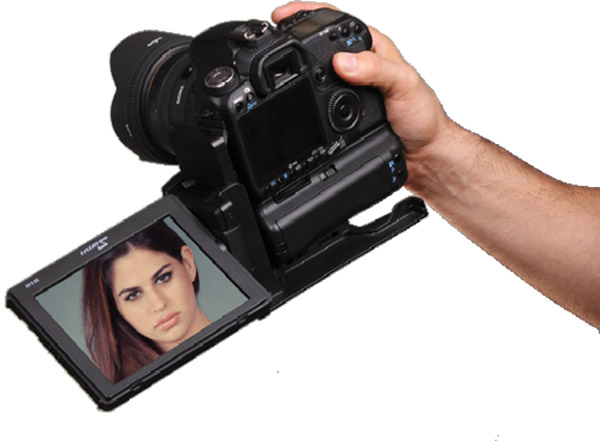 HP Marketing Corp. introduced an entirely new generation of Rodenstock filters. HR Digital super MC and Digital pro MC are lines of UV and circular polarizing filters designed to optimize contrast while producing neutral colors and feature a slimline mount that virtually eliminates the possibility of vignetting with extreme wide angles. The filters are also hardened and multi-coated. Digital pro MC filters are made from hardened, black anodized aluminum, whereas HR Digital super MC filters are made of brass for improved mounting and removal, with an additional special coating that repels almost all liquids and dirt, while further increasing scratch resistance. In addition, new Digital Center Filters are optimized to tackle vignetting with the Rodenstock HR Digaron-S 23mm f/5.6 and 32mm f/4 lenses without any loss in image quality by the use of two specially designed cemented lenses. An increased front diameter counters vignetting.
International Supplies debuted the Varavon ProFinder ($363—for Canon EOS 5D Mark II, 7D, and Rebel T2i), which is designed to facilitate low-angle shooting. It attaches to the camera via a baseplate, so it sits flush against the camera's LCD screen. The ProFinder features a 3x zoom, diopter adjustment, and a loupe. When not used for low-angle shooting, the device can be used as a regular viewfinder or transformed into a hood. Another new viewfinder is the Varavon Loupe EX Solo, which aims to facilitate viewing even under the brightest outdoor conditions. For use with Canon EOS 5D Mark II, 7D, Rebel T2i, and Nikon D7000 and D3100 cameras; or it can be used with Canon EOS 60D and Panasonic GH1 and GH2 cameras with a special adapter.
Lensbaby unveiled the Edge 80 Optic ($300) for creative control over depth of field. This 80mm, flat-field lens is the latest addition to the Optic Swap System, and is compatible with the Lensbaby Composer Pro, Composer, Muse, Scout, and Control Freak, and will transform any of these lens bodies into a tilt lens that delivers a slice of sharp focus through an image that falls off to a soft blur. The Edge 80 Optic also features Lensbaby's internal 12-blade adjustable aperture. I'd say, matched with the various Lensbaby optics, this opens a virtual cornucopia of possibilities. The Edge 80 Optic is not compatible with the Composer with Tilt Transformer for Micro Four Thirds and Sony NEX or with current 37mm Lensbaby accessories.
Nikon introduced the FX-format AF-S Nikkor 85mm f/1.8G ($499; equivalent to 127mm on a DX-format D-SLR). Clearly an optimal focal length as a portrait lens for FX and a nice mid-range tele for FX, this prime lens also benefits from the f/1.8 maximum aperture for low-light shooting and/or selective focus. The lens also features Nikon's Super Integrated Coating and an ultra-compact Silent Wave Motor (SWM) for fast AF operation, plus M/A (manual-priority autofocus) and M (manual) focus modes, and Internal Focus (IF) for worry-free use of polarizers.
Olympus highlighted the M.Zuiko Digital ED 12-50mm f/3.5-6.3 EZ ($499; 35mm equivalent 24-100mm) for Micro Four Thirds as the first in this genre to feature an electronic motorized zoom, which has been enhanced with a linear motor that drives smooth and quiet autofocusing (important for video). Manual zooming is also possible. In macro mode, focusing is possible between 8 and 20" for close-up shooting with a maximum image magnification of 0.72x (35mm camera equivalent). New lens elements and glass materials aim to optimize performance, while a dust- and splash-proof mechanism (originally featured in the Four Thirds SHG-series lenses) is now incorporated for the first time in a Micro Four Thirds System lens.
Ricoh announced the Ricoh Lens A16 24-85mm f/3.5-5.5 for the GXR mirrorless interchangeable unit camera system. Unlike typical lenses, this is actually a module that incorporates its own 16.2MP APS-C CMOS sensor. My closest analogy would be a medium format interchangeable back, except that this mounts to the front of the body, and includes the lens. It offers various shooting and focusing modes, with a host of features normally associated with a digital camera. This f/3.5-5.5 zoom features a rounded diaphragm for subtle out-of-focus effects, focuses as close as 9.8" (from the front of the lens), and includes three aspherical lens elements. Filter diameter is 55mm.
Sigma revealed the APO Macro 180mm f/2.8 EX DG OS HSM lens for full-frame sensor D-SLRs (APS-C with corresponding increase in focal length; currently available for Sigma). This glass offers life-size capture with a long focal length—useful with really skittish or dangerous subjects. Sigma's proprietary Optical Stabilizer (OS) technology allows hand holdable, blur-free shutter speeds approximately four stops below what is normally required for a given focal length. For improved optical performance, the lens features three "F" Low Dispersion (FLD) glass elements, internal focusing, and Super Multi-Layer Coating. Sigma also introduced two lenses for mirrorless cameras: the 19mm f/2.8 EX DN wide-angle optic and the 30mm f/2.8 EX DN standard lens. They each weigh less than 5 oz and stop down to f/22, with a 46mm filter size. Each features a newly developed linear AF motor. For Sony E-mount and Micro Four Thirds.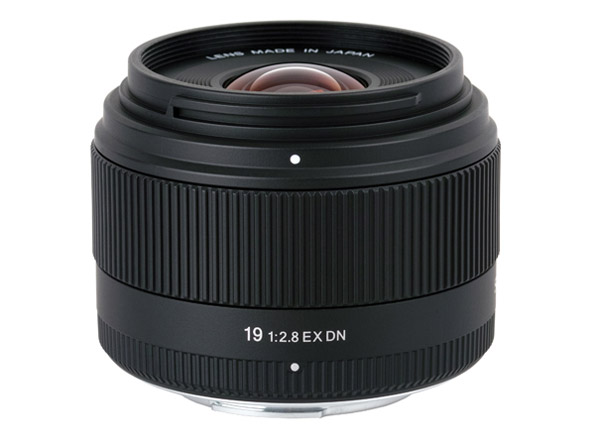 THK Photo introduced Kenko 10mm and 16mm auto-extension tubes (maintaining AE and AF) for Micro Four Thirds, turning any lens into a virtual macro lens with minimal light loss. Also new: the Kenko Vari-NDX filter (in 77mm and 82mm sizes) is a variable neutral density that has a filter factor range of 2.5 to 1000, or a light loss of 1.3 to 10 stops. The filter is comprised of two polarizing elements and produces no color shift. Another new filter is the Hoya UV & IR Cut filter in 49mm through 82mm sizes. Hoya explains that this is important because CCD and CMOS sensors are extremely susceptible to UV and IR rays, which lead to image degradation. Finally, have you ever wished you could convert your prime lens into a birding scope? Well, the new Kenko Lens2Scope adapter lets you do just that. It features a roof prism, optics, and an eyepiece (made of metal and polycarbonate), for a 10x increase in magnification with any attached lens. Focus is achieved by using the lens' manual focus ring. Available for Canon EOS, Nikon, Pentax, and Sony—as a linear or angled eyepiece, and it comes with a removable tripod adapter.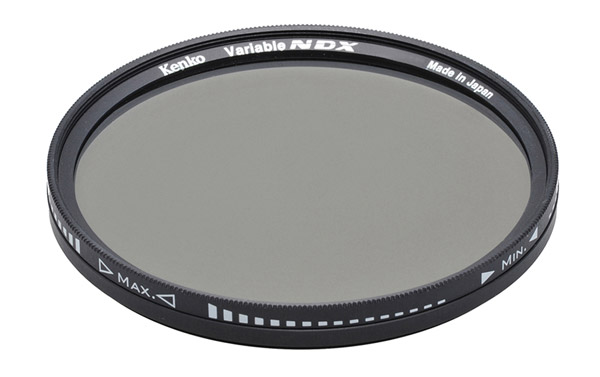 Contacts
Argraph Corp.: www.argraph.com

Dot Line Corp.: www.dotlinecorp.net

HP Marketing Corp.: www.hpmarketingcorp.com

International Supplies: www.internationalsupplies.com

Lensbaby: www.lensbaby.com

Nikon: www.nikonusa.com

Olympus: www.olympusamerica.com

Ricoh: www.ricoh.com/r_dc/

Sigma: www.sigmaphoto.com

THK Photo: www.thkphoto.com
FEATURED VIDEO