Covering The Photo Beat: Software, Led Lights, Paper & Cases
Portrait Professional 11
The latest version of Portrait Professional features automatic face and feature detection that make retouching fast and easy. It will automatically give the subject a pro makeover by removing blemishes, reducing lines and wrinkles, and re-contouring the face to produce a slimmer appearance. You can also improve the subject's hair or even change the hair color. Portrait Professional 11 has an improved touch-up brush to remove spots, stray hairs, and various blemishes. It also has new sliders that can reduce bags under the eyes, remove crow's feet, moisten the lips, and enhance the cheeks. The plug-in version
Contact: www.portraitprofessional.com.
Lowel GL-1 Power LED Light
The new Lowel GL-1 Power LED light was designed in conjunction with photographers Brian Marcus and John Solano. Ideal for use with D-SLR cameras, this battery-powered unit offers focusable and dimmable photo-quality tungsten color LED light (3000K color temperature). The state-of-the-art LED offers a wide focus range from spot to flood that allows you to create dramatic lighting from close-up or 20 feet away. The tungsten source is flattering for portraits and self-contained DC power provides maximum portability and speed in lighting placement. The unit can be dimmed (from 5 to 100 percent) by using the adjustable dimming trigger for handheld use or locking the light "on" and dialing in the intensity for long-term constant output at any level. Silent diaphragm cooling eliminates distractions and the 1/4-20 screw thread on the base provides an option for tripod or stand mounting for long-term setups. The suggested price is less than $800.
Contact: www.LowelGL.com, www.tiffen.com.
Nanoha Macro Lens
Created for use with mirrorless cameras, the Nanoha macro lens offers up to 5x magnification with a minimum f/11 aperture. Featuring both 4x and 5x magnification and four aperture settings (f/11, f/16, f/22, and f/32), the lens comes with a built-in LED illumination system to assist in shooting very small objects. Powered via USB cable connected to a computer or a battery pack, the removable lighting module screws onto the front and has three LEDs. Made of steel and weighing only 11 oz, the Nanoha uses 10 coated spherical lenses in seven groups to reduce reflection and the ultra macro lens is available in a Micro Four Thirds mount for Panasonic and Olympus cameras, as well as the Sony NEX camera series. The retail price is $499.99; the USB cable and portable USB power supply are included.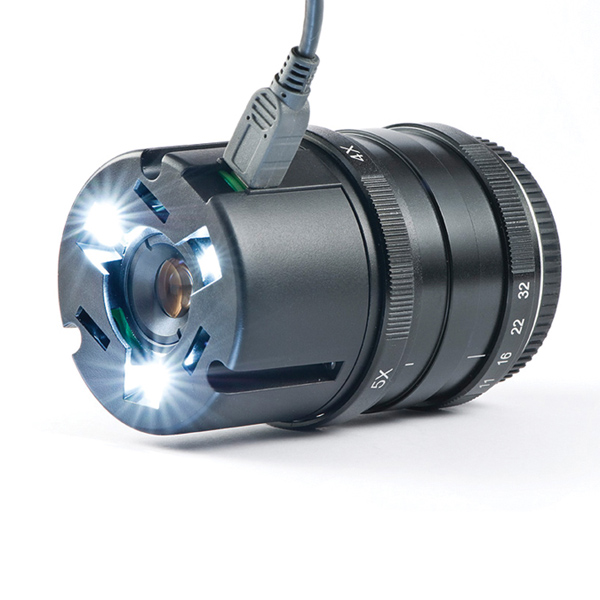 Contact: www.internationalsupplies.com.
300gsm Polar Pearl Metallic Plus Paper
The new 300gsm Polar Pearl Metallic Plus paper closely matches the look of photo lab metallic prints with a high-gloss finish and a pearlescent base stock for an iridescent look. Compatible with any inkjet printer, this warm tone, low OBA paper is 11.8 mil thick and acid free. It is available in 10 sheet sizes and rolls up to 24" wide.
Contact: www.redriverpaper.com.
Tomahawk Gimbal Head Adapter
The Tomahawk allows you to convert a ball head into a gimbal head. The Tomahawk can easily support the weight of a 600mm lens. Simply attach the lens to the Arca-Swiss-type clamp and attach the Tomahawk to the ball head or monopod.
Contact: www.promediagear.com.
USB Case
Midwest Photographic Resource Center is now offering their new USB Case. This pro-quality display box comes with either a 8GB or 16GB stainless steel and leather USB flash drive. The lid features a built-in display window that allows you to personalize the box for each client. The retail price for the 8GB drive and USB Case is $29.95.
Contact: www.midwestphotographic.com.
RadioPopper Update
RadioPopper released a firmware update for its PX Transmitter and PX Receiver for compatibility with Canon's EOS-1D X body and Nissin's Di866 Mark II flash. Both are now fully compatible with the transmitters and receivers. The firmware already supports current Canon and Nikon D-SLRs and flashes.
Contact: www.radiopopper.com.
Correction
In a recent issue (November, 2012) an article on cases misstated the price of the Seahorse SE920 case. The item pictured was the "pick and pluck" foam version (SE920F), while the price quoted was for the Velcro divider option (SE920D) of the case. The SE920F case retails for about $100. Seahorse prides itself on supplying a wide variety of affordable, high-performance protective cases for photographers. For a full list of cases and options, please visit their website at www.seahorse.net.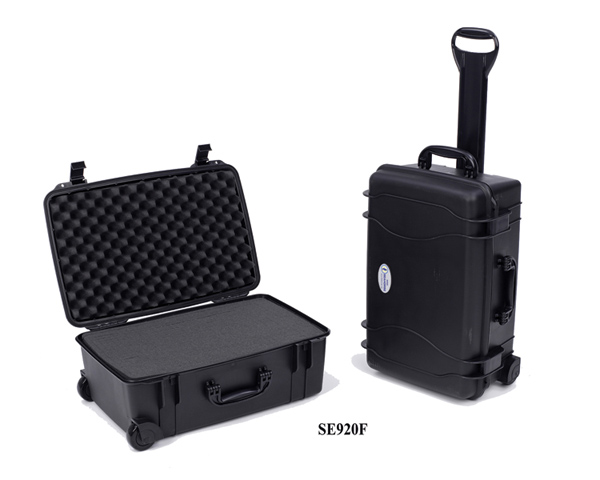 Submit!
To submit information for Roundup, please contact our New Products Editor by e-mail at: Cynthia.Boylan@sorc.com or regular mail at: Shutterbug Magazine, 1415 Chaffee Dr., Ste. #10, Titusville, FL 32780.
FEATURED VIDEO