Covering The Photo Beat: Lens Shade, Straps & Tees
Hoodman Custom Finder Kit
Hoodman's Custom Finder Kit for up to 3.2" viewfinders includes a H32 HoodLoupe with German glass optics, a +/- 3 diopter adjustment, and a 1/4"-20 mount. Designed to fit all D-SLR cameras, the milled black anodized aluminum base plate is made in the U.S.A. (by Custom Brackets) and allows you to mount the HoodLoupe to your camera for video capture and live view. The base plate also features anti-twist bars, two 1/4"-20 tripod mount holes, a hand strap slot, and a camera sling strap attachment point. Hoodman's Custom Finder Kit has a retail value of $199.99; the base plate may be purchased separately for $99.99.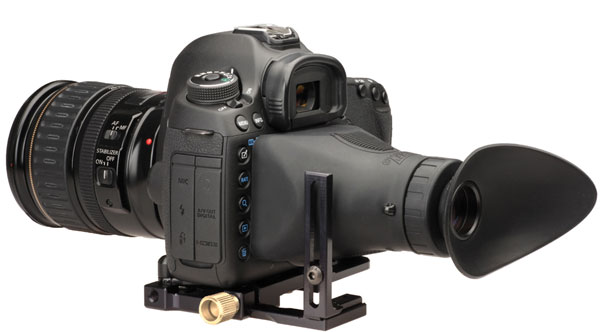 Contact: www.hoodmanusa.com.
The Dinkum Systems COMPACT Lens Shade
The pro-grade COMPACT lens shade was designed to offer glare protection for hot shoe-equipped camcorders and D-SLR cameras. Crafted from anti-reflection aluminum, it also offers added protection from dust and rain and the durable 10-link, 7.5" long ball-and-socket arm holds securely in a variety of angles. The retail price is $39.95.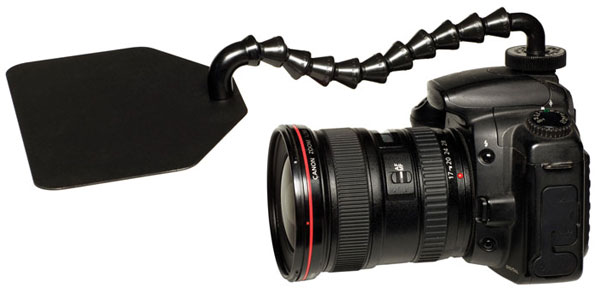 Contact: www.dinkumsystems.com.
Glidecam VistaTrack
The Glidecam VistaTrack 30-48 is a combined miniature linear dual track and dolly system that allows you to create smooth, vibration-free camera movements. The 30-48 model can be used with cameras up to 30 lbs when attached to a single tripod or when using its integrated adjustable legs. It can also be used with cameras up to 60 lbs when attached to two tripods. It features a tripod mounting plate and a tripod head mounting plate. To use two tripods an additional tripod mounting plate is required and is available for purchase as an option. The VistaTrack is available in 48", 36", and 24" track sizes. The mounting plates are compatible with most 1/4"-20 and 3/8"-16 mounting applications. The VistaTrack 30-48 is $1299.
Contact: www.glidecam.com.
Naneu Outlander 50L, K5 v2 80L, And K4L v2 Bags
Naneu has expanded their Adventure line. The Outlander 50L and the K5 v2 80L feature a removable camera pod that is large enough to hold a pro D-SLR body with a lens up to 9" long, three to four more lenses, a flash, and accessories. The pod can strap onto the front harness, enabling you to keep hiking with the pack on your back and the pod in front for easy shooting. The K4L v2 features a pull-out camera compartment that can be attached to the front waist belt or used as an independent waist or shoulder bag with the aid of the included strap. This pack can hold a pro D-SLR body with a battery pack attached, one lens up to 8.3", two more small lenses, and assorted accessories. The Outlander 50L has a retail value of $379.99, the K5 v2 80L is $449.99, and the K4L v2 is $279.99.
Contact: www.naneubags.com.
The Songbird From Kelly Moore Bag
The newest addition to the collection, the Songbird can carry gear up to 9" in height. Measuring 14.5x5x11" (on the outside) and weighing 2.75 lbs, it is large enough to safely accommodate your camera, lenses, flash, CompactFlash cards, and iPad along with your phone, keys, and credit cards. It features a removable adjustable long messenger strap (up to 56") and a removable short shoulder strap (7" in height). The Songbird is crafted from water-resistant, man-made materials and includes brass hardware and a shoulder pad. The color choices include saddle, orchid, raven, and cobalt.
Contact: www.kellymoorebag.com.
Yeti & Yeti Slim Camera Straps
BlackRapid is now offering two innovative camera straps. The Yeti allows you to carry two camera bodies with maximum mobility. It features a sleek single shoulder design and two camera straps; one strap slings across the torso while the other sits straight down from the shoulder. The Yeti strap also includes a cross-body stabilizer that fits across the chest to hold the system tight to the body. The secondary strap can be removed, allowing you to use the system as a single strap with an underarm stabilizer. The Yeti Slim has all of the same features but with a more slender shoulder pad that is ideal for people with smaller builds.
Contact: www.blackrapid.com.
Dodge & Burn Tees
Dodge & Burn designs bold T-shirts that feature iconic cameras from the age of film photography. Designs include famous camera models like the Leica M3 and Polaroid SX-70, plus "cult classics" like the Voigtländer Vitessa. The high-quality shirts are from American Apparel (made in the U.S.A.) and the printing is done locally in New York. Their latest design is the "Evolution TLR" and is their most art- and research-intensive project to date.
Contact: www.dodgeandburn.com.
Submit!
To submit information for Roundup, please contact our New Products Editor by e-mail at: Cynthia.Boylan@sorc.com or regular mail at: Shutterbug Magazine, 1415 Chaffee Dr., Ste. #10, Titusville, FL 32780.
FEATURED VIDEO