Social Media Without Tears (or Hashtags)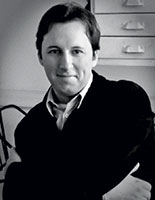 Most people I know (including yours truly) have a love-hate relationship with social media. We love it because it helps us stay in touch with our family, friends, and colleagues who might live in other parts of the country (or other parts of the world); it helps us promote what we are doing (mostly in a good way); and it's one of the best places to catch all the important (and not-so-important) breaking news of the planet.
But then there's the downside to places like Facebook, Twitter, Instagram, Tumblr, etc., etc. It can be an incredibly addictive time-suck and oftentimes the stuff shared on social media is pure drivel: self-aggrandizing "humblebrags" from people you're not even sure you like; bad photos of food that people either just made or are about to stick in their gullets; and hashtags, #tons #and #tons #of #annoying #hashtags. There's also, of course, plenty of insipidly cute cat videos but I don't really have any problem with those. ?
So yes, the case can be made that social media is a complete waste of time that has little to no inherent value. Just don't tell that to a few of the people we've interviewed in this issue who are using social media for the greater good. And that's no humblebrag!
Take, for instance, Jeremy Cowart who we interview on page 78. Cowart was named the "most socially influential photographer" in the world last year and while, on face value, it may be hard to tell exactly what that means, he's making the most of it through his social change efforts, activism, and community outreach, all of which has been spurred on with the help of his massive online audience. He also, somehow, finds time to run a very successful portrait photography business.
Then there's Luke Copping, who shot the adorable image of the pooch on our cover. Copping works with an animal shelter in Buffalo, New York, to create portraits of rescue and foster dogs so they have a better chance of getting adopted. "Social media has been the key because one of the universal truths of the Internet is that it's crazy about pictures of adorable dogs," he says in Maria Piscopo's Business Trends column on page 82. "Almost as soon as I or the shelter volunteers share one of these images it goes immediately viral in the local community, garnering hundreds of likes and dozens of shares and retweets."
That's real power. And speaking of power, you should check out our debut column Going Mobile on page 24, which explores the art of mobile photography. In this initial installment, Barry Tanenbaum interviews Pulitzer Prize-winning photographer David Hume Kennerly who talks about why shooting with an iPhone has made him a better photographer. And speaking of debuts, we have two amazing new photo features premiering in this issue: on page 12, there's "Full Frame," which features one spectacular photo (and the story behind it) spread over two pages; and in the back of the magazine, on page 103, is "Final Shot" where we give the full-page treatment to a favorite image from a Shutterbug reader.
If you want to stay on top of all the photography news we're covering online, "like" our Facebook page (facebook.com/shutterbugmag), follow us on Twitter (twitter.com/ShutterbugMag), and on Instagram (instagram.com/shutterbugpix). On Instagram, we're now doing weekly photo contests, so hashtag your Instagram images with #ShutterbugPix to be immediately entered. On Shutterbug.com, we've started Shutterbug Photo of the Day where we feature a favorite reader photo on our website daily. Enter your best photos now and you could find yourself featured in Shutterbug magazine!