Location, Location, Location!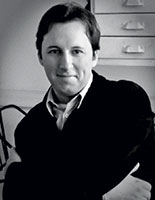 "Location is everything," the old real estate maxim goes, and I think I've landed in a pretty good spot. If you're a longtime Shutterbug reader, you just might be saying to yourself now: "Who the heck is this guy and what's he doing here?" The short answer, in case you missed last month's Editor's Notes, is that George Schaub stepped down as Shutterbug's editor and I've taken over for him. I've known George for most of the time I've worked in the photography magazine industry, which is going on 16 years, and he's always been someone I've admired. George has taken this magazine to great places during his time at Shutterbug's editorial helm and my plan is to pick up right where he left off, with a few upcoming changes. But don't get nervous. Shutterbug will continue to be the leading resource for serious photographers, offering our distinctive blend of photography news, gear reviews, how-to's, and, most importantly, great images to educate and inspire you to be fantastic photographers. (And, in case you're wondering, George will still be contributing to Shutterbug as our Editor-at-Large.)
But even the best locations need a fresh coat of paint and some modern renovations to keep up with the times. To that end, expect to see a new look for Shutterbug evolve over the next few issues as we roll out a redesign that puts even more of an emphasis on great photography. You'll see even bigger changes online at Shutterbug.com as we not only revamp the way our site looks to, you guessed it, put more of an emphasis on photography, but in how it presents information.
In the past, Shutterbug.com has largely been a way for us to disseminate stories and images that have appeared in the magazine to an online audience. We've come to realize, however, that that's not good enough. Now, not only do we want to share our print stories online, we want to generate new, exclusive online content, including breaking photography news, timely photo gear reviews, and helpful, instructional how-to's (including video tutorials) that educate and inspire you. One of the most popular features on our website has been our online galleries where readers post photos and take part in our popular Picture This! assignments. There have been some amazing images entered in these galleries, and we want to showcase them even further while increasing reader interactivity and image sharing on the site. Stayed tuned for some big changes coming to the galleries!
But now to the issue at hand, which is, in fact, the October issue you're now holding in your hand (or, perhaps, viewing on your tablet computer). The theme of the issue is Location & Event photography, which is what I was alluding to at the beginning of this column. Location is, indeed, everything but so is timing and, most critically, speed. "Speed of delivery is not an option anymore. It's a requirement," one photographer stresses in Maria Piscopo's Business Trends column on Event Photography on page 84. "People are so accustomed to sharing life instantly from their mobile devices, they expect similar speed from the professional photographers they hire."
That's an important point. Speed is no longer optional, it's essential, and that holds true for photographers and photography magazine editors alike. While some out there may lament a world where news, information, and images are shared instantly and everyone is connected all the time, I see it as an opportunity for Shutterbug. Along with ramping up our website, we're increasing our social media presence on Facebook, Twitter(@ShutterbugMag), and other locations to interact directly with Shutterbug readers and bring you all the photography news and info right when it happens. Fasten your seatbelts, folks, you're in for a fun ride!