LensCoat's LensHide Camouflages You for Stealth Nature Photography
The LensCoat LensHide is a clever camouflage covering that conceals both the photographer and his or her camera gear for stealth, undercover nature photography.
Crafted in the USA from a lightweight, breathable camouflage material with a large camo mesh-screen, LensHide lets you see and photograph your subjects while you are covered and out of sight without obstructing your peripheral vision (or your camera lens). The LensHide is quick and easy to setup and roomy enough to allow you to make adjustments to your gear so your movement is unnoticed by your subjects.
A Velcro closure on the back of the head keeps the LensHide in place. An Elastic Cinch strap secures the LensHide to your lens and a Velcro sealed top slot allows for quick and easy use of an external flash.
The LensHide folds into its own integrated storage/carry pouch that features handy belt hoops, it can also be used as an accessory pocket when the blind is in use. It is available in Realtree Snow and Realtree Max4 designs and the retail price is $119.99.
LensHide Features:
• Expanded Mesh Window
• Velcro closure for securing on your head (back of head)
• Elastic Cinch cord to secure around the lens
• Velcro front closure
• Integrated storage pouch with belt loops and 2 d-rings / internal accessory pocket
• Lightweight, breathable, poly/cotton material
• Weight 2.5 pounds
More info on the LensHide here. See more images of the LensHide and a video of it in action below.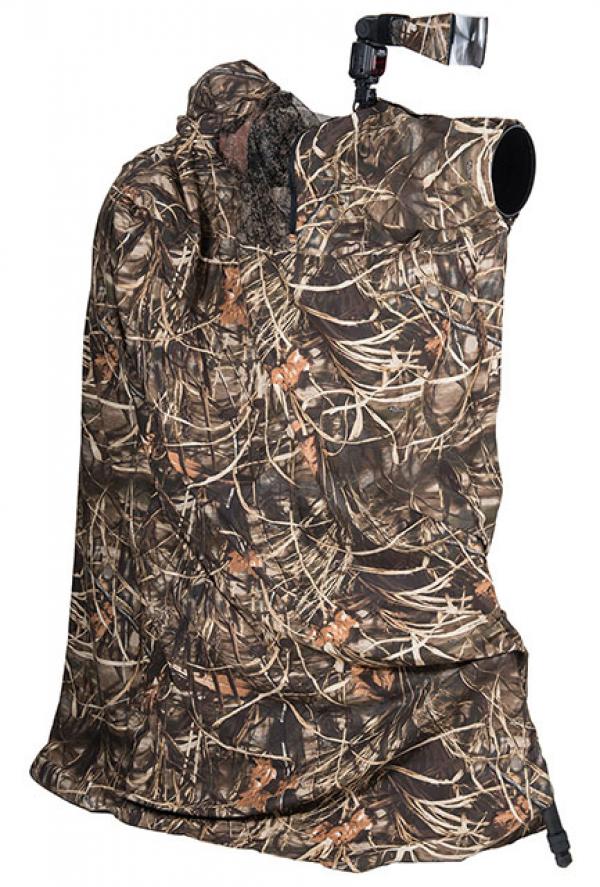 FEATURED VIDEO