New Gear From PGYTECH: Useful, Fun & High Quality
The creative young people at PGYTECH have been at it again, producing new accessories and improving existing products. As an enthusiastic group of photographers and drone pilots, they understand user needs and design gear with practical application in mind. Here's the rundown on their most recent creations and look at an old favorite.
PGYTECH first appeared on our radar in mid-2020 when they introduced the OneMo photo/drone backpack. We were rightfully impressed by the high-quality workmanship as well as the features. Because of their successful background designing and manufacturing accessories for drones, their inaugural backpack incorporated several features to accommodate drone pilots.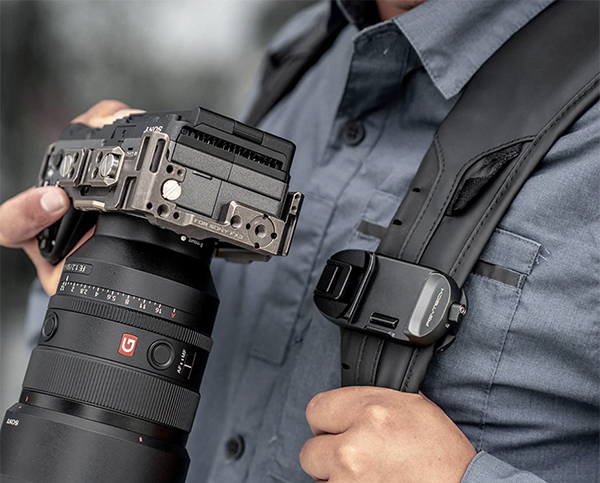 And as we learned more about their marketing team we learned that their rugged Quality Control and testing procedures were exemplary. "For the shoulder strap oscillation (shaking) tests, PGYTECH exceeded the industry standard by 250% (i.e., 2.5X) and packed in a 33-pound load before shaking the bag 400 cycles. Similarly, for the contents handling test (which tortures and then examines the equipment inside a packed bag) they again used a 33 pound overload and ran the test through 250 oscillations. The results: not a scratch on the gear therein," we wrote back then.
Since then, PGYTECH has diversified their product offerings and darted in a couple new directions. The new photo gear from PGYTECH is optimized for the protection, organization and carrying your camera and drone equipment comfortably. It's easy to see that they've done their homework and included features we all appreciate.

Protective Wrap
Some photographers slip their lenses into gym socks before packing them into a camera bag. That's fine, but here's a better way. Measuring nearly 18 x 18 inches (17.7 to be exact) these attractive fabric squares are self-sticking, so when you wrap items securely they stay wrapped. And they're more protective than your average cotton stocking. Constructed of soft and pliable polymer material and processed with nano-technology, the smooth interior side of the wrap can be used like a microfiber cloth to wipe down your camera's LCD, for example.
The PGYTECH Protective Wraps are very useful when you pack for a long haul or when your camera bag lacks padded interior dividers. I use one to shield my camera from the sun when hiking or when it's sitting on the car seat next to me.
The Protective Wraps come in four colorful patterns and are available from Amazon for $19.95.
PGYTECH Tech Organizer & Mini Tech Organizer
You don't have to be a photographer to appreciate these all-new Tech Organizers. I can recall countless times on an airplane when I wish I'd had something like these to work from instead of rummaging through my backpack for a cable, memory card, tape recorder or fountain pen.
Available in two sizes, the Tech Organizer ($49.95) and Mini Tech Organizer ($35.95) feature accordion style pockets that provide easy access the contents. They also have a hidden AirTag pocket. They are available in black, olive green or gray and are available for order from PGYTECH.
In the center of the larger Tech Organizer there's an expandable pouch that snaps magnetically closed when you're finished. On one side of the interior we find a pen loop, and on the other side a zippered pocket. All in all it's quite roomy and provides adequate protection for your gear.
The Mini Tech Organizer opens to lay fully flat, exposing the contents. It also features a center pouch.
Both the Tech Organizer and Mini Tech Organizer have attachment loops so they can be carried as a shoulder bag if desired. I can easily imagine either bag being converted DIY to a bicycle bag.
While I can't recommend dunking either the Tech or Mini Tech Organizer for even a short period of time, the outer shell is water resistant, and the high-quality, wrap-around YKK zipper is likewise drip-proof.

Beetle Camera Clip
We've seen this little bug before, but it's worthwhile to take another look because every time we do we discover some new application. Sporting an Arca-Swiss compatible SnapLock quick release camera plate, the Beetle attaches securely to your camera strap and most backpack straps or belts. Made of durable aluminum alloy, the PGYTECH Beetle Camera Clip features a patented locking screw mechanism.
The PGYTECH Beetle Camera Clip can be ordered for $59.95 from Amazon.
The Big News: Updated OneMo Photo/Drone Backpack
When did the deep-dive review of the original PGYTECH OneMo bag we gave it high marks. For more details, check out the Shutterbug review of the original PGYTECH OneMo Photo/Drone Backpack from 2020. Although the bag-within-a-bag concept was nothing new, PGYTECH's execution was excellent.
Now available in two sizes (25L and 35L), the PGYTECH OneMo 2 is has been improved in several ways. The addition of the larger 35L size to the lineup makes the OneMo 2 more appealing to those who need to carry more equipment, obviously, or those wishing to pack more non-photo stuff like rain gear or survival supplies. The inside shoulder bag is also larger.
Other upgrades include improved internal organizer partitions that are thicker and more flexible, and an enhanced back panel for greater comfort. Additionally, the OneMo 2 can be temporarily expanded from the top-front (V-shaped) and the bottom-front (H-shaped). There's also a secret pocket for an Apple AirTag.
The PGYTECH OneMo 2 photo/drone backpack can be ordered directly from PGYTECH for $219.95.
PGYTECH OneMo 2 In the Field
We're planning an in depth, in-the-field review of the PGYTECH OneMo 2 bag as soon as local weather becomes more pleasant for extended hiking. From our first brief indoor encounters with it, it's everything the original OneMo is and Mo.
For a deeper dive into the features and aspects one should consider when backpack shopping, take a look at our buying guide, How to Buy a Camera Bag. It's an objective matrix that helps you determine which characteristics are most important to your personal needs.
Become a Member of the Shutterbug Community
Register for a free account. Sign up for our newsletter. Spend five minutes (or less) uploading your best shots once every week or so. Potentially become a Shutterbug Photo of the Day winner. Enjoy viewing the fantastic work being done by thousands of photographers all over the world—and add your images to the enduring collection.
—Jon Sienkiewicz
(As an Amazon Associate, Shutterbug earns from qualifying purchases linked in this story.)
FEATURED VIDEO