3LT Intros Dedicated L-Bracket for Fujifilm X-T5
3 Legged Thing (3LT) just announced Freya, an L-bracket designed to fit the popular Fujifilm X-T5 specifically, and Shutterbug received a sample to evaluate several weeks before launch date. Here's our rundown.
Purpose of L-Brackets
If you didn't know, the main purpose of an L-bracket is to provide an Arca-Swiss compatible pair of rails (a base and an upright) to facilitate camera attachment to a tripod in horizontal and vertical orientations. The L-bracket is used instead of the mounting plate supplied with the tripod head.
Most examples have been refined to accommodate the attachment of various accessories, e.g., microphones, field monitors and lighting devices. They're very handy, especially if you shoot a lot of video.
The Problem with Ordinary L-Brackets
Although L-brackets are extremely convenient, they remain slightly underutilized by photographers and video shooters. Part of the lack of popularity stems from their sometimes one-shape-fits-all design. In too many cases, L-brackets interfere with the battery compartment cover and/or articulated camera monitor—users must remove the bracket to change batteries and in some instances the memory cards as well. There goes the convenience aspect.
The Solution
3 Legged Thing, working in cooperation with Fujifilm UK, has resolved these issues for users of Fujifilm X-T5 cameras in a grand way. Following the success of its Gracy L-bracket for Fujifilm GFX 100S and 50S II cameras, 3LT created Freya, a dedicated L-bracket that does not impede camera accessibility or function. (3LT gives brackets, tripods, and other accessories anthropomorphic names, hence the Gracy and Freya monikers.)
The Arca-Swiss compatible Freya L-bracket gives X-T5 users unfettered access to the battery cover and side I/O ports. Additionally, cut-outs along the base and in the upright allow the rear screen to be opened and angled. An indent in the upright accommodates the camera's strap lug. The shape of the base ensures a secure fit, and a 1/4-20 stainless steel camera screw attaches the L-bracket securely to the camera. In addition, 3LT supplies an adapter that allows the use of Peak Design's popular v3 Capture Clip system
Versatility
Made from aerospace-grade magnesium alloy, Freya features a 1/4-20 threaded hole in its upright for the attachment of the aforementioned accessories. The base section of Freya can be extended for use with cables when in portrait orientation. 3 Legged Thing supplies a cable management bracket that slots onto the upright. Also, the base can be used alone if the sole intent is to attached to a tripod in landscape orientation.
Conclusion
As a frequent Fujifilm X-T5 user, I attached Freya to my camera and still haven't taken it off. It attaches securely and provides just enough extra grip on the lefthand side (a bonus beyond original purpose). Freya is very high quality and attractive as well. Highly recommended.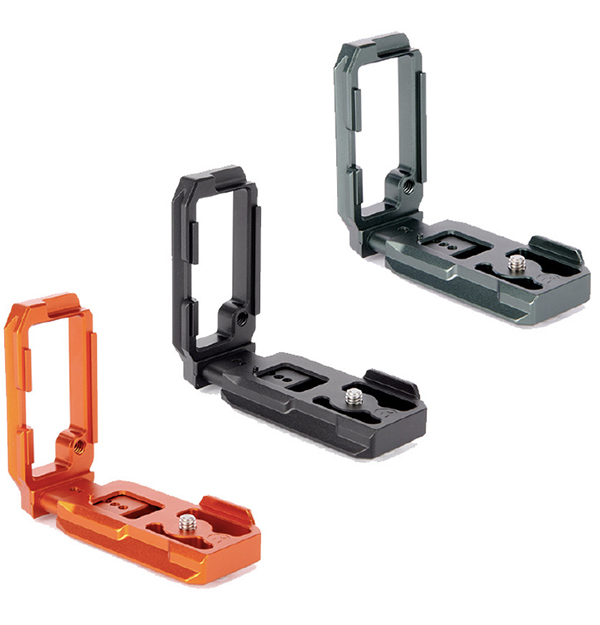 Price & Availability
The 3 Legged Thing Freya L-bracket comes in these 3LT signature colors: Copper, Metallic Slate Grey, and Darkness matte black. Freya is available directly from 3LT and many camera retailers. It has a suggested retail price of $119.99. For worldwide availability information visit 3LT Store Locator & Stocklists.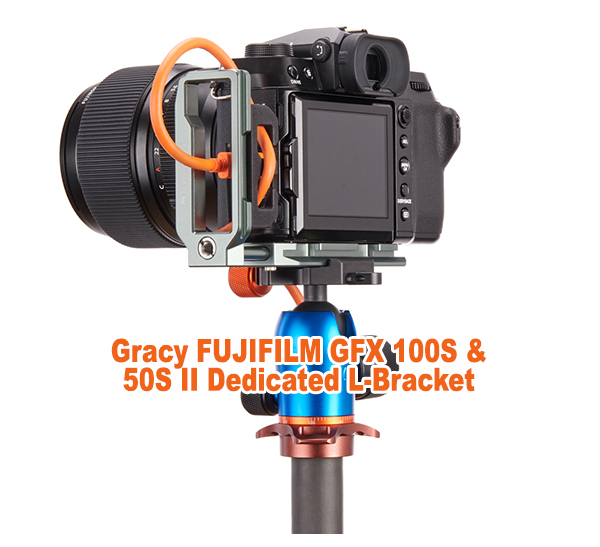 Other 3 Legged Thing Dedicated L-Brackets
3 Legged Thing makes award-winning tripods, monopods, tripod heads, camera bags and brackets, all with interesting names.
In addition to two universal L-brackets, the 3LT bracket lineup includes these models:
Alfie for Sony Alpha A7 IV and certain other models, Gracy for Fujifilm GFX 100S and 50S II, Ollie for OM System OM-1, Roxie for Canon EOS R5, R5 C and R6, Zelda for Nikon Z5, Z6, Z7, Z6 II, Z7 II, and Zaara for Nikon Z9.
Become a Member of the Shutterbug Community
Register for a free account. Sign up for our newsletter. Spend five minutes (or less) uploading your best shots once every week or so. Potentially become a Shutterbug Photo of the Day winner. Enjoy viewing the fantastic work being done by thousands of photographers all over the world—and add your images to the enduring collection.
—Jon Sienkiewicz