Keep It Cool; Fluorescent And LED Lighting: Alternatives To Hot Lights And Strobes
New fluorescent and LED "cool" lights are on the scene, making serious headway into the realm of digital photography. Cool lights not only save energy, but they may be better suited in a variety of situations.

Portrait subjects may find them more comfortable to sit under, although some cool lights can be overly bright for babies and toddlers (but there are on-board controls and accessories to correct this situation). Food that tends to spoil easily under hot lights or modeling lights is a suitable candidate for these lights. And because they are all continuous light sources (at least, the ones under discussion), any camera meter will do without you having to resort to a handheld meter (unless you want tighter control over lighting ratios and contrast). Plus you'll personally appreciate them if you've ever gotten burned handling a hot light and there's no sync voltage concerns as with some studio strobes or any sync problems in general, unless the light doubles as a strobe (which is possible in the JTL LED bank right out of the box, or the Westcott Spiderlite TD5, when a strobe lamp is fitted to the fixture).

Many of these lights can be formed into a complete lighting system, with all the necessary accessories. Granted, you don't have access to the range of accessories available to studio strobes or hot lights, but enough to do a competent job. Still, this is a consideration. At the very least, make sure you can accessorize the lights to suit your needs.

One very important point to keep in mind: wattage with hot lights is exactly that (or very close to it): 500 watts is 500 watts. A cool light—linear fluorescent, CFL, or LED—outputs the equivalent of four or five times, or more, the rated wattage. To be fair, "cool" bulbs may get hot, but don't radiate searing heat and are nowhere nearly as hot to the touch as an incandescent source.

Interestingly, some of these cool lights offer either a built-in option to change color balance or come in a choice of tungsten or daylight-balanced. Why would you want that? To match the ambient lighting. For instance, architectural photographers often prefer to use tungsten for evening interiors, to match the prevailing warm tone of the incandescent lighting, whereas during the day they'll opt for daylight-balanced lighting to augment available window light. Also, if you need to control output on these cool lights, power output is governed either with a dimmer or by switching off "banks" (translation: one or a group) of bulbs, as applicable.
What's Available In Fluorescent Lighting
Okay, I know what you're thinking: fluorescents? We all know they produce a color cast. Well, that's the beauty of modern technology: we get the color we need and few, if any, surprises color-wise. And no need to use a fancy and expensive color temperature meter either. Even a color calibration target may not be needed (but it doesn't hurt).

What's more, today's photo-quality fluorescents use an electronic ballast to drive them. Older fluorescents used a magnetic ballast; hence the audible noise they emitted. The electronic ballast ensures flicker-free lighting. That frees you to shoot at virtually any shutter speed without being restricted to relatively slow speeds.

Unless otherwise noted, all lights are AC-driven. Note: Bulbs vary with product; they may be linear or CFL. IMPORTANT: Unless stipulated by the manufacturer, never insert an incandescent bulb in a CFL fixture, and always use bulbs rated for the fixture—nothing stronger.

Bowens (www.bowensusa.com), a company long known for studio strobes, has branched out with the Studiolite. This dimmable, flicker-free fixture uses a highly efficient reflector design to maximize light output while ensuring an even light spread. The bulb lasts 10,000+ hours and comes in a choice of color temperature and voltage. Optional accessories include grids, softboxes, and barn doors. Each kit includes either an SL455 (four linear tubes) or SL855 (eight tubes) Studiolite unit together with a set of barn doors and a complete set of 5500K fluorescent tubes. The SL455 Studiolite kit is $894; the SL855 Studiolite kit is $1369.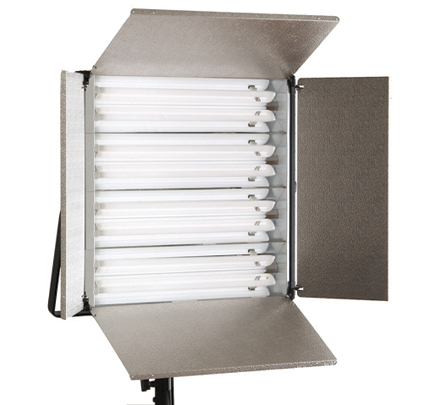 Calumet (www.calumetphoto.com) brings us Quattro Fluorescent Lights. These flicker-free lights include four spiral fluorescent lamps and a reflector to create a 5500K directional light, with pan/tilt control. Each on/off-switchable 35w bulb gives you the equivalent of 150 watts with a 6000-hour working life (120v, 60Hz). Size is 13.75x17" (including handle and reflector), weighing just over 4 lbs. Quattro lights are sold individually ($129) and in two-light kits starting at $299. Additional bulbs are $19.
Cool Lights (www.coollights.biz) is among several companies I discovered online. Their CL-255P Portable Fluorescent Softlight Fixture ($343 non-dimmable kit with stand adapter, egg crate filter, barn doors; $417 dimmable kit) weighs only 6.6 lbs and outputs 500 equivalent watts from two flicker-free 55w lamps. The bulbs are high CRI, in a choice of 3200K or 5600K, and the fixture runs under 100-240v, (50/60Hz). Also available in four- and six-bulb configurations.
De Sisti (www.desisti.it), like Arri, is a company known in the film and video industries, and that reputation has followed them into the pro photographic circuit, where they enjoy wide popularity. In fluorescent lighting, De Sisti offers the 110w De Lux Fluorescent ($700). Each bulb has a 10,000-hour lamp life, with low infrared emission. These fixtures accept gel frames and egg crates. Available in 120v and 230v versions. They use two 55w CFLs rated for 10,000 hours and are available in 5600K or 3200K.
Flashpoint (www.adorama.com) offers an economical kit suitable for portraiture. The Continuous Fluorescent Cool Light 1 ($179) kit includes two lights. Operating off 110v AC, each head comes with a flicker-free, spiral, 30w, 5600K (CRI 91+) bulb (= 150 watts), plus 11" reflector, light stand, hardware for mounting an umbrella, and deluxe carrying case. Bulbs are on/off switchable and rated for 10,000 hours.
Interfit (www.interfitphotographic.com) offers numerous choices in continuous, flicker-free fluorescent lighting. Among these is the Super Cool-Lite 9 ($249), a good choice when it comes to portrait lighting in a confined space or for use with light-tented products (two heads would be preferable in this situation—one on either side). The 110v fixture holds nine on/off-switchable bulbs, each 5200K (CRI 95), rated at 28 watts (equivalent to 1000w total output). Each Super Cool-Lite 9 comes with an octagonal softbox. Two-head kits ($502) add stands and diffuser panels for the reflectors.
JUST Normlicht (www.just-normlicht.de), world-renowned for color control systems, offers the JUST Studio Light System 5000, a unique tabletop photography solution available in a self-standing version ($6147) or in the smaller desktop size ($839). Fully equipped with flicker-free, 55w, 5000K daylight lamps, the complete system includes dimmable heads with linear tubes, on fully articulated arms that attach to vertical posts for easy maneuverability, plus a backdrop.
Kino Flo (www.kinoflo.com), a staple among car photographers who use these flicker-free linear tubes to add distinctive highlights, recently introduced the BarFly family of fluorescent fixtures. These lights have a thin profile yet output a broad, soft light. Three models are available: BarFly 400 (with four lamps, $649, fixture only), BarFly 200 (two lamps, $402, fixture only), and BarFly 100 (single lamp, $317, fixture only). They use Kino Flo's new QFL True Match KF55 daylight and KF29 tungsten color-corrected lamps (CRI 95).
Lowel (www.lowel.com), a Tiffen company, is well-known to tungsten-lighting aficionados, but has, in recent years, made a big splash in continuous fluorescent lighting with such products as LowelScandles and Ego. Now they have the SoftCore, a compact light fixture that lets you quickly swap lamp heads, giving you the option of using up to five screw-threaded fluorescent lamps for increased output, and readily adapts to any softbox, with easy rotation (important with rectangular boxes and strip lights). And the new 80w, high CRI daylight fluorescent lamps are a perfect fit for soft lighting. List price with the FLO-X3 lamp head is $445.
MyStudio by Pro Cyc (www.procyc.com/mystudio) offers two models in tabletop studios primarily designed to help you sell over the Internet. The larger 32" setup ($449) gives you more working room (it doesn't collapse, so storage may be a problem). It's basically a miniaturized corner studio cyclorama made of reflective white ABS plastic (be sure to sand down the backdrop to eliminate glaring reflections). It comes with linear 5000K fluorescent tubes (supported in a height-adjustable fixture) and two bounce cards.
Owen's Originals (www.owens-originals.com), another online discovery, offers the Vu-Pro Cool-V Pro Fluorescent Photography Lighting Kit ($249). Operating off 110v, it is supplied with two heads with heavy-duty ceramic sockets and 10 flicker-free, 30w, 5500K bulbs (= 1000 watts) with a 5000-hour life. Each bulb has its own on/off switch. The kit includes a 22" octagonal softbox, stands, and case.
The Constellation3 Large SilverDome Kit ($1189) from Photoflex (www.photoflex.com) can be used with both CoolStar 150 daylight-balanced CFLs and Starlite halogen lamps, owing to the dual-purpose fixtures provided (each on/off switchable). The kit consists of the Constellation3 light head, 36x48" SilverDome nxt softbox, three Starlite 1000w lamps, three CoolStar 150 CFLs, stand, and case. The CoolStar 150 CFL yields 500 equivalent watts per bulb in daylight illumination and will last up to 7000 hours.
Photogenic Professional Lighting (www.photogenicpro.com), an established name in strobe lighting for studio portraiture, has also come up with a cool alternative in the Photogenic Horizon Light Banks, in three versions: CF2 ($559/two), CF4 ($775/four), and CF8 ($1175/eight lamps), all operating off 110v AC. All of the banks use flicker-free, 55w fluorescent lamps rated at 5600K (included) or optionally tungsten-balanced. Each bank features a built-in diffuser for soft, even light distribution and each lamp will last up to 10,000 hours.
I became acquainted with Rololight (www.rololight.com) a few years back and was intrigued by the versatile, modular design (these units can be daisy-chained). They now have a modestly priced Softbox 2GO four-light kit with bag ($499), or an eight-light kit at twice the price, and available in compact 15" and full-length 25" sizes. Lightweight, it rolls up for easy transport. Bulbs come in different color temperatures.
RPS Studio (www.dotlinecorp.com) offers the Dual Octagonal Softbox Kit ($489 MSRP), which includes two 28" octagonal folding softboxes, light stands, bag, and bulbs. These umbrella-like softboxes are easy to open, and they each feature a lamp socket built right in, so no further assembly is required. These 5400K bulbs have a CRI rating of 82 and output the equivalent of 300 watts. There is an optional four-lamp adapter. Additional bulbs are $39.
Smith-Victor (www.smithvictor.com) brings us economically priced SoftBox Lights, with a choice of four models, starting at $139: 24x24", 24x36", 36x36", and 12x36" strip light. Each comes complete with light socket and speed ring assembly, softbox, and carrying case—lamp optional ($12/26w; $49/75w). The elastic collar on the back of the softbox fits over the speed ring for easy set up and prevents light leaks.
FEATURED VIDEO