Ready for Your Close-Up?: Our Favorite Lighting Tools For Macro Photography
Light is a precious commodity in close-up and macro photography. The closer you get to your subject, the more light you lose through lens extension. Move to within inches of the subject and your camera or body may block the existing daylight. Also, the closer you get, the more depth of field you lose, so it would help to stop down. All of this translates to a need for additional light—in other words, a supplementary light source. What's more, when shooting live critters and wind-blown plants, we may also need that light source to freeze subject movement, or at least provide shutter speeds that are fast enough to contain movement. To meet these needs, I've often turned to a macro ringflash and, alternatively, a macro twin flash. An economical alternative is an LED ringlight.
The following are my choices for the best macro lighting tools out there right now. Additional options are outlined in the accompanying sidebars.
Ringflash
Essentially wrapping the subject in light, thereby producing what many of us perceive as shadowless illumination, a ringflash is the most familiar macro lighting tool. (Point of fact: if you look closely, it's not entirely shadowless.) Positioned so that it moves with the lens, the ringflash finds its way past obstacles that would ordinarily hinder a shoe mount seated in its lofty tower. Since it is in line with the lens, this flash head lights what the lens sees.
The ringflash head may be fitted directly onto the lens or, as is more often the case, requires a screw-in stepper adapter as a go-between. Adapters cover a wide range of filter diameters from 49 to 77mm (some or all of which may be included or optional).
Power is normally delivered to the connected ring housing via a battery/control module seated in the camera's hot shoe. The ringflash head is designed so that it can freely rotate around the lens axis, if for no other reason than to let you move the connecting cable out of the way.
Once very basic, the ringflash has grown increasingly sophisticated, with costlier units offering digital displays and TTL auto flash control. In selected units, you can shunt power independently and entirely to either of a pair of matched flash tubes that reside within the housing, or ratio power between them. This provides some degree of modeling. Contrary to what you may read, this does not constitute a "3D" effect. All that aside, I often find it easier to employ default settings when tracking a moving subject.
PROS: "Sees" what the lens sees and squeezes into tight spaces; relatively easy to use; unless light ratios are employed, affords little concern over the flash head's orientation about the lens axis with respect to camera orientation—vertical, horizontal, or diagonal; lends itself well to handheld shooting.
CONS: The most capable ringflashes are pricey.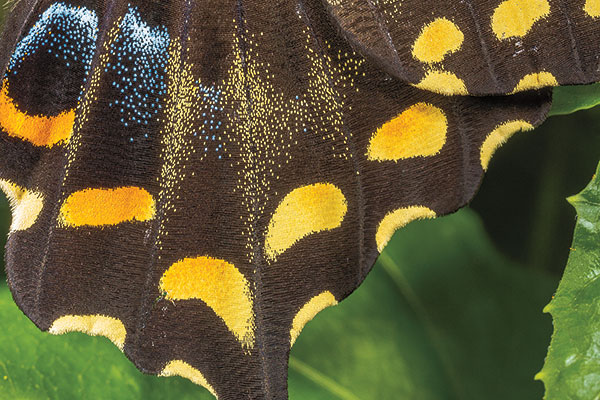 Pro Tip: Macro Focusing
Whatever the light source, focusing at life-size and larger magnifications (and even half life-size) is critical, even if you stop down. When shooting handheld, focus manually and use to-and-fro movement of the camera until the subject appears sharp along a single plane of focus.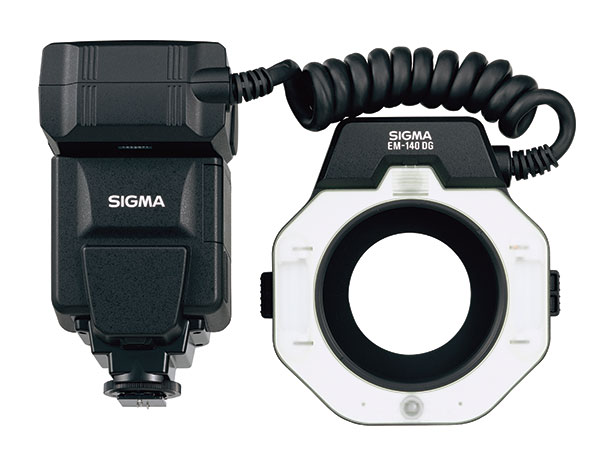 Pro Tip: Macro Focusing
Whatever the light source, focusing at life-size and larger magnifications (and even half life-size) is critical, even if you stop down. When shooting handheld, focus manually and use to-and-fro movement of the camera until the subject appears sharp along a single plane of focus.
Macro Twin Flash
When you need to manipulate the light even further, the next option is a macro twin flash. While output in any macro flash falls well below that of a typical shoe mount, the combined output from the twin flash heads produces considerably more light than would a ringflash (at least among products from the same company).
Each component flash head is seated on a collar attached to the front of the lens (again, adapters may be involved—and included, or not). Shrunk down to roughly the length of an AA battery, each of the matched mini flash heads can be independently angled relative to the subject plane, and moved individually or together on the collar around the optical axis, allowing for a more targeted subject treatment. Because these flash heads have a built-in foot, they can also be attached to a bracket or tabletop tripod, or one can be handheld while the other remains attached to the lens.
With rare exception, each flash head is connected to a controller/battery module seated in the camera's hot shoe. Individual output control over each of the flash heads is the norm.
PROS: More versatile and more powerful than a ringflash; well suited to handheld shooting.
CONS: Continually adjusting flash heads can drive you batty; can produce double shadows; concern over obstacles blocking one or both flash heads (if extended); pricey.
LED Ringlights
In recent years LEDs have found their way into ringlights (sometimes as the focusing lamps on a macro flash). As a continuous light source, they remove concern over flash sync speeds and dedicated connections of any kind. A few LED ringlights also operate as a flash and feature a live hot-shoe contact (non-dedicated, for use with any camera's hot shoe). And some even let you turn off one half of the ring for modeling. One variation includes extension arms for more flexible lighting options.
PROS: Constant light output is easy to preview and meter; often inexpensive; easy to use; usable with any camera shooting mode (program AE, for example).
CONS: Output may be too weak to overwhelm bright ambient lighting and inadequate for handheld shooting at normal ISO levels; flash mode does not freeze movement.
Don't Be Afraid ToGet Close
Those of you who are put off by flash and shoot close-ups strictly by available light should look into an LED ringlight, but one with enough power to blast through bright daylight. It's a simple solution, though not always the most practical at every turn.
However, if you're like me, I expect you'll turn to a macro ringflash or macro twin flash—they really do simplify close-up flash photography once the two of you get thoroughly acquainted. Admittedly, I've adapted my shoe mount for close-ups, especially with zooms, but I always keep a ringflash at the ready as an able companion for my macro lens.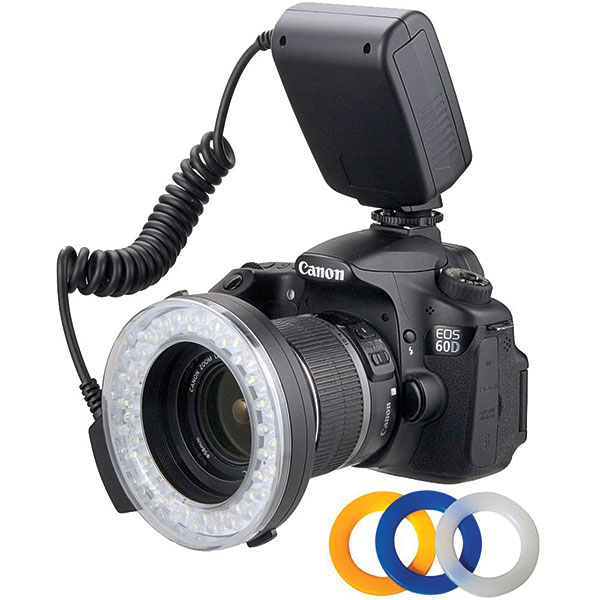 Wireless Control for Macro Flash
OEM and non-OEM TTL-dedicated ringflash and twin flash units alike may offer wireless control. Normally, the macro flash serves to trigger remote, off-camera flash units. This way you can throw an auxiliary light on the background, while the triggering strobe illuminates the subject. This control unit defines channels, groups, and relative output for the involved flashes. This group includes the Canon MR-14EX II ringflash, Canon MT-24EX twin flash, and Sigma EM-140 DG ringflash.
There are exceptions, where the macro flash operates as the slaved unit. In this scenario, either the camera's built-in flash or a special accessory module seated in the hot shoe serves as master to trigger the remote ringflash or twin flash heads—remote in the sense that they're wireless, even though attached to the front of the lens. Included here are the Metz 15 MS-1 ringflash and Nikon R1 twin flash.
PROS: Gets rid of intrusive cables; easily suited to handheld shooting.
CONS: Not available for all camera systems or necessarily cross-compatible with all wireless flash units; camera may require a dedicated TTL trigger mechanism seated in hot shoe (which adds to overall cost); bright sunlight may interfere with the signals; direct line of sight required between flash sensor and triggering pulse (in case flash head is detached from lens); pricey.
Ringflash Adapters
Much larger than the typical ringflash, a ringflash adapter is not a flash unit in and of itself. This somewhat circular, plastic device attaches to a shoe-mounted flash (some might say rather clumsily), which pumps light through it, with a potential loss of up to several stops of light.
These devices are normally used for fashion and portraiture, producing those halo-like catchlights in the eyes that some find alluring. However, manufacturers claim they have equal utility in close-up work. I've found that a ringflash adapter is an inferior alternative to a ringflash.
PROS: Works as an extension of a typical shoe-mount flash, so no new gear to learn.
CONS: Large, clumsy; loses up to several stops of light; uneven light coverage at macro magnifications; lens barrel or lens shade may interfere with light throw.
(Note: When ordering any of these, make sure the attachment fits your flash properly.)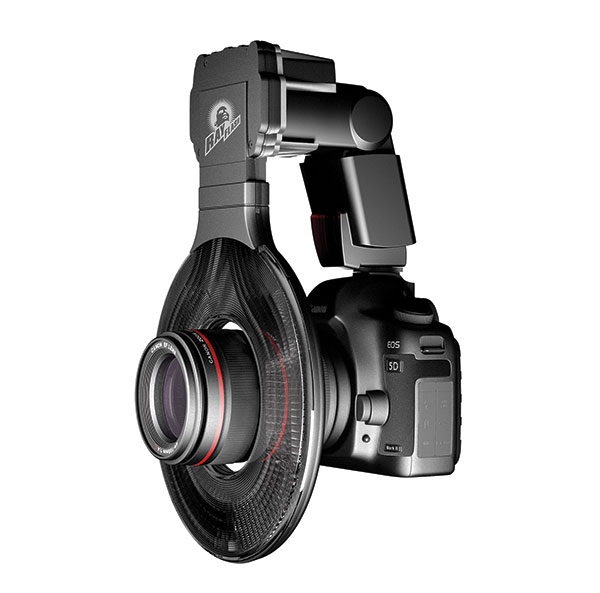 Macro Flash Brackets
Another approach to close-up and macro photography involves a bracket that holds one or two flash heads off-camera, with the bracket attached to the camera's tripod socket or the tripod mount on a lens.
There are two types. One holds a single shoe mount on an articulated arm. The other consists of a base that extends several inches to either side, with each flash seated on an articulated arm or flexible rod, or more or less directly on the base, at opposite ends. Where necessary, soften the light with a dome diffuser or bounce panel.
Twin flash brackets can be a very weighty and somewhat cumbersome proposition for handheld photography. Hence, when I use them, I attach macro twin flash heads to them, for a more manageable rig. Even if this doesn't give me more light, I still benefit from added maneuverability of the flash heads.
PROS: Allows you to work with existing shoe mounts; adds unbridled flexibility in lighting; no concern over stressing AF motors or rotating lens barrels since the rig is independent of the lens (other than the tripod mount, where applicable); not overly pricey.
CONS: Cumbersome and best suited for use with a tripod; twin-mounted shoe mounts may produce double shadows; care must be exercised so that obstacles don't interfere with extended flash heads.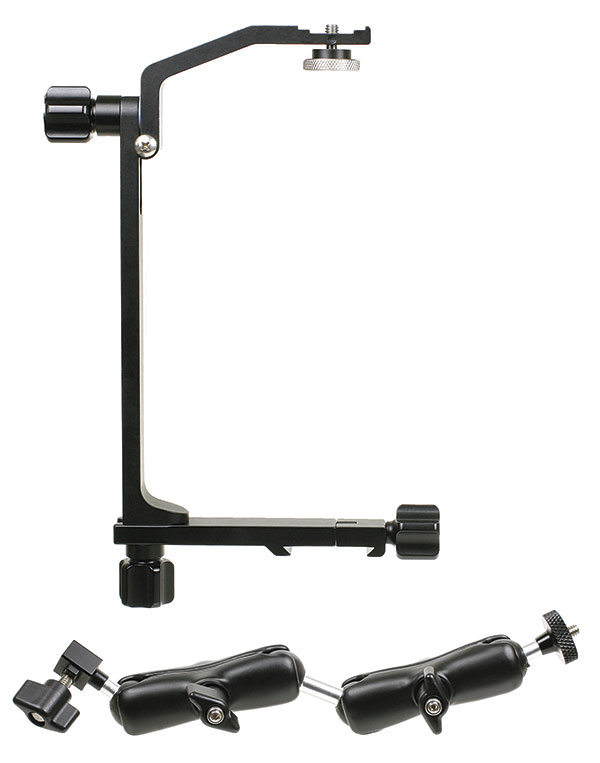 Photos courtesy of the respective manufacturers, except where noted.
FEATURED VIDEO