Lighting It Up: Our Comprehensive Look at the Best Lighting Gear for Photography
Studio lighting hardware is going through the biggest change—a paradigm shift, really—since the flashbulb was invented in 1929. There are many trends and fads with LED's popularity seemingly having equal parts of both. LED lighting also appeals to DSLR and mirrorless camera shooters who want to capture stills and video. The popularity of fluorescent-based systems appears to be holding steady for many of the same reasons, with quartz and other "hot light" sources losing ground to these literally cooler systems. Electronic flash systems aren't going away, if only because they offer the best value per watt-second with new players such as Korea's Godox and the reemergence of innovative battery-powered monolights from Priolite in Germany. And what about speedlights? Well, we cover that in our "What About Speedlights?" sidebar. There's lots to discuss here, so let's dig in.
Electronic Flash
Electronic flash is available as modular power pack and head systems or monolights and each has pros and cons. The most significant trend with both types of electronic flash is battery power, which is keeping electronic flash viable for studio and location lighting.
Elinchrom's ELB 400 is a battery-powered modular system consisting of a compact (3.5x3x4.3-inch) 424Ws power pack with optional flash heads, including the Quadra Pro for more power or the Quadra Action when (short) flash duration is needed. Both heads have 50W LED modeling lamps with a continuous mode for shooting video. Options include the Quadra Ringflash PRO and the portable Quadra Ringflash ECO. The ELB 400 recycles from full power in 1.6 seconds and has an ECO Recycling mode to conserve the battery when fast recycling isn't required. The 4.4-pound pack with lithium-ion battery fully charges in 90 minutes with the option of simultaneous charging and shooting.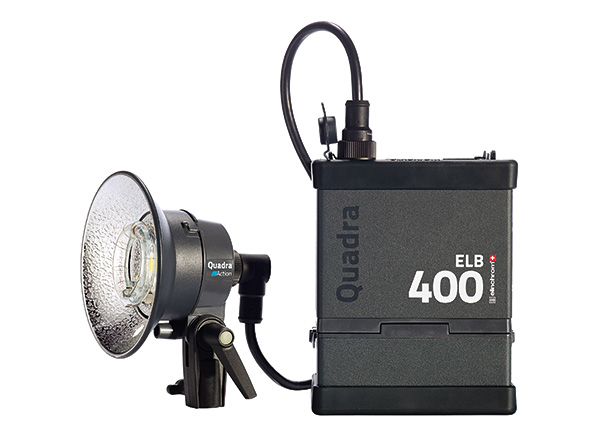 Phottix's 500Ws battery-powered Indra500 TTL studio light ($1,199) is controlled via their Odin TTL Flash Trigger for Canon and Nikon. Weighing 4.62 pounds and powered by battery pack or AC adapter, the flash head is adjustable through eight stops from full to 1/128 power. Exposures are adjustable in plus or minus three stops with High Speed Sync (HSS) shooting up to 1/8000 second. There's an optical slave mode and a built-in receiver so Phottix's Strato II transmitters can trigger the light in manual mode. A 3.5mm sync port permits cord or (other) cordless tripping.
Priolite is a German manufacturer of battery-powered monolights where the battery fits inside the flash head and can be charged inside or outside the unit. The MBX 1000 ($1,404) is a 1000Ws monolight that's manually adjustable in tenth-stop increments or remotely through a built-in radio module that communicates bi-directionally with a radio control up to 300 feet. It has a 100W halogen modeling light and a user-replaceable flash tube. A (quiet) fan protects against overheating. The head has a rugged tilt head that's designed to support large softboxes or octabanks The reflector mount not only accepts Priolite reflectors but also accessories from Bowens and Hensel.
Godox Photo Equipment Co. Ltd is a Korean company that offers a full line of monolights, power pack and head systems along with speedlights. Blink Photographic distributes Godox monolights in the U.S.A., including the Godox QT-600 monolight ($439) with variable power control, triggering via wireless remote, and compatibility with Bowens S reflectors. At 600Ws, the QT-600 has a Guide Number of 250 at ISO 100 and a flash duration of 1/5000 to 1/800 second with recycle times from 0.05 to 1.2 seconds at up to 10 continuous flashes per second.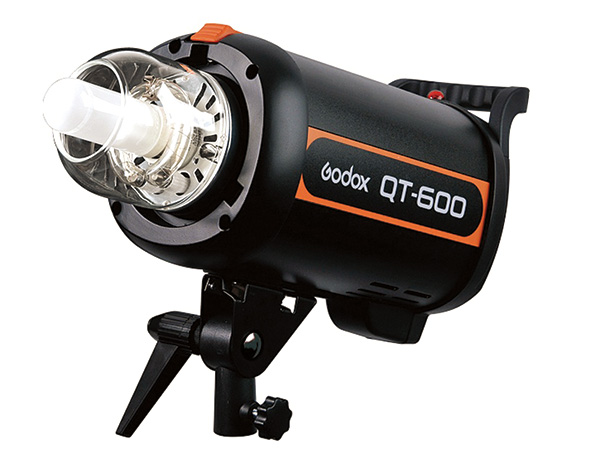 Photogenic's StudioMax III 2-Light Basic Studio Kit is a good value at $523 and includes two Photogenic AKC160 StudioMax III 160Ws monolights, two eight-foot light stands, two 43-inch white umbrellas, and a carrying case. The AKC160 StudioMax III is sold separately ($249) and has a six-stop range with a recycle time of 1.5 seconds at full power with a flash duration of 1/7400 second (minimum power).
Impact's VS-LCD400 400Ws monolight is available separately ($327) or as a kit ($997) that includes three monolights, three 10-foot light stands, three umbrellas, and a 26x26-inch softbox along with a carrying case. The VS-LCD400 has touchpad controls with a digital display showing power and modeling light status. At full power the monolight recycles in two seconds and power is variable across four stops. The Bowens S-compatible accessory mount accepts light shapers from different manufacturers. Each monolight includes a grid reflector, 100W modeling lamp, and sync cord.
The late Paul C. Buff was an iconoclastic innovator who created such useful and dependable monolights like the original "paint can" White Lightning and the inexpensive but dependable AlienBees, all backed up by world-class customer service. Their Einstein ($499) competes with more expensive European units in capabilities offering nine stops of power from full (640Ws) to 1/256 power (2.5Ws), adjustable in 1/10 stops. At full power, the Einstein recycles in 1.7 seconds. In Constant Color mode, the color temperature is constant at 5600K and in Action mode, flash duration is minimized for stopping action. Einstein has an optical slave or can be fired with the optional CyberSync CSXCV Transceiver ($29)/Cyber Commander ($179) or third-party radio triggers. A high velocity fan and multiple internal heat sensors keep the unit cool. The unit includes a microSD card slot to upgrade firmware.
LED Lighting
LED light is cool, continuous and while early models required shooting at high ISOs, a combination of more powerful LEDs and the noiseless high ISO capabilities of newer cameras meet at a sweet spot. Not all LEDs are created equal but there doesn't seem to be a correlation between price, quality, and color. Tip: For real-world shopping I bought a diffraction grating spectroscope (available on eBay for less than $50) that lets you visually inspect a light source's spectrum, allowing you to see peaks and missing color bands.
Rotolight's NEO slots between the company's Anova and compact RL48 LED lights. The NEO features bi-color (white-yellow) LEDs using what Rotolight calls Accu-Color technology to provide accurate color temperature. NEO has a CRI of 95/100 and a TLCI of 99/100. (See "Lux and Other LED Buzzwords" sidebar.) NEO delivers 1,077 lux at three feet and is battery powered (six AA batteries) for up to three hours at full power. An AC adapter is included. NEO uses a camera's shutter speed, ISO, and subject distance along with data from the light to calculate aperture while compensating for skin tone. As you adjust the distance from your subject or light output, you re-enter relevant settings and NEO displays the updated aperture.
Since 1959, Lowel has built clever lighting tools. Lowel's PRO Power LED ($579) has powerful (2292 lumens with 3000K Model; 2500 lumens for 5000K Model) output along with a wide-focus Fresnel lens, allowing you to light from a greater distance. Output is comparable to a 200W halogen with the same range and beam angle. It's available in two- and three-light kits containing light control accessories, such as barn doors, gel frames, softboxes, umbrellas, and filters.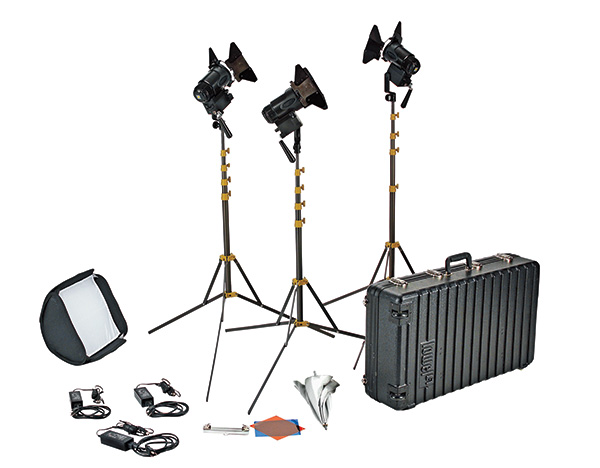 Fotodiox's Pro LED-1024ASL ($449) 12x12-inch 5600K light panel has 1,024 bi-color LEDs that are dimmable from 10 percent to 100 percent using a knob or touchscreen. A second control lets you adjust color temperature from 5600 to 3200K. A rear-mounted touchscreen shows battery level, brightness, and color temperature. It comes with an AC adapter and custom case. An included diffusion panel softens light and you can control and shape light using metal barn doors.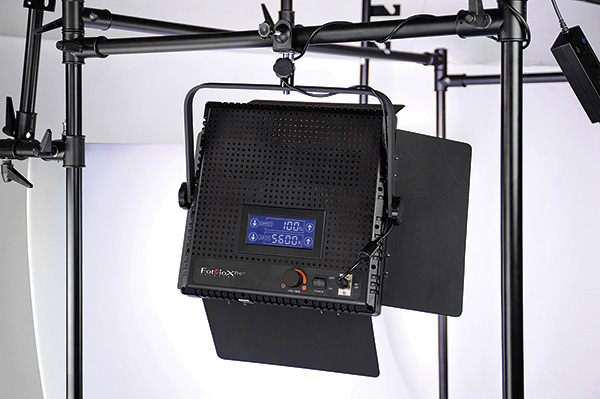 Interfit's LEDGO lighting panels are available in three sizes (600, 900, 1200) and 5600K Daylight or 3200 to 5600K bi-color versions. Output is increased (from previous models) from 8050 to 8990 lumens, while maintaining a 95 CRI throughout the power range. The metal housing has detachable barn doors with available softboxes and honeycomb grids. In addition to manual and DMX controls, the lights include 2.4G radio and Wi-Fi systems, enabling users to control multiple units individually or simultaneously from their smartphone or tablet.
In the "now for something completely different department…" Westcott's Flex ($599) is a pliable, dimmable, water-resistant 166 LED mat available in daylight and tungsten models. The tungsten version offers 1,600-lux output at one meter (3.28 feet) with a 98 CRI, while the daylight model offers 1,900-lux output with a 95 CRI. The bendable Westcott Flex measures 10x10 inches, has a moldable 1⁄4-inch black frame, and weighs five ounces.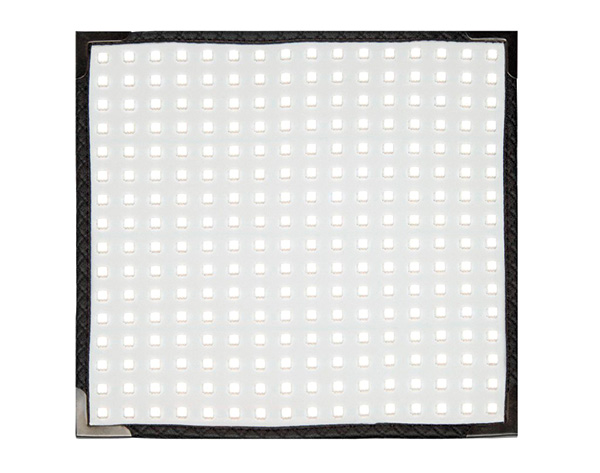 When Westcott introduced the Ice Light, it was dubbed by some as The Lightsaber because that's what it looked like. Looks aside, the Ice Light was a versatile and unique LED light source. And like the new Star Wars movie coming this year, there's an Ice Light 2 ($549) producing 1740 lumens at a CRI of 96. It weighs less than 20 ounces and the removable lithium-ion battery produces a 60+ minute runtime with 18-step dimming from 5 percent to 100 percent. The Ice Light 2 has built-in Bluetooth, clips for gels, and comes with a case.
The lightsaber form factor is catching on. In addition to Westcott's Ice Light, there's the slightly longer (21.8 vs. 20.25 inch) Sunpak 516 Photo/Video Dual Panel LED Light Stick ($249). On one side, it's 5600K balanced with 3200K on the other side. The light runs on its lithium-ion battery for three hours at maximum power or 30 hours at minimum. Output can be adjusted via buttons on a grip that displays battery capacity and a button for switching between tungsten and daylight. The two-pound Sunpak 516 LED Light Stick comes with a case, charger, accessory hook, and an adapter to fit nearly any mount.
When you think of Savage Universal, you automatically think of backgrounds but the company offers a full line of lighting equipment. Their 2000 Watt Location Light Kit ($584) includes two LED lights, producing the equivalent of 1000 watts (each) of incandescent light or 13,000 lumens with the included reflectors while using only 100 watts of electricity and providing 50,000 hours of operation. Kit consists of two LED lights, two six-inch reflectors, two eight-foot light stands, two power cords, and one heavy-duty carrying case.
The Litepanels Astra 1x1 Bi-Color LED Panel ($1,350) is four times brighter than the original Bi-Color 1x1. The latest model offers variable color temperatures from tungsten to daylight with "negligible" color shift, zero to 100 percent dimming, and an AC adapter. With the optional V-Mount or Gold Mount ($140) battery plate, you can run it on 13 to 24v DC batteries. A cooling fan is provided or you can run silent turning the fan off. You can control Astra's functions with an optional DMX module. The Astra 1x1 Bi-Color comes with both US and EU power cables and a removable 5/8-inch TVMP connector for hanging or stand mounting.
Manfrotto's LUMIE series of LED lights use bright Surface Mount Technology LEDs, producing accurate color (<94 CRI) and an "excellent" battery life and range in price from $11 to $119. They're powered by lithium-ion batteries, which can be recharged through a Micro USB port. LUMIE devices are small, the largest approximately the size of a pack of cards, and weigh 0.30 pounds, producing a round catchlight. Output control is via a dimming button, which doubles as an on-off switch. Each kit comes with a snap-fit filter mount and CTO and diffusing filters. A LUMIE friction-based ball head enables movement through 360 degrees horizontally and up to 35 degrees vertically. A mount lets you place it on a tripod, such as Manfrotto's Pixi, or slip onto a camera's hot shoe.
Fluorescent Lighting
The RGB spikes from fluorescent lighting closely match the receptive RGB spikes of imaging chips. When comparing fluorescent to tungsten, which is 93 percent heat and seven percent red light, fluorescent easily comes out ahead.
Impact's Octacool-9 fluorescent light with Octabox ($259) uses nine daylight-balanced 28W lamps, producing 12,600 lumens at 3.3 feet. Five on-off switches on the fixture's back control the lamps, varying output in 1400 lumen increments. The heads mount on any light stand or grip gear with 5/8-inch studs. The bundled 29.5-inch Octabox has a removable front face and inner baffle, allowing switching from hard to soft light. The light head also comes with a removable aluminum reflector for bright, contrasty lighting.
What About Speedlights?
For space reasons, speedlight camera strobes are not included in this column but Flashpoint's Zoom Li-on speedlight ($179) is worth mentioning because it's no larger than a traditional speedlight with the benefits of an external battery pack but without cables. Its full-power recycle time is less than 1.5 seconds, permitting fast, continuous shooting. One charge holds up to 650 full-power shots with more at lower power. The flash head rotates 360 degrees, tilts more than 90 degrees, and the head zooms from 24mm to 105mm. It has manual mode, two optical slave modes, and a stroboscopic mode, with remote power control using the optional ($29) Flashpoint Commander Receiver. In addition to TTL output for Canon or Nikon it offers HSS, exposure compensation, bracketing, automatic zoom, and flash exposure lock. It can also be used to control or be controlled by Canon or Nikon flashes for control via 16 channels and 16 groups.
Lux and Other LED Buzzwords
When working with LED lighting you'll encounter terms like lux, lumens, and foot-candles. Lux is a unit of illumination equal to one lumen per square meter or the equivalent of 0.0929 foot-candles. LED's origins lie in the world of television and film and manufacturers adapted the technology to work for still photographers. Maybe that's why one of the first questions people ask me about using LED lighting for portraiture is, "Isn't the color bad?" Nope. One way you can tell is by comparing specifications. CRI (Color Rendering Index) measures a light source's ability to faithfully render an object's color compared to an ideal source. TLCI (Television Lighting Consistency Index) is a similar method comparing a standard set of colors under a test light to that from a perfect light source, producing a number ranging from zero to 100 with a perfect source having a TLCI of 100. A light source with a TLCI of 85 or higher is usable with little or no postproduction correction required.
Product shots courtesy of the respective companies.
FEATURED VIDEO