Keep It Cool; Fluorescent And LED Lighting: Alternatives To Hot Lights And Strobes Page 2
SP Studio Systems (www.bkaphoto.com) has two cool lights, each running off 110v household current and using 25w, 5200K spiral lamps housed in a rectangular reflector: SPSFB425 (with four bulbs, $279) and SPSFB925 (nine bulbs, $439). The more versatile nine-bulb unit features variable output levels (full, 2⁄3, and 1⁄3) and is twice as heavy as the four-bulb array, weighing in at just over 12 lbs, and slightly larger. Each unit also comes with a soft diffuser. Optional accessories include small softboxes and a more specular reflector for more brilliant output.
The AC-driven Digit series from Sunpak (www.tocad.com) stands apart from many lights out there. These are all flat panel lights housed behind a milk-white Plexiglas-like surface, which diffuses the light, making it nice and even, providing coverage measuring 70x53?. While some models are strobe, the DigitLite 600 ($318) is strictly continuous. But even the strobe Digits use linear fluorescent tubes as modeling lights, and those modeling lights can be used as a primary light source when needed. The model number indicates output, making the 5600K DigitLite a 600w light source, with variable power to boot.
We can't argue that Kühl Lites, from TableTopStudio (www.tabletopstudio.com), fit neatly into this category (another online discovery). They come to you with an easy-open/easy-close softbox and spiral fluorescent bulbs, designed primarily to be used with this company's EZcube light tents for product photography. Selling for between $115 and $175, each Kühl Lite comes in a single 30w daylight-balanced fluorescent bulb or four-bulb version, with light stand. Separate combo kits, which include the light tent, are aimed at photographing jewelry, clothing, or furniture and sell in the $400 range.
Westcott (www.fjwestcott.com) has one of the most intriguing lights on the planet: the Spiderlite TD5. What's unique is that it accepts strobe, tungsten, or fluorescent lamps. And Westcott recently introduced new 50w, 5500K fluorescents for this head, providing over 900 equivalent watts of power. The new Spiderlite TD5 fluorescent five-pack ($179) will include four 50w lamps as well as a 20w center lamp (8000-hour lamp life). The Spiderlite not only allows you to change your light source, but it provides three separate controls on the back that allow you to run from one to five lamps. No adapter ring is needed as the softbox fits directly onto the Spiderlite TD5.
What's Available In LED Lighting
LED lighting has been grabbing some attention in photo circles—notably in macro ringlighting. But it's been a long road en route to the studio. In contrast to fluorescent bulbs, LEDs are mercury-free, hence more environmentally friendly, and they switch on instantly—no warm-up times. LEDs are said to last for thousands of hours of continued use. However, unlike a fluorescent bulb, when an LED goes bad, it may have to be sent back for repair.

I should add that our focus in this category is on LED panels that are mounted onto a light stand; not those tiny units that attach to the camera directly or via a small bracket. As you can see, there are fewer products in this category, but expect things to change dramatically in the coming years—in cost as well as diversity of available models.

Arri (www.arri.com), widely known for professional lighting, introduced the Caster series. The 2 lb LoCaster ($1395) LED fixture (CRI 90) is suitable for location work and features an easy-to-use on-board controller with a choice of six color temperature settings (2800K to 6500K) and continuous dimming. It makes use of Arri True Match LED technology, guaranteeing natural light characteristics, consistent light output, and absolute color stability. The LoCaster will also be available as a kit.
When they say Cool Lights (www.coollights.biz), they're not kidding. Aside from fluorescents, this company also offers the CL-LED600 LED Panel ($449). Available in 3200K or 5600K and spot and flood configurations, this LED panel is battery-driven, so it can go anywhere. The spot version should be handy when you need considerable reach or as a backlight, rim light, hair or accent light, whereas the flood version will give you a softer light more suited to portraits, while still providing greater reach than a fluorescent. And it is small (10x10x3.25") and lightweight (3 lbs). Among the included accessories are a barn door and an acrylic filter panel set.
JTL (www.jtlcorp.com) continues to refine their new and unusual Coolite LED Light (originally debuted at photokina, 2008), which can operate continuously or as a flash (one set of lights remains on as a modeling light). Each LED now has a collimated lens to direct the light path straight outward, thereby avoiding spill light. This light consists of a matrix of user-replaceable LEDs, with maximum strobe output at a very usable 300 ws—at a 5500K color temperature, and a 4v sync voltage. The light also has manual and infrared control, a digital display and control panel, and power settings from 1⁄8 to full in 0.1-step increments. Remote control included, this $1200 light bank has a very efficient working life in excess of 100,000 hours, and can be further configured into a four-bank array (with optional units).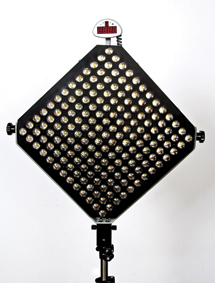 I became aware of Litepanels (www.litepanels.com) through their compact on-camera LED panels, but this company also offers much larger LED arrays for studio use. While certainly not inexpensive, at $2095 (MSRP), their Litepanels 1x1 SuperSpot is a slim panel that focuses a 5600K beam down to 15?, which also gives you a light with extensive reach. A built-in dimmer takes brightness from full to zero with minimal color shift. Weighing just 3 lbs and measuring 12x12x1.75", it is engineered for fast and easy set up and operation. Its housing enables multi-panel configurations, so that you can fit it to your needs. The 1x1 SuperSpot (CRI 83) can be powered from a variety of 12-30v sources, including an optional battery, car battery, or AC adapter. For additional lighting control, Litepanels offers interchangeable slide-in color/diffusion gel filters.
MK Digital Direct (www.mkdigitaldirect.com), which specializes in tabletop lighting solutions, just introduced the SparkleLite HIXL ($2995 MSRP). The SparkleLite HIXL features highly efficient output per LED and gel filters to evenly diffuse light and achieve the needed color temperature. The HIXL is available in any size from 1-4 square feet. Each square foot features 144 high-power LEDs and consumes 180 watts.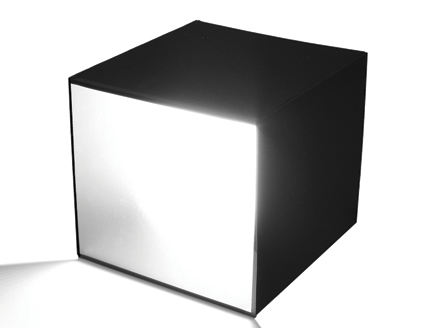 TableTopStudio (www.tabletopstudio.com) extends their expertise in product photography with a light specifically tailored to enhancing sparkling jewelry and faceted gems. Their LED product is called the Diamond Dazzler ($39). As they describe it, "what we have done is shrink the small point light sources normally found in the ceiling of a jewelry store into a single bulb with 18 individual light sources (LEDs). Multiple point light sources bring out the 'fire' in diamonds." Just insert this 5000K light source into any suitable fixture and you're ready to go. Obviously, a light tent helps.
Color Rendering Index, Or CRI
Manufacturers don't always provide the Color Rendering Index, or CRI, for a fluorescent or LED bulb, which is unfortunate. Nor do they give you a precise color temperature—they may just say "daylight," and we all know that can vary considerably. (Note: Manufacturers may refer to CCT, or Correlated Color Temperature, instead of simply color temperature.)

So, what is a CRI? Here is a definition gleaned from several sources on the web: "An index from 1-100 measuring a light source's ability to render color accurately" (www.luxlights.com). "High CRI equates to sharper, crisper, more natural-colored pictures while at the same time reducing glare" (www.nexgenled.com). "100 represents no color distortion. Lower CRI ratings produce more unnatural color" (www.think-energy.net). And this is what really counts: "While one lamp may have the same apparent color in CCT as another, its ability to render colors properly may be more or less than another light source (with respect to CRI rating)" (www.litetronics.com).
FEATURED VIDEO