Stock Strategies For Studio Photographers; An Interview With Bill Bachmann
In today's world, stock photos often sell for pennies, yet there are still photographers out there making a good living selling work for a good price. By talking with stock shooter Bill Bachmann, I found out that I, and most of my portrait/wedding brethren, have been missing the boat big time by not using our client images for stock images. According to Bachmann, we're sitting on a gold mine and just don't know it! I recently spoke with him to find out more.
Shutterbug: Let's talk first about the kinds of work you do.

This is one of Bill Bachmann's best-selling images ever. Waiting for the right light and hiring
camel riders, he had to pay off the police to shoot from here. The shot has made him well over $100,000 in stock sales.
All Photos Bill Bachmann
Bill Bachmann: I split my work between commercial and stock. It's a great combination. Let me tell you about a typical job. I just recently did a shoot for a cruise line. They paid me so I'm covered for all the expenses, models, etc. They purchased the rights to those images for two years. At the end of two years, I can either renegotiate with the cruise line or sell the images for stock, or even both.
One of the most in demand of lifestyle images is healthy retired people doing things.
SB: It seems like all the stories I read are about how the stock photo market is dead now and photographers can't get a good price for their work, yet you are doing well, traveling all over the world on paid assignments, and keeping very busy. What's different about the way you do things?

BB: First of all, I don't deal in Royalty-Free (RF) or microstock. The theory is that you'll make it up from volume, but I don't believe that to be the case. I've sold images for up to $25,000 each, and many images for over $10,000. Do you think I'd sell that same image 25,000 times for a buck each? I don't think so. Plus, it devalues your work and the public perception of the value of photography.

Second, I am constantly shooting. I love to shoot! About every three months or so we send out a fresh batch of images. We just finished mailing out DVDs to agencies all over the world. There were about 900 low-res images on the DVD for them to select from.

Third, it's the kind of photos that you take. The agencies don't need another photo of that hibiscus from your garden. Unless you've got the rarest and biggest flower of its kind on earth, they don't need it; they already have a million of them. I do lifestyle and travel photography, those are the most in demand markets. They need to be constantly updated, especially lifestyle images, because of changes in fashion, hair, etc.
(Left): The perfect moment in beach volleyball. This was for an assignment for Sandals in Jamaica, but it has also sold very well in stock. (Right): A tanned woman in Mexico sells for so many usages. This photo has been sold for sunscreen, resorts, even articles about cellulite for women.
SB: OK, so you take a lot of images that are in demand. You mentioned that you send your work to many agencies. Is there a reason you do not deal with one agency exclusively?

BB: That would really limit my income. By taking care of things myself, I'm able to connect with many agencies across the world, each with very different needs. About 15 percent of my income comes from in-house sales where people just call me up looking for a specific image. The rest is split up among all those agencies.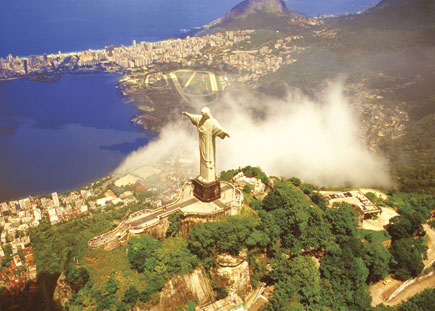 Again on assignment, Bill Bachmann hired a helicopter over Rio de Janeiro. This Christ statue image has made him over $150,000.
SB: Tell us a little bit about how you work—your studio, equipment, etc.

BB: My studio is in Orlando. The camera room is big enough for cars. On a shoot I may have just me and a model, or as many as 30 people, including stylists, makeup people, grips, directors, etc.

But most of my shooting is on the road. I use Nikon cameras and lenses, plus I carry an infrared body with me at all times.
(Top): Bill Bachmann used to sell images of retired people playing shuffleboard. Now the same age group roller blades! (Above Left): This easy studio shot of a bald man has earned upward of $100,000 from multiple agencies. Bill Bachmann's new book, Remember the Joy, shows you how to get those agencies to want your work! (Above Right): On another adventure to Cambodia, Bill Bachmann hired this dancer to pose for him. His website (http://billbachmann.com) shows the travel trips that he directs each year, called Bachmann Tour Overdrive.
SB: Now that we have a good idea of what you do, let's get back to the main reason I contacted you. You said portrait and wedding photographers were sitting on a gold mine by not selling their images as stock. Can you elaborate on that?

BB: Let's take weddings first. If I wanted to sell some wedding shots, I'd have to get models, hair and makeup people, dresses, etc. It's a pretty expensive proposition. But you guys who are out there shooting weddings every weekend have those shots already on your hard drive. Why aren't you selling them? Especially the images that lean toward fashion and editorial looks. Stock houses want those images. You have them. Make sure you get a proper model release and permission to use the images for stock and start putting some extra money in your bank account.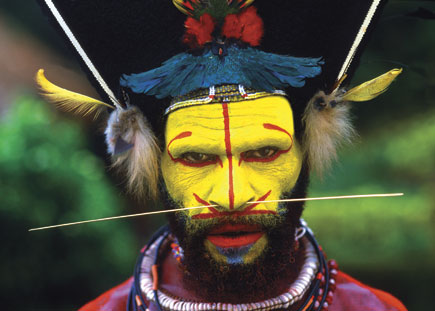 On one of his Bachmann Tour Overdrive trips to Papua New Guinea, Bill Bachmann shot this Huli Wigman. He has been amazed by the number of sales worldwide.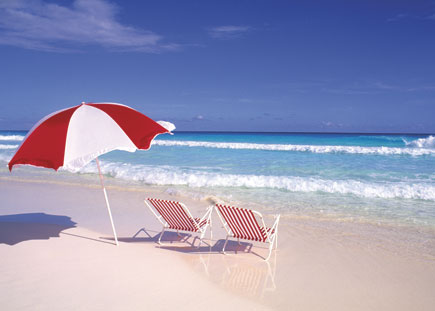 This image shows the perfect holiday. It sells for so many calendars, mouse pads, screensavers, and travel magazines for the Caribbean getaway.

LATEST VIDEO