Pro's Choice: On The "Cutting" Edge: Ann Elliott Cutting's Conceptual Portraits
Many commercial lifestyle/portrait shooters turn first and foremost to studio strobe to light their subjects. Not Ann Elliott Cutting. Her studio features a south-facing window that she utilizes to the max. I know, it's not the proverbial north-facing skylight that we've been taught to strive for, but it does the job—and quite nicely. More than that, her penchant for employing window light doesn't mean she shuns brawny power pack systems. She owns and uses those as well, but they're not always the go-to gear even on commercial assignments and often play a subordinate role.
Client: Needham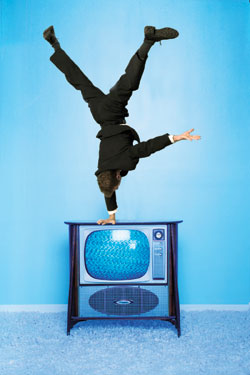 Cutting learned to appreciate lighting as a student at the Art Center College of Design in Pasadena, California, where she pursued a second degree and now teaches photography. Her day job at the time was molecular biologist at Caltech.
After graduating, she had the good fortune to land a rep (agent), and that launched her commercial photographic career. For the past 21 years, Cutting has operated a studio in Pasadena, and her three websites reflect her commitment and devotion to photography (commercial: www.cutting.com; fine art: www.cuttingphoto.com; stock: www.cuttingstockphoto.com). Routinely working with her are first assistant Danny Ventrella and wardrobe stylist Gillean McLeod, along with various other stylists. Cutting largely does her own retouching and compositing.
Client: Nikon
Tools Of The Trade
Like many students of photography, Cutting mastered the fundamental tools of the trade using a view camera at one end of the spectrum and the Diana camera on the other. Along the way, she also adopted medium format and eventually moved into digital, first with a Nikon system (D3 and D90), then adding a Canon EOS 5D Mark II. When a client asks for digital medium format, she'll rent an H-series Hasselblad. Her cameras in the studio are supported on a Gitzo tripod with a pan-and-tilt head.
Cutting is a strong believer in using tilt/shift lenses with her Nikon and Canon cameras. "I often use the tilt/shift lens when I'm shooting by available light. I don't use it for architecture. But I do use it for artistic interpretations, which heavily involve selective focus."
But why Perspective-Control (PC) optics on smaller cameras when she has a perfectly good 4x5 at the ready? "So that I can be portable. I carry the tilt/shift lenses on location." She owns a short telephoto PC lens for both systems. "It works well with still life, in addition to people I shoot in conjunction with products."
Client: Harvard Medicine
Evolving A Specialty
"The choice of specialty was more of an evolutionary step in my career," Cutting notes. "I started with music industry album covers, then lifestyle for advertising, finally adding editorial to the mix." She continues: "I would say my main focus is 'conceptual.'" That applies to her portrait as well as still life work. She is constantly challenging herself with new ideas or novel ways to invigorate her work, to push the envelope. And not merely with the digital medium.
In fact, Cutting has not abandoned film, which is largely where her Calumet 4x5 and Mamiya RB67 reign supreme, along with the Diana. And she goes even further with her exploration into this medium. Toward that end, she uses Ilford HP5 and FP4 and sends the film out to a lab that specializes in reversal (positive) processing of black-and-white negative film (www.dr5.com).
And sometimes Cutting will take a more measured approach in her digital work as well, with monochrome renderings that simulate silver-based emulsions. That is reflected in her fine art photography. An ongoing project has been a series of nude studies, largely in monochrome—or at least color images rendered as subtle tones of black, white, and gray, or involving some digital toning process. Those pictures embody an old soul, yet are imbued with a youthful spirit.
Personal
Window Light Plus Studio Strobe
As mentioned earlier, Cutting's studio has a south-facing window. Cutting has become enamored of the feel this light gives to her images. However, window light, while it affords the shallow depth of field Cutting often prefers, may need to be augmented. That's where her Profoto Acute 1200 and 2400 systems enter the picture. What's more, advertising work being what it is, the studio strobes may also assume a dominant role—art directors, for the most part, love sharp images without any hint of motion blur.
Light from the Profotos is shaped with a variety of Chimera softboxes, Profoto strip lights, and a Profoto octabank. And Cutting will occasionally use a ringflash head for the distinctive quality it lends to a portrait. When strobe is involved, so is the PocketWizard radio remote system. "I have also used the Nikon SB-900 speedlights." They're not her regular fare, but they did play a key role in lighting a set on assignment for, you guessed it, Nikon.
Client: Nikon
Because she also focuses attention on still life and product photography, Cutting is always experimenting with different forms of lighting, sometimes taking a playful attitude. This includes the Model 3100 Gooseneck System microscope light, a recent discovery (available from Dolan-Jenner Industries, www.dolan-jenner.com). This light uses a halogen bulb housed within a bendable hose, producing a spotlight. Another novel light is an LED strip light (available from Inspired LED, www.inspiredled.com).
"We can bend and shape the strip as needed to surround small subjects or fill in tiny crannies. It creates a radiant glow." The strip is attached to a small power supply, governed by a rheostat.
In addition, Cutting will also use tiny silver-surfaced mirrors as reflectors in her still life work. "I've also found Kromekote diffused mirror-like material handy as a bounce light source. And it comes in different colors. I cut it into little shapes, as needed."
Client: Small Biz Magazine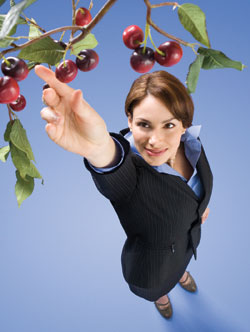 Flexibility: A Key To Success
Flexibility is one key to success in a commercial studio, especially when dealing with live subjects. It's not always about the lighting. On one shoot, the challenge involved puppies. This was for a Mother's Day promotional campaign designed to show how a particular camera could be used to photograph kids without being distracting in the mother's hands. "The puppies would run out of steam more quickly than the kids and ended up taking a nap right in the middle of a shot," Cutting recalls. Fortunately, there were five or six puppies on set (under the direction of a puppy wrangler), so replacements were readily available.
Cutting concludes: "I usually get more technically involved from a lighting standpoint when I'm shooting still life, or with pictures involving hands (for various magazine cover shots). Otherwise, I tend to keep the focus more on illustrating the concept and less on the lighting."