Rain Forest; Cross The River And Rest Under The Trees
"If a tree falls in the forest and no one is there to hear it, does it make a sound?"
In another photo magazine's blog, the writer notes the passing of J. Frederick Smith at 88 and says, "I had heard his name but wasn't really aware of his work until recently." At first I was surprised by this sentence since it appeared in what was otherwise a well-written obituary, until I realized that Mr. Smith did not even rate an entry on Wikipedia (http://en.wikipedia.org/wiki/Main_Page), the home of bios to many, including shiftless politicians and would-be celebrities. There didn't seem to be many books by or about Mr. Smith until I remembered my library contained a 1975 volume called "Photographing Sensuality" from the "Masters of Contemporary Photography" series published by the gone-but-not forgotten Petersen's PHOTOgraphic. Let me add my condolences to the Smith family with a postscript that his work touched the lives of many people and influenced many more, including a then-aspiring 34-year-old photographer.
© 2006, J. Frederick Smith, All Rights Reserved
www.akornphoto.com
Andrew Kornylak is one interesting dude. Check out his bio to find out what he didn't do. He didn't attend Pratt Institute and never assisted Annie Leibovitz; he is self-taught, but you would never know it from the stunning editorial and commercial images filling his website. His three galleries are called Dancers, Adventurers, and Faeries & Monsters. "Adventurers" is full of photographs of rock climbing, mountain biking, water sports, and a lot of other outdoorsy activities. But check out how Kornylak shows mountain bikers during the 24 Hours of Conyers mountain bike race. You can't see the bikes but you can witness Kornylak's talent in telling a story.

These stylistic pirouettes are continued in "Faeries & Monsters" that includes more extreme sports activity mellowed by the presence of whimsical imagery, the best being a photo of a 2-year-old Sam Kornylak finding a "scary monster" in a playground. (Profanity alert for the easily offended.) The "Dancers" collection is a modern day West Side Story, featuring aesthetic examples of dancers strutting their stuff in urban settings. Don't expect Broadway or even off-off Broadway; it's gritty urban realism with an added dollop of style and grace. Kornylak built the site using liveBooks (www.livebooks.com) web-based software. As I was finishing this profile, liveBooks announced Version 5.0 that adds new navigation and styling options, slide show movies, HTML gallery presentations, music uploads, and a shopping cart for selling prints.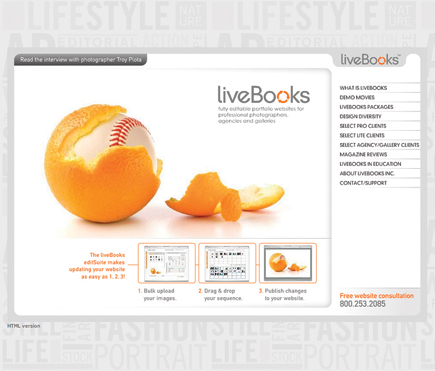 Photos © 2006, Andrew Kornylak, All Rights Reserved
FEATURED VIDEO