The Whale Whisperer: How Anuar Patjane Captures His Out-Of-This-World Underwater Images
Anuar Patjane Floriuk, popularly known as Anuar Patjane, has been scuba diving for 17 years. Much of his photography in the past has been focused on travel around the globe, but lately he's been giving in more and more to his fascination with the sea. He's been shooting underwater for five of those 17 years and finds the camera a natural extension of his inner being, helping him explore and fathom pelagic life, especially whales, and himself in the process.
Patjane fell in love with underwater photography on a diving expedition to the Galápagos. But at the time he was using, as he describes it, "cheap equipment." This experience spurred him on to invest in more serious underwater photography gear that was at the same time more compact.
I discussed underwater photography with him, centering on the one expedition that garnered him praiseworthy notoriety from National Geographic.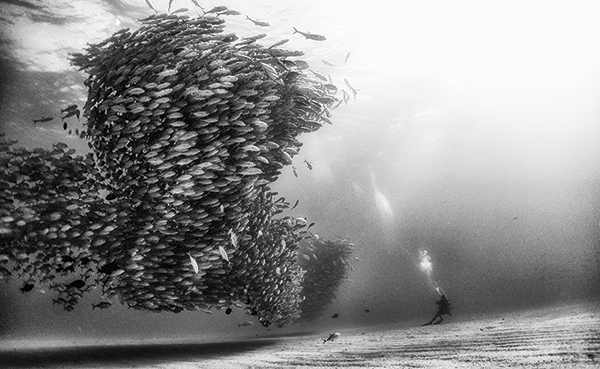 The Humpback Story
Shutterbug: Where did you photograph these whales and was this an organized expedition?
Anuar Patjane: This took place in Roca Partida, Revillagigedos Archipelago, Mexico. The Roca Partida expedition was organized by the company that owns the ship Solmar V. They carry out expeditions several times a year, to various locations. This piece of rock in the middle of nowhere is only reachable when the weather is exceptionally good, because there is no protection for the ship once you get there. So I was very lucky this time: Weather allowed us to go all the way there, and to stay there. And the whales were there, staying with us the entire time. This kind of luck is like having a full house in poker.
The backstory here is that a friend called the ship and asked if there was space available for more divers. We usually dive as a group of six or seven regulars, which adds to the safety factor and makes it more enjoyable. However, only two spaces were left, so we grabbed them.
Probably one of the main reasons I started doing underwater photography was the possibility of photographing whales underwater. This expedition was not my first attempt but it was my first successful attempt. I have photographed humpbacks on other occasions but the water was not clear enough or they were moving too fast. It is very difficult to find whales that really feel comfortable around divers. Most of them just pass you by at 30 km/h.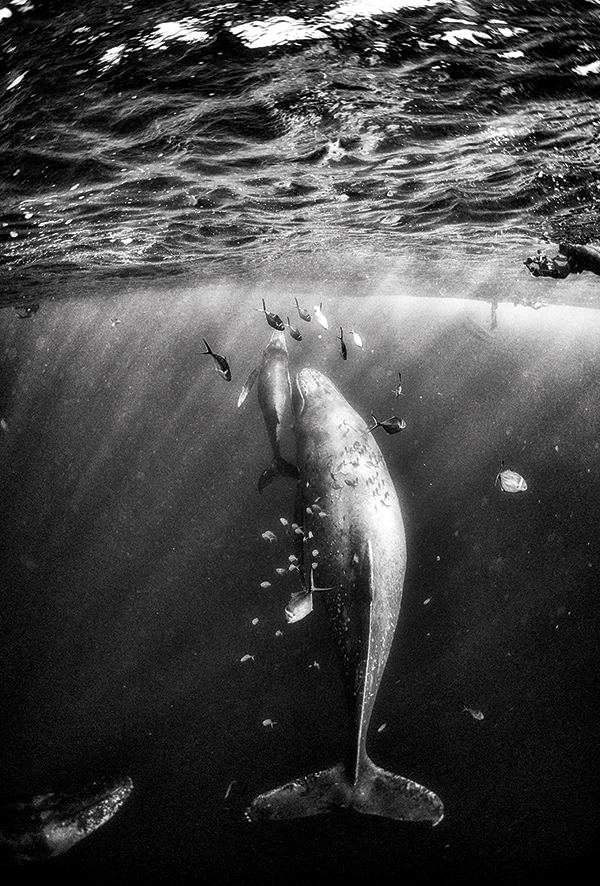 The Expedition
SB: What was the purpose of the expedition?
AP: The purpose was to document and dive the Revillagigedos Islands. This place is full of pelagic life, and every time you visit it is different, and unpredictable. This was the third time I dove there.
SB: How deep did you dive and how long did you stay under?
AP: Usually between 20 and 40 meters. That's where the action is. Each dive lasts about one hour and, on an expedition, we are talking about three or four dives per day. The Revillagigedos expedition lasted eight days.
SB: How many divers were there on this expedition?
AP: Fourteen divers probably.
SB: Was this all available light photography?
AP: Yes, I don't like artificial light, and this applies above as well as below the water.
SB: What was the purpose of this underwater photo shoot?
AP: For me the main purpose was to dive among whales. If the photographs came out good, that was a plus, and I'm so happy that they did.
SB: What did it feel like to come practically face to face with these enormous creatures?
AP: It was an adrenaline rush! I found it hard to control myself the first time that I saw the whales up close. I was breathing so fast that I was afraid I would finish all the air in my tanks in a few minutes. After a few dives you start to calm down a little and it gets easier to control yourself and your breathing.
SB: Have you photographed other whales besides humpbacks?
AP: No, only humpbacks, but this year I'm planning an expedition to find sperm whales. I really hope I'm lucky again.
The Challenges
SB: What are some of the challenges inherent in underwater photography?
AP: Working with the scarce amount of light down there is what makes this kind of photography complicated. Also, conditions underwater are constantly changing. Light changes, the currents change, changes in temperature as you descend. All this affects the body and mind.
SB: What was your most thrilling moment underwater?
AP: I'm not sure I'd call it thrilling; scary would be how I'd describe it. It was on a trip to the Galápagos many years ago, before I understood shark behavior. We were observing hundreds of reef sharks and Galápagos sharks and a strong current swept most of the diving team out of sight. All of a sudden I couldn't see anyone else, and I was surrounded by this overwhelming number of sharks. I remember thinking, what should I do? Surface immediately with the possibility of getting the bends (decompression sickness that occurs when surfacing too quickly) and maybe survive if the Zodiac boat is nearby? Or should I stay, take some photographs of the sharks before I die, and maybe the camera would be recovered? Because of my irrational fear of sharks, I could have made a stupid decision, but moments later I located my buddies behind a rock a few meters away from where I was. They were calm, so I calmed down.
Now when I look back I laugh. I understand now that sharks are awesome creatures that don't consider us as food. But psychologically it was one of the most extreme moments I have experienced while diving. Now I feel very secure underwater, maybe even more secure than outside the water.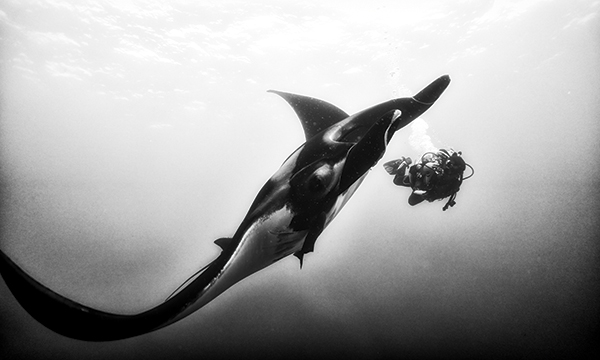 SB: Closing comments?
AP: Scuba diving is, in my opinion, an extreme sport. By its nature it's dangerous, but if you train well, there is nothing you cannot fix when you are underwater. Every equipment failure can be fixed if you follow procedures, so when you understand this, you calm down. Our own mind is the true enemy—the true risk resides there, not in the water.
The animals that live underwater are not a threat to us. Maybe the only one I would be afraid of is the giant Humboldt squid—that impressive creature has a bad reputation among divers and fisherman. If I ever see one of those, I will get out of the water, no questions asked.
One final thought, if I may. I believe we have become detached beings. By that I mean, we no longer feel a connection with nature. This underwater series is an attempt to show a possible connection with the underwater world, a world that we hardly know and one that is probably the most detached and least cared for place we know.
His Favorite Underwater Gear
"I'm always impressed by the engineering and beauty inherent in the Nauticam housing," Patjane says. "It is a masterpiece!"
What's in Patjane's Gear Bag
* Sony DSC-RX100
* Nauticam NA-RX100 housing
* Inon UWL-H100 28M67 wide conversion lens
* Inon Dome Lens Unit II
* Desiccants
* Four original Sony batteries
* USB charger
* Four 16GB SanDisk SD cards
* Sony DSC-RX1R and Recsea housing (this combo occasionally used)
Anuar Patjane is based in Puebla, Mexico. To see more of his work, visit anuarpatjane.com. To find out more on Solmar V expeditions to the Revillagigedos Archipelago, visit solmarv.com.
FEATURED VIDEO