Decisive Moments: Why One Million Instagram Fans Follow Jason Peterson's Black-and-White Photography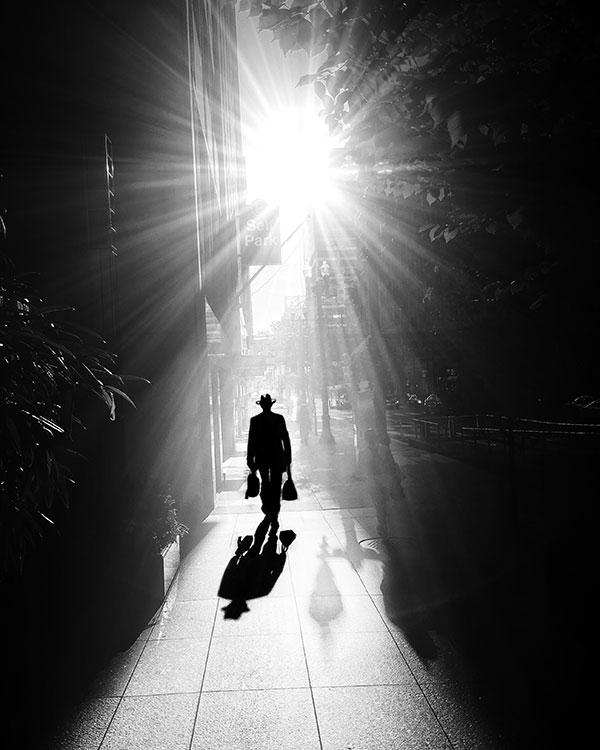 Not always, but often enough, Jason Peterson's photography is a waiting game. Until it isn't.
First comes recognition of the graphic strength of the scene's geometry, or maybe it's the lure of what the light is doing. Then it's wait, wait, wait for the decisive moment when something or someone will happen.
With Jason Peterson, pretty much everything is of or in the moment; not much "always" or "usually" seems to be going on. Right after talking about waiting for pictures to happen, he tells of seeing a shaft of light slicing across Wabash Avenue below his Chicago office, and how he jumped up on his window sill, and with his iPhone on burst mode captured a woman running across the street to make the traffic light. "I did a little editing on it and posted it [to Instagram] within 10 minutes," he says. "That's what I love about digital photography—I'm kind of ADD, I'm always on to the next, the next, the next—it happens right now."
Peterson isn't a professional photographer. He's an art director, a graphic artist, and, currently, chief creative officer of Havas, a branding agency. His photography, which has attracted over one million Instagram followers, is black-and-white photography.
"Mainly because the images I try to create are timeless images, images that you don't know when they're from," he says. "Could have been today or in the 1940s. Color has always been something that marks the time, right? If you think about the 1950s, you think about a color palette; 1960s, '70s, '80s, '90s…you think of a color palette. Black and white takes time out of the equation."
One Million Strong
So what do you have to do to get a million Instagram followers? In Peterson's case, it's simply do what you've always done—take pictures with passion and purpose. "I've been shooting two photos every day since I've been 13," he says. The difference is, now, with Instagram, he has a ready-made and readily-available delivery system for his images.
Neither photographic technology nor social media has made a significant difference in the style of his work. "I'm still shooting the same type of photography," he says. "Instagram and social media have just been vehicles in the last five or six years; my work has come to life in it, but I've always been influenced by a lot of photographers from the 1940s. I'm not doing anything different than Harry Callahan did when he came to Chicago in the '40s, documenting in dark, black-and-white street photography, with glimpses of shadows and people. I'm doing the exact same thing, but I'm doing it in an age that happens to be digital. The reason I think I've had this success on Instagram is because I just try to take amazing photographs that make you feel something."
But what does he want us to feel? Many of his Instagram images depict distant, isolated, maybe lonely people. "When I shoot a photograph, I feel it—that moment," he says. "To me it's often about isolation, about fitting in; that smallness, that being alone. Those are emotional hang-ups that come across in my photographs, but it's still all about making you feel something."
That something is often caught in a moment we would ordinarily miss, which may be the ultimate attraction for his Instagram followers. "I like to look for those moments that happen that we don't realize happen because they happen in a blink," Peterson says.
Maybe it's as simple—or as difficult—as that: capture the blink moments and you'll find yourself with followers. Lots of them.
Ultimately Peterson doesn't come to any conclusions about why his photographs resonate with others. "It comes from whatever people are getting from it, for reasons of their own. The medium has nothing to do with it. [Instagram's] no different from a printed publication or a book or something on the wall. It's a delivery method—and the best thing about it is that you control it."
He readily acknowledges one other benefit of that delivery method: put up a picture, get a response. When asked if that spurs him on, he responds, "One hundred percent. I'm doing more photography now than I have in the past 30 years because all of a sudden I have this way for everyone to see and respond to my work."
And he reminds us that his work has remained constant in style and theme. He tells of recently giving a talk and showing some images he made in 1986. "You know what? They look exactly like the images I shot yesterday. The only difference is, now I have an audience."
That audience, he adds, is there for the having. "When I started out I had three people following me—my wife, my son, my daughter. If you post really rad photos, and realize that this is a community, and you go and like other people's photos, comment on them, get involved with what's going on in the community of sharing photographs, people will like your work."
What's in Peterson's Gear Bag
​• "I was a late adapter of digital because digital photography all through the '90s was garbage," Jason Peterson says. "It wasn't until I shot a photo on my iPhone 5 that I was like, This looks like a Hiroshi Sugimoto shot—I'm an art director, and I love everything in its place, and Sugimoto's shots are as much graphic as they are photographic, and that's what I really love about his work."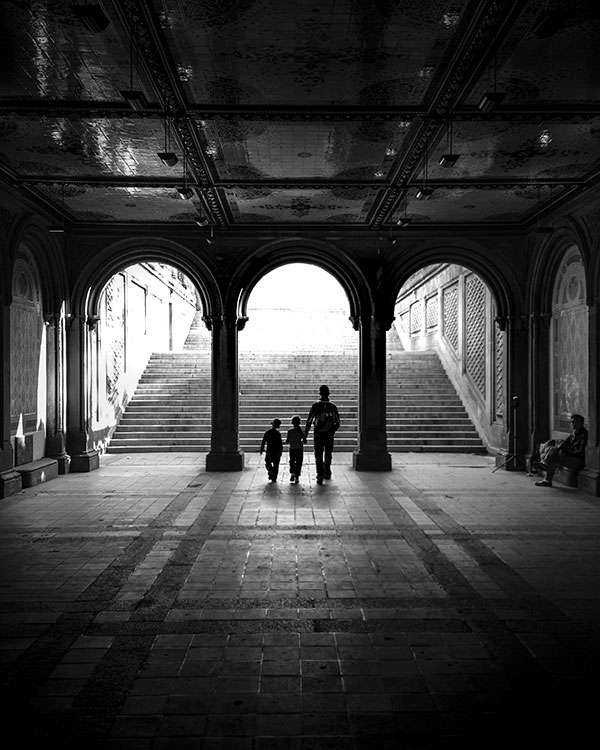 • Realizing there was now something to digital, he took a closer look, and today he shoots with three Leicas in addition to his iPhone X—the M10 digital rangefinder, the mirrorless SL, and the compact Q. He has a number of Leica lenses, including the Vario-Elmarit-SL 24-90mm f/2.8-4 and the Super-Vario-Elmar-TL 11-23mm f/3.5-4.5.
• He also has a DJI Mavic Pro drone that he takes everywhere.
You can connect with Jason Peterson's images at instagram.com/jasonmpeterson.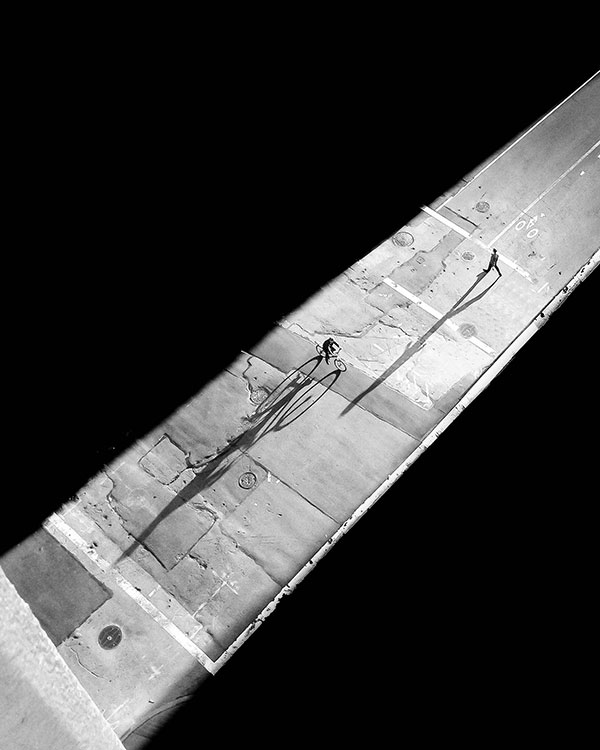 FEATURED VIDEO