Point-And-Shoot Digicams
Some Exciting Innovations; Some Tried And True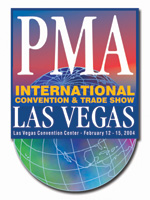 Just when you thought you'd seen it all, along come some revolutionary changes and surprising introductions in point-and-shoot digital cameras--enough so as to make me want to go out and buy several of the new digicams shown at this year's PMA. While some may view the prosumer 8-megapixel CCD camera as the pre-eminent category, I chose to view the digicams on overall merit, and found several 5- and 6-megapixel cameras to be equally noteworthy, if not more so, especially in light of compact size.

There were a number of innovations for digicam users at the show. Several manufacturers are touting full VGA (640x480) capture at 30 fps. Cameras are becoming ever more printer-friendly, with PictBridge, Exif Print (Exif 2.2), and DPOF support, with some also supporting Epson's Print Image Matching (PIM). Others (or these very same digicams) are making it easier to share pictures via e-mail. And this year we see the first consumer digicam to incorporate the Foveon X3 chip and another with a captivating dancing avatar.

I also noted an increasing number of digital bino-cams (binocular and digicam in one). One noteworthy feature shared by numerous cameras this year is the incorporation of European-designed optics, albeit assembled and/or manufactured in Asia, but at least one camera manufacturer was quick to point out that the same quality-control standards apply. Perhaps most surprising was the seeming swarm of EVF (Electronic View Finder) digicams displayed this year. The good news is that the EVF is much improved, delivering crisper images than ever before.
New Chip Tech
Some of the advancements found in the new crop of cameras are the result of new chip technology (which remains largely subliminal) courtesy of Texas Instruments. In a released statement, this company noted: "Texas Instruments enables a $999 SLR level of performance in point-and-shoot digital cameras at a $299 price point." Some improvements center on faster start up and shot-to-shot times and enhanced autofocusing and scene modes, with an increased ability to correctly render white balance, contrast, and exposure, adding MPEG-4 VGA video at 30 fps for the length of the memory card. For my money, the big advance involves in camera redeye removal. (See www.ti.com/dsc for more info.)

Rather than rehash what we now take for granted (and to conserve space), this report will focus on those features that make a particular digicam stand out or which are exclusive to a particular model--just enough to give you the flavor of the camera. So, when it comes to the various modes for white balance, flash, metering, scene/image settings, LCD monitor, and other functions, we'll reserve comment for those especially. We can't present every camera shown at PMA this year, but hopefully this tasting will get you a flavor of what's happening in the digicam world.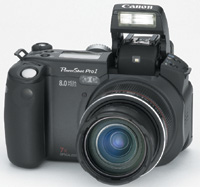 Pro-Level & Prosumer EVF Digicams, Up To 8Mp
These cameras bridge the gap, providing us with serious picture-taking tools while letting us have a little fun in the process. Boasting resolutions from 5-8 megapixels and sporting advanced functionality and truer-to-35mm-film-camera handling, they offer a full array of features and appear to be designed to meet any photographic challenge. You might say they are the next best thing to an interchangeable lens camera. They're not cheap, but for what they offer they're not outrageously priced either. Two models especially have the look and feel of a traditional rangefinder and all feature an EVF, some with a quasi zoom lens reflex look and feel.

Canon Pro1
Introducing our foray into 8-megapixel CCD cameras is the Canon PowerShot Pro1 ($999 street). When I first beheld this new, metal-bodied camera, I knew it could blaze new trails in my digital photography. The Pro1 comes with a highly corrected 28-200mm (7x) f/2.4-3.5 L-series UltraSonic Motor (USM) Canon lens--something that would likely cost as much as this camera alone, if it were even available. A "super macro mode" permits close focusing to 1.2" (albeit at 5-megapixel resolution). The Pro1 also features a 3.2x digital zoom.

Especially noteworthy is the 2" tilt/swivel LCD with 235,000-pixel resolution, added to a 235,000-pixel EVF. Movies are captured in VGA at 15 fps, up to 30 sec, plus audio. Capture is in raw or JPEG. Particularly appealing to me is the ability to attach external EX-series Canon shoe mount and macro strobes. The camera uses CompactFlash (or Microdrive), with USB connectivity.
Konica Minolta DiMAGE A2
I was equally impressed with the Konica Minolta DiMAGE A2 ($1099 street), and I can't wait to put this camera through its paces. In a race, the A2 would leave the earlier A1 in the dust, thanks to an 8-megapixel CCD and CxProcess II image processor to boost performance beyond levels available to the previous model, including faster autofocusing. Add to that an incredible 922,000-pixel TFT EVF for manual focus override. Other features and enhancements include fast f/2.8-3.5 Apochromatic 7x (28-200mm) optical zoom, Anti-Shake technology (at the CCD), predictive focusing, near VGA movies with audio, 7 fps UHS (Ultra High Speed) mode, and both raw and JPEG capture, plus support for USB 2, PictBridge, DPOF, Epson PIM, and Exif Print on top of a host of features carried over (or improved upon) from the A1--all combining to bring you a quite formidable camera.
Nikon Coolpix 8700
Grabbing hold of the Nikon Coolpix 8700 ($999 MSRP), I knew I had one lean, mean picture-taking machine in my hands. An 8-megapixel CCD takes digital capture to the next level. The 8x (35-280mm) zoom boasts ED glass, with viewing on a 238,000-pixel EVF or camcorder-style, vari-angle LCD. A dedicated TTL hot shoe makes the 8700 compatible with optional Nikon strobes. Other features include super telephoto macro, which takes you to within 1.2" of your subject, framing guides to help the compositionally challenged, noise reduction, and a 2.5 fps burst mode at full resolution (up to five frames). The camera also offers raw capture and a time-lapse movie mode (on top of regular movies at 30 fps with audio), and is PictBridge compatible. Twelve scene modes will certainly enhance the picture-taking experience.
Olympus C-8080 Wide
One thing you can say about Olympus C-series cameras: You didn't see it coming. These digicams are all over the map when it comes to size and features, but they continue to be serious contenders for your digital dollars. The C-8080 Wide Zoom ($999 street) doesn't leave much room to take this series further, boasting an 8-megapixel CCD and proprietary TruePic Turbo image processor to improve image quality and deliver faster overall processing speeds for rapid startup, capture, and playback. I've seen the original TruePic do its thing, and it was impressive, which leads one to expect even better things from the Turbo design.

The lens incorporates ED elements and is relatively fast at f/2.4-3.5 for a 5x zoom (28-140mm)--the most modest range for a camera in this genre, with 3x digital. The camera does appear to get carried away with an overwhelming number of user custom settings. Still, this is a serious camera, with multi-position LCD, which is helpful on numerous occasions when the EVF proves less than practical. What really impresses me about these newer Olympus cams is that they seat two different memory cards in the chamber at once, letting you switch between CompactFlash/Microdrive and xD.
Fuji FinePix S20
Fujifilm has long been a favorite of mine in the point-and-shoot digital genre, so it's no surprise to see a competitive entry from this company. The FinePix S20 ($999 MSRP) employs Fuji's latest Super CCD SR technology to capture 6-megapixel images (arguably interpolated). The camera features an f/2.8-3.1 6x (35-210mm) optical zoom with 2.2x digital, PC sync, with viewing on 235,000-pixel EVF (or LCD). It offers both FireWire and USB 2 connectivity, with burst rates at up to 4.5 fps. Data capture is in raw or JPEG (plus movies) on xD card and Microdrive. The camera is powered by four AA cells.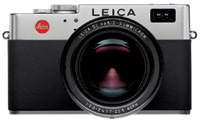 Leica/Panasonic Entries
Leica and Panasonic each formally presented their breakthrough 5-megapixel digital "rangefinder" cameras, the result of a cooperative effort between both companies, incorporating world-renowned Leica optics and Panasonic electronics. Decidedly the highest priced cameras in this group, they are designed for photojournalists and news photographers who might otherwise be using a Leica M-series camera and 35mm film. The Leica Digilux 2 ($2100 MSRP) is easily distinguishable due to its styling and the distinctive Leica logo. More than that, it is a classic camera on the face of it, with traditional controls for shutter speed, lens aperture, zooming, and manual focus, while also providing autofocusing. This camera touts a 235,000-pixel EVF that is used for rangefinder-style focusing, while the LCD on the back is a generous 2.5". Most important is the fast 3.2x (28-90mm) f/2-2.4 Leica DC Vario-Summicron lens (with digital zoom), with a full complement of automatic and manual exposure modes. The built-in flash is unusual in that it can be tilted upward for bounce lighting. A pocket-size dedicated shoe-mount strobe is optional. Capture via Leica firmware is on Secure Digital/ MultiMediaCard in raw or JPEG, with USB 2, Exif Print, Epson PIM, and DPOF support; operates on rechargeable li ion.

Panasonic's sister camera, the DMC-LC1 Lumix ($1599 MSRP), is much the same, differing cosmetically and in the firmware. Panasonic revealed that a proprietary processor gives the camera "outstanding responsiveness." There will also be a free plug-in available from Adobe to handle the raw files on both cameras.
10x & 12x EVF Digizooms
The last time I bought a 10x EVF digizoom with image stabilization, it cost me around $700--and that camera was bulky, topping out at 2 megapixels. Today's digizoom cams are sleeker and much more capable--and modestly priced. Granted, none of the models shown sports even a 5-megapixel sensor, but don't let that throw you: a full-frame image at 3 megapixels is better than a cropped-down 5-megapixel picture. Image stabilization with long optics may often mean the difference between sharp and blurry, but not every manufacturer got this message. Still, I've managed some nice shots on 10x zooms without this feature--but could they have been nicer still with image stabilization?
PowerShot S1 IS
Canon is working on the strength of its optical image stabilization technology in the new 10x zoom PowerShot S1 IS ("IS" = Image Stabilized). The 3-megapixel S1 IS ($499 street) operates on AA cells, recording onto CompactFlash, adding VGA movies (with audio) at 30 fps to its list of features. As with Canon's other recently introduced cameras, this too employs a DIGIC processor for enhanced results. The S1 adds 3.2x digital zoom to the quiet f/2.8-3.1 USM 38-380mm lens, effectively giving you the equivalent of a 1216mm optic. With close focusing down to 3.1", the S1 offers focus bracketing and manual focus override. This camera also boasts a vari-angle LCD display as well as EVF, with support for PictBridge, Exif Print, and DPOF.


Panasonic FZ10
Since it was introduced at CES earlier this year, I'll only briefly mention the 4-megapixel Panasonic DMC-FZ10 ($599 MSRP), with its fast f/2.8 12x (35-420mm) Leica DC Vario-Elmarit optical zoom and image stabilization. It uses Secure Digital cards for storage.
RTUNE Tech
Now we turn to cameras that require you to rely on a steady hand or a tripod, since they lack any built-in means against camera shake, beginning with Kyocera, a company that debuted a surprisingly compact 10x zoomcam, the Finecam M410R ($499 street). This 4-megapixel camera employs a relatively fast (f/2.8-3.1) 37-370mm lens, with a 300,000-pixel EVF and 1.5" LCD monitor that can be used in bright daylight, plus 6x digital (linked to resolution). It utilizes Kyocera's RTUNE image processing for fast, continuous shooting at 3.3 fps and a shutter lag time of 0.07 seconds, and offers Secure Digital card, PictBridge, and USB 2 support, adding movie mode with sound, in VGA at 30 fps.
Olympus Ultra Zooms
Olympus continues to redefine its 10x zoomcams with the new 4-megapixel C-770 and C-765 Ultra Zoom models having been enhanced with Olympus' TruePic Turbo processing. Both give you 4x digital zooming as well, while incorporating aspherical lenses and ED glass for better optical performance. The C-770 adds MPEG-4 with audio capture, and otherwise the two cameras are largely the same, with a $100 price difference (C-770/C-765: $599/$499 street). Each operates on a li ion rechargeable pack and is supplied with remote control and 16MB xD card.
Konica Minolta Z2
Not long ago, Konica Minolta introduced the DiMAGE Z1. But they didn't wait long before introducing this camera's new sibling, the Z2 ($449 street). I found I could do quite a bit with the Z1, but I had hoped for a 10x camera with this company's Anti-Shake technology the second time around. Maybe next time. Still, a fast Apochromatic lens, movies at full VGA (30 fps), predictive focusing, CxProcess II, and manual focus override should not disappoint anyone with far-reaching photographic goals.
Compact 5Mp & 6Mp Digicams
Believe it or not, even pro photographers don't like to schlep around those full-bodied, largely cumbersome cameras when scouting locations or looking for backgrounds, scenics, and atmospheric shots to use when compositing images. They often opt for a compact camera, provided it gives them the needed image quality and range.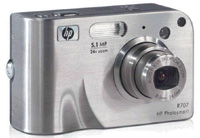 "Best Of Show" R707
I begin with the one camera I felt truly stands out from the crowd this year, my Best of Show pick in a digital camera: Hewlett-Packard's Photosmart R707, an intriguing 5-megapixel camera, with a most inviting street price of $349. This compact marvel begins with 3x optical, 4x digital, and goes on to offer proprietary redeye removal in camera, along with Adaptive Lighting Technology to more effectively deal with scene contrast.

Offering numerous modes, including manual, it comes with 32MB internal memory while accepting Secure Digital/MultiMediaCard cards, and supports USB 2, PictBridge, Exif Print, and direct printing to HP ink jets. This camera also analyzes what went wrong with your pictures, providing helpful hints on screen. A stitch-assist feature helps you with panoramas, up to five frames in any orientation, generating a fast preview and automatically assembling the panorama upon download. It also includes MPEG at 30 fps in QVGA, and records audio. Startup time: a little over 2 seconds; shot-to-shot: less than 1 second; burst rate: 4 fps with focus/exposure locked. The optional docking station ($79) includes a second rechargeable battery.
Coolpix 5200
The major announcement among compact Nikon digicams is the 5-megapixel Coolpix 5200 ($499 MSRP), which along with its 4-megapixel sibling, the 4200 ($399), offers built-in redeye removal--a near miss as my Best of Show. Only catch: the camera must be used in redeye-reduction flash mode. Still, this should prove useful for the tons of redeye-plagued pictures that people e-mail or post because they don't know how to fix it or can't be bothered. The 3x optical zoom features ED glass for sharper pictures. The camera has 12MB internal memory, with additional storage on a Secure Digital card.
Casio EX-P600
Also barely edged out as my Best of Show is Casio's EX-P600 ($649). Otherwise known as the Exilim Pro, this camera now gives Casio a prosumer digicam to round out this pocket-size product line. The P600 features a full-information display that needs to be experienced firsthand to be fully appreciated. Aside from that, it employs a 6-megapixel CCD and Canon 4x optical zoom (33-132mm), plus 4x digital. While lacking raw capture, it does record TIFF as well as JPEG. The camera also has internal memory with Secure Digital/ MultiMediaCard card slot, a 2" LCD, uses a li ion rechargeable battery, and boasts a 0.01-second shutter lag time and high-speed burst (3 fps), plus multiple bracketing modes.
Kodak 6Mp Entry
There were of course other 6-megapixel digicams. Kodak introduced a number of new cameras, but only one with a 6-megapixel CCD, the EasyShare DX7630 ($499 MSRP). Of note is the use of a relatively fast f/2.8 Schneider-Kreuznach Variogon 3x optical zoom lens (39-117mm). Other features that reinforce Kodak's aggressive marketing stance in digital include 2.2" indoor/outdoor hybrid LCD, 4x digital zoom, auto picture rotation, 16 scene modes, 2 fps burst mode, AEB, 32MB internal memory with Secure Digital/MultiMediaCard support, rechargeable li ion battery, USB 2 interface, and Exif Print. Also noteworthy is the EasyShare LS753, a 5-megapixel design with 2.8x Schneider lens. A special feature common on these and other new Kodak digicams: they allow users to immediately select photos for e-mailing, with up to 32 e-mail addresses stored in memory. Perhaps more important still: the Kodak Color Science image processing chip, for enhanced capture performance.
Vivitar 6Mp
Vivitar debuted the compact 6-megapixel Vivicam 4000 ($599 MSRP), which uses a 3x optical zoom, complemented by 4x digital, a 2.2" color TFT display. Movie clips at 640x480 round out this camera's features. It comes with a 32MB Secure Digital card.
5Mp For $379
Returning to the field of 5-megapixel CCD digicams, Concord introduced their top of the line 5345z, which may or may not herald a shift in marketing strategy, given it does not carry the Eye-Q brand name. The modestly priced ($379 MSRP) 5345z impressed me with its sleek styling and uncomplicated handling. It sports a 3x optical zoom, adding 4x digital to the mix, and it packs a user-friendly array of 19 scene modes to facilitate picture-taking in practically any situation. There is also a burst mode, and video at 15 fps in QVGA. Recording onto Secure Digital/ MultiMediaCard memory card, the camera also has internal memory and comes with Ni-MH AA batteries and charger. The 5345z supports DPOF and Exif Print.
Digital ELPH
Canon's pocket-size Digital ELPH has matured into a 5-megapixel edition, with the PowerShot S500 ($499 street), employing the same CCD as on the G5 and S50. The camera brings a new level of instant connectivity to this product line, with the Print/Share function and adds VGA movies, albeit at a mere 10 fps for 30 seconds. Zoom range is 3x optical plus 4.1x digital. Supplied with 32MB CompactFlash card.
Samsung With Schneider
Samsung's 5-megapixel Digimax V50 ($379 MSRP) marks one of the more interesting cameras shown by this company at PMA. It boasts a Schneider 3x optical zoom, plus 5x digital, a 2" LCD, and intuitive graphical user interface. Moreover, it captures movies in MPEG-4 format at 640x480/30 fps, adding AEB and numerous scene modes. The V50 offers slots for Secure Digital/MultiMediaCard and Memory Stick DUO.
Sony's 5Mp Cyber-Shots
Sony introduced two new Cyber-shot cameras employing a 5-megapixel CCD, with largely identical features but markedly different in design. The DSC-W1 ($399) is more squarish, whereas the similarly priced DSC-P100 has that trademarked rounded side hugging a way-off-center lens. Both cameras sport a 3x optical zoom Zeiss Vario Tessar lens, 1.6 fps burst mode, and MPEG movies at 30 fps in VGA, with USB 2, PictBridge, and Memory Stick/Pro support. Two key differences: 2.5" LCD and rechargeable Ni-MH for the W1, in contrast to a 1.8" LCD and InfoLithium battery for the P100. I couldn't decide which I liked better.
7-In-1 Digicam
Mustek surprised me with the introduction of the MDC 6500Z, a 7-in-1 camera: digital still, camcorder, PC cam, voice recorder, MP3 player, card reader via Secure Digital/MultiMediaCard card slot, and mass storage device--all for $249 MSRP. It employs a 5-megapixel CCD and 3x optical zoom and has 32MB internal memory. It is designed to output to Mustek PVR recording devices, as well as TV or DVD recorder.
Polaroid/Foveon
While technically falling just below 5 megapixels, the Polaroid x530 (distributed by Uniden America Corp.) deserves particular attention, as it is the first consumer digicam to employ the Foveon X3 image sensor, which records colors on three separate chips. While still a prototype, the camera I saw is anything but compact, and stylish is not a term I would use to describe it. But the results are impressive. As it stands now, the x530 delivers 4.5 megapixel images (a combination of the three chips) with the aid of an AF 3x optical zoom (plus 4x digital), and is Secure Digital card compatible. It features a 2" LCD, VGA video capture with sound, and operates on a rechargeable li ion battery. And lest we forget, image capture is in proprietary raw or standard JPEG--a first for the X3 chip ($399 MSRP).
Compact/Pocket 3Mp & 4Mp Digicams
Frankly, with many compact and pocket size cameras today employing 5-megapixel CCD chips, there could be little to excite us in digicams delivering resolutions below this level. However, that doesn't mean that I don't like lower-resolution cameras, since I, in fact, continue to use them--they always come in handy. Such cameras are eminently suitable when sharing pictures by e-mail or over the Internet is your goal. Canon, Olympus, Pentax, Rollei, Sony, and Vivitar, along with Aiptek, DXG USA, Microtek, and Mustek, each showcased new cameras employing either a CCD or CMOS sensor.

But of all the sub-5-megapixel cameras introduced, only one just missed being named my Best of Show. The most striking camera in this group is the new Samsung Digimax U-CA 3 ($229 MSRP), not simply because it is feature-rich and constitutes a very capable little digicam, but because of the way it endears itself to the user. A colorful array of flashing lights (a la Close Encounters of the Third Kind) heralds startup on this 3-megapixel point-and-shoot. Then the LCD startup screen treats you to a dancing avatar. You can replace the face with one of your choosing, and customize or download new avatars.
Sports Digicams
Binoculars and scopes with an integrated digital camera are not new, but their numbers are increasing. We've also found a few cameras specifically designed for the underwater photographer. (Not included are cameras made simply to resist the elements.)

While none come with electronic flash, many bino-cams use internal memory. A few boast extended capabilities, such as movie recording and storage on memory card. Resolution ranges from sub-megapixel to 2 or even 3 megapixels, with stills in JPEG. And, obviously, all operate on batteries, with select bino-cams adding an LCD. Manufacturers include Bushnell, Celestron, Meade, Rollei, and Vivitar. Prices start at under $100 to easily over $500. The more capable bino-cams employ a BaK-4 roof-prism design.

Especially noteworthy are the following: Bushnell's Instant Replay 8x32mm binocular ($599 MSRP) is a BaK-4 design, recording 2-megapixel still or low-res movie clips, using internal memory or CompactFlash, and boasts a color display. Celestron added the VistaPix 8x32mm, recording at 3 megapixels, with built-in memory and Secure Digital card slot, with LCD. Rollei entered the picture with a 2-megapixel 8x32mm BaK-4-type binocular, the da20 DigitalBino, which also shoots movie clips, with storage internally or on Secure Digital. The very modestly priced ($95 MSRP) MagnaCam 10x25x1 Compact Binoculars from Vivitar feature a BaK-4 roof-prism design, 1.3-megapixel resolution, 16MB internal memory, movie clips, 10 second self-timer, AWB, and LCD status display.


If you want to reach for the stars, there is Kowa's TD1 Super Telephoto Zoom Digital Camera, a spotting scope with camera, boasting 450-1350mm zoom, 3-megapixel CCD, auto and manual focusing, white balance, color LCD, burst mode, exposure compensation, and JPEG capture on Secure Digital card; remote control included.

In underwater digicams we have SnapSights' Pixtreme Digital Sports Cameras and Pioneer Research's SeaLife ReefMaster. The Pixtreme PX01 is 3 megapixels, with internal memory and Secure Digital/ MultiMediaCard storage and auto-flash, usable down to 125 ft. The 3.3-megapixel ReefMaster Digital DC300 ($449 MSRP) and DC310 ($549) are designed for land and sea and can be used with the built-in flash or optional external strobe, with internal memory and Secure Digital card support, down to 200 ft. The 310 affords more user control.

Manufacturers/Distributors'
FEATURED VIDEO