New Camera Report: The Class Of 2013: At photokina, We Saw "Real Live Cameras," Full Frame Riding High, Wi-Fi With A Vengeance & Coming In Camera Apps…But Be Prepared For Sticker Shock!
It's as if camera companies had been holding back in the last few months and finally the dam burst, resulting in a flood of new cameras debuted at photokina 2012. While there was a fair share of Micro Four Thirds mirrorless, interchangeable lens compacts, and medium format digital cameras, the major headlines were grabbed by a full slate of full-frame cameras—even "compacts." In addition, it seems as if smartphones have chased the camera makers into offering more and more Wi-Fi-capable cameras, along with downloadable apps that can expand a camera's capabilities. In all, it made for a host of new camera announcements—enthusiast, pro, and high-end alike—although there were few bargains to be found. As I go through the camera intros I'll include the list price (when available) without comment, but in general you might be somewhat shocked by some of the prices these new cameras command.
Full Frame Makes A Charge
Full frame refers to a sensor size that is equivalent to a 35mm film frame size, 24x36mm. A larger sensor means that pixels can be larger, given all megapixel matters are equal, so there's generally less noise and artifacts in the frame and cropping does not become a critical quality decision. It generally delivers better low-light and high ISO image quality, and also means that an 18mm lens acts like an 18mm in terms of angle of view, not a 27mm as when used on APS-C sensor cameras or a 36mm on a Micro Four Thirds.
We'll begin with a new full-frame compact, the Sony Cyber-shot RX1 ($2800), a 24.3MP camera with a Carl Zeiss Sonnar T* 35mm f/2.0 fixed lens in a compact body that measures 4.5" wide by 3" tall. With full manual controls, ISO 100 to 25,600 range (including expanded range of ISO 50 and up to ISO 102,400 with a special Multi Frame Noise Reduction feature), it also offers the ability to work in macro as close as 20cm (about 8").
The RX1 allows for a "real camera" feel with a dedicated lens ring for control of focus and aperture, plus it has AEL buttons and top-mounted exposure compensation controls. For those missing a zoom, there's what Sony dubs a "Smart Teleconverter" for 1.4x or 2x crop zooming, which, with the full-frame sensor, means little loss in image quality. The unit can also deliver Full HD movies, has numerous shooting modes, including Auto HDR, and a bright and high-resolution LCD monitor. There's no eyepiece finder, but there's an optional XGA OLED EVF (electronic finder) as well as an optical finder available ($450 and $600, respectively).
Sporting a 24MP full-frame sensor, the Leica M ($6950 body only at current exchange rates) breaks the progressive numbering of past model evolutions and begins Leica's stance of keeping model names and designating changes by model type. (This one's the 240.) It offers a CMOS sensor with Live View and Full HD video. It uses the same processor as found in their larger format S cameras. The 3" monitor has 920k pixels, and Live View Zoom for a 10x magnification of subject details, particularly appealing for macro shooters. Another focusing aid is dubbed "Live View Focus Peaking," where the "contours of the subject are displayed as red lines." Built like a Leica with a bit more heft than previous models, the M is machined from solid brass blanks and has a full-metal chassis with special seals throughout.
SLR Full-Framers
The Canon EOS 6D ($2099, body only, or in a kit with Canon's EF 24-105mm f/4L IS USM, $2899) is a full-frame, 20MP CMOS-sensor D-SLR with a new DIGIC 5+ processor with a built-in wireless transmitter and GPS functionality. The camera sports an 11-point AF array and a 63-zone dual-layer metering sensor, plus offers 1080p Full HD video capability. Aimed at advanced amateurs and video makers, the camera has a 100k shutter rating and sports continuous shooting at 4.5 frames per second (fps). The ISO range is 100 to 25,600 with a low ISO of 50 and two high settings going to ISO 102,400. For very low-light work the camera's AF can handle -3 EV shooting conditions. The Live View LCD delivers over 1 million dot VGA resolution and 100 percent coverage.
Smaller and lighter than the other Canon full-framers, the 6D's wireless transmitter can deliver images and video to a variety of platforms for both iOS and Android systems as well as Canon's "cloud," known as Canon iMAGE GATEWAY. GPS coordinates are automatically tagged as EXIF data, if desired. The 6D has numerous shooting modes in addition to all the expected user controls, including HDR mode and Multi-Exposure mode (up to nine images) that can also bring in already exposed Raw images.
Following the D800 announcement rumors were rife that Nikon would follow up with more in the full-frame, 24MP realm, and the D600 fills the bill ($2099, body only, with a Nikkor 24-85mm f/3.5-4.5G ED VR kit lens, $2699). The D600 FX-format camera can handle Full HD video, can be used with a new Nikon WU-1b wireless adapter for transferring images to a mobile device, works in an ISO range of 100 to 6400 (with a "push" to ISO 25,600 and a "pull" to ISO 50), and a 39-point AF system with a new MultiCAM 4800FX AF module, plus nine cross-type sensors. The full resolution rate is 5.5 fps, the penta-prism offers 100 percent coverage, plus there are numerous Scene modes, including HDR mode. Magnesium alloy top and rear construction with special weather-resistant seals and a claimed 900-shot battery rating are among the impressive specs.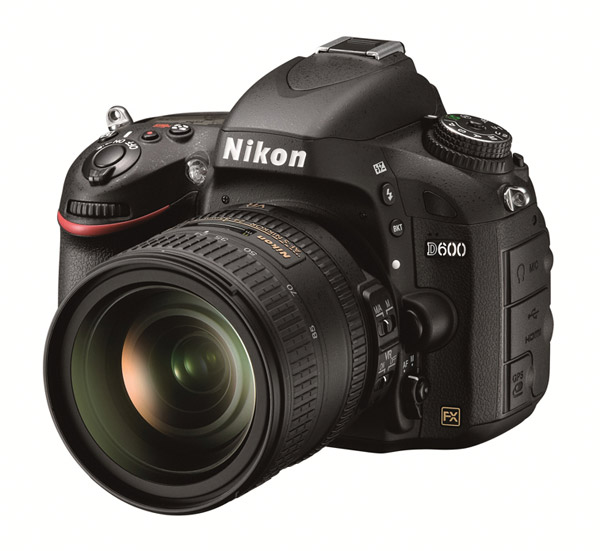 In what the company bills as a pro SLR, Sony showed the Alpha 99 ($2800, body only), an SLT (translucent mirror) camera with a 24.3MP full-frame sensor. The ISO range with expansion is 50 to 25,600 and the camera can deliver 6 fps at full resolution or 10 fps in high-speed shooting mode. The Alpha 99 offers a unique "dual AF" system, a 19-point AF system with 11 cross sensors plus a 102-point focal plane phase-detection AF sensor which overlays the main image sensor. According to Sony, light is passed to both phase-detection sensors simultaneously and continually, and the claim is that subject distance and position is measured more completely than with other cameras. The benefit, says Sony, is wider and "denser" coverage of the frame and really comes into play with fast or erratically moving subjects against complex backgrounds, a bonus that spills over into Full HD movie shooting as well. Additionally, the user can choose a foreground or background distance to which the AF system will not respond, further refining focus control.
For videomakers, Sony says that the Alpha 99 is the first full-frame SLR to offer Full HD 60p/24p progressive video recording with full-time "Continuous Movie Mode," allowing continuous, nonstop tracking of moving subjects. There's also Full HD video output via HDMI and dual-card recording using both of the camera's memory card slots. In addition, there's a new XLR-K1M adaptor kit with two standard XLR terminals for connecting the camera to pro microphones and mixing consoles.
Enhancements for still shooters include a high-resolution EVF, a three-way tiltable LCD display, and PC remote operation, plus construction with high-rigidity magnesium alloy panels, 200k shutter rating, and with it all a very lightweight body (1.6 lbs). Along with the camera comes a new 300mm f/2.8 lens, and coming soon a Carl Zeiss Planar T* 50mm f/1.4.
APS-C D-SLRs
The Pentax K-5 II and IIs sport traditional D-SLR designs with 16.3MP CMOS sensors. The IIs lacks a low-pass filter, but in other respects the cameras are virtually identical. They offer an ISO range of 80 to 51,200, magnesium alloy covers, a 921k dot 3" LCD, and a bright penta-prism viewfinder, a rare treat in a new digital camera these days. (Call me old-fashioned—while EVFs have certainly improved over past abominations I still prefer the penta-prism viewing experience, especially like those in these Pentax models that yield 100 percent field of view and don't "smear" as you move around, unlike some EVF models I've seen.) There's also TTL Live View, if you prefer LCD composing, which is where the in-body anti-shake system might come into play.
The LCD has a new wrinkle—an "air-gap-free" design. There is a resin layer between the anti-glare, glass-coated LCD front panel and the screen itself, said to enhance viewing effectiveness in bright light. The focusing system has been upgraded, now enabling fast focus in a very wide -3 EV to 18 EV range, which basically means the low-light focusing capability has been considerably enhanced. Both cameras are sold body only ($1199 for the K-5 II and $1299 for the IIs) or in a K-5 II kit with the Pentax DA 18-55mm lens ($1349) or with the DA 18-135mm zoom ($1549).
Interchangeable Lens Compacts
The 16MP Live MOS Panasonic Lumix GH3 (about $1299 body only at press time) has an ISO range of 200 to 12,800, which can be expanded one stop in both directions, with a 614k 3" OLED screen or a nice viewing 1774k OLED viewfinder. Being a Micro Four Thirds camera it takes numerous interchangeable lenses from a wide variety of makers, a real plus for this format. The camera has built-in Wi-Fi, via a smartphone/tablet link with both major operating systems. There's also the LUMIX CLUB Cloud Sync Service, which when using Wi-Fi connections allows you to send both photos and videos to their servers. This lightweight camera offers 1080 50p Full HD recording or one can shoot MOV1 videos.
Also in the Micro Four Thirds family are the Olympus PEN E-PL5 ($649 body only, $699 with the 14-42mm kit lens) and E-PM2 ($549 body only, $599 with kit lens), the former offering a swiveling LCD and the latter being quite compact. Both share the same 16MP Live MOS sensor found in the company's OM-D camera. ISO limits have been pushed to 25,600 and there's a 460k dot LCD. There are numerous Art Filter effects available for both still and Full HD video shooting. For sharing, Olympus has gone the SD card route by offering functionality to the Toshiba FlashAir SDHC memory card. Both models can help set up smartphone connectivity using the card and the Olympus Image Share application. An interesting item for the cameras is the new BCL-15mm f/8 "body cap lens," which both protects the front element and can be shot through for snapshot-quality images.
A nice compact system camera from Fujifilm, the X-E1 ($999 body only, $1399 with a 27-84mm—35mm equivalent—kit lens) incorporates the company's unique 16.3MP APS-C X-Trans CMOS sensor. The sensor uses a single layer with no low-pass filter, but the sensor mosaic is larger at 6x6 and more random than the Bayer pattern, which is said to effectively eliminate color moiré. (Type "sensor debate" into our Search box at www.shutterbug.com for more on this and other sensor options.)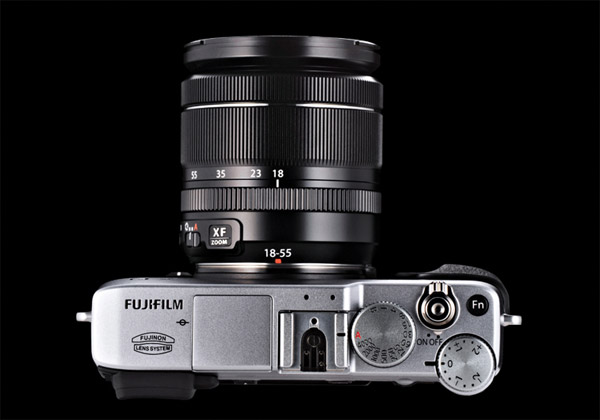 Using the same X-mount as the company's first interchangeable lens compact, the X-E1 offers a 2.36 million dot OLED EVF, said to be one of the highest resolution finders available. The camera body top and front is made of die-cast magnesium, and there's a built-in flash, HD movies, an ISO range of 100 to 25,600, multi-exposure and panorama shooting modes. What's changed from the X-Pro1, the first in this series, is that the X-E1 is 30 percent smaller. Also new are two lenses in the X line, including an XF 21mm f/2.8 ($899) and an XF 27-84mm f/2.8-4 ($699), both stated as 35mm equivalent focal lengths.
Fixed Lens Compacts
While we generally do not cover this class of camera there were a few of note that we felt should be mentioned. The Fujifilm XF1 ($499) is available in black, tan, or red with a fast Fujinon 25-100mm f/1.8 lens with 4x manual zoom (f/1.8 wide, f/4.9 tele) and a 12MP EXR-CMOS sensor. The lens is the thing here, with seven glass lens elements, including four aspherical elements and three extra-low dispersion elements. The camera incorporates Optical Image Stabilization and can focus as close as 3cm, plus has six diaphragm blades. There are numerous "artistic" modes, including individual shutter 3D effects and Fujifilm's exclusive film simulation modes.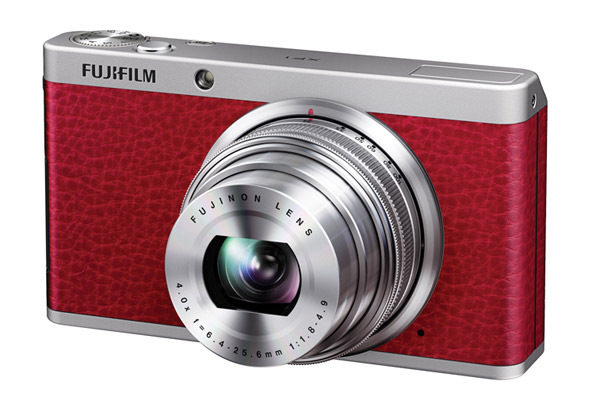 Following in a long line of G cameras, and jumping a few numbers from the last is the 12MP CMOS-sensor Canon PowerShot G15 ($499). The lens is fast, at all focal lengths, being an f/1.8-2.8 28-140mm zoom, great for low-light shooting. It's smaller than the past few manifestations and can now fit comfortably in a jacket pocket; it's also lighter, though still has a solid build and feel. The top controls sport a two-level dial setup, which helps cut down camera size, and it has a 920k dot 3" LCD screen with a tempered glass layer, plus an optical finder. Of course there's Full HD movie making, Raw shooting, HDR mode, and full manual controls, if desired. It incorporates a four-stop IS system, plus AF is said to be more rapid as past G's as well. All in all some changes, but none that will disappoint Canon G fans.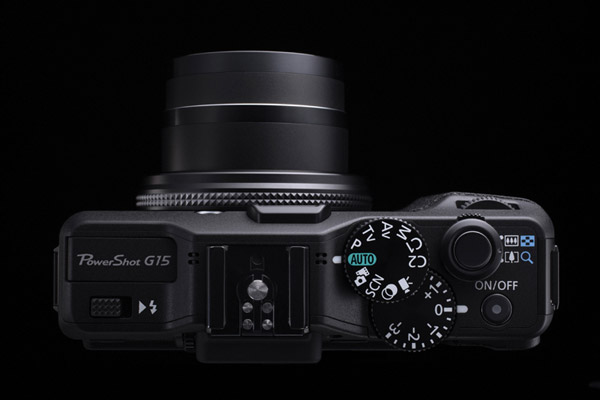 While Samsung's sizzle right before the show was the intro of their new Galaxy camera, note should be taken of their EX2F fixed lens camera, a 12.4MP camera with a 24mm f/1.4 Schneider lens. It has Wi-Fi capability (more on that shortly) but also offers full manual control via a front wheel key and what they call "Dual Dials." Speaking of dual, the camera also enables shooting both video and still simultaneously as well as dual image stabilization setups.
The 24mm f/1.4 lens is constructed with 11 elements in nine groups, with four aspherical lenses and two high refractive lenses. The camera has a built-in ND filter, a magnesium body, Raw mode capability, a 3" AMOLED swivel display, and Mobile Link, which allows for connectivity with smartphones without having to resize the images or video, as well as remote control from compatible smartphones.
The Wi-Fi World
The addition of video, or HD video, or more megapixels, or, goodness, 3D, might have warranted a new take on a previous model camera, but this year it's "connectivity." Depending on how you look at it, and what your experience with the setup might be, it might be a great addition or a bit of a pain in the neck. But there's no question that Wi-Fi is here to stay, and that the models discussed here, among many at the show and more planned, will blaze the trail.
The main deal is that the camera lets you share images via a variety of methods—some directly via a Wi-Fi hotspot and others via your smartphone and then to whatever social network or cloud onto which you might want to load images. What might be of equal interest to photographers is the ability to install "apps" and their supposed expanded creative capabilities, previously the realm of tablet or smartphone image manipulation, directly onto cameras, such as additional Art Filters, camera updates, and more. In what might be an ironic end-around play on the smartphone camera, cameras themselves might be where we use more and more apps, and not through the intermediary tablet and phone.
While some makers have a bunch of "apps" preloaded (largely a rebranding of Scene modes and Art Filters), other manufacturers direct you to their proprietary site or Google Play for their offerings. In all, Wi-Fi is another feature that in fact does not get in the way of other photographic functions, and it's there if you want it, and you can ignore it if you don't.
I noted a number of cameras for which Wi-Fi seems to be the headline, although they are not diminished in their photographic prowess because of it. One such is the Canon PowerShot S110 ($449), a 12MP camera that allows for sharing of images and video to social networking sites via Canon's iMAGE GATEWAY and Wi-Fi-enabled iOS and Android platforms, as well as to other select Canon cameras with the included Canon CameraWindow app. The camera can also act as a wireless network to record GPS data acquired from a smartphone or to send images to a Wi-Fi-compatible printer. This point-and-shoot has a 5x optical zoom that starts out at f/2 and 24mm, offers up to ISO 12,800, has a DIGIC 5 processor, and a burst mode that can handle up to 10 frames at full resolution. There's 1080p Full HD video and a built-in stereo mic, a 3" LCD and a touch-panel LCD, including a Touch Shutter feature. There are also six image stabilization modes, an optional waterproof case for dive fans (up to 130 feet), and much improved shutter lag times.
The Sony NEX-5R lets you go directly from camera to Facebook, compatible TVs and PCs and tablets via Wi-Fi. The Sony PlayMemories Camera Apps site lets you expand its capabilities with extras such as Picture Effect+, Bracket Pro, Multi Frame NR (Noise Reduction), Smart Remote Control, Time-Lapse, and more. In other words, a growing list of such "apps" means that the camera might always offer new fun and games on both the capture and image processing side. Priced at about $750 in kit form (with an 18-55mm zoom) and $650 body only, the NEX-5R also comes with a touchscreen shutter function as well for those graduating from a smartphone who are confused by the use of a shutter release.
FEATURED VIDEO