Page 2
(As an aside, it's interesting to note that the early 1990's Minolta Maxxum 7000i and 8000i had a feature called "Creative Expansion Cards," actual cards that you placed in the camera to program it for image effects, bracketing, panning, etc. It's also interesting to note that Sony cameras are the direct descendants from the Minolta line.)
The Sony NEX-6 ($850 body only or $1000 for a kit with a 16-50mm power zoom lens) is an APS-C-format compact camera with a 16.1MP CMOS sensor that's part of their E-mount system that also works with Wi-Fi and the Sony PlayMemories Camera Apps platform. The camera sports Sony's impressive XGA OLED EVF with 2.36 million dot resolution that might eliminate any doubts about EVF viewing, plus offers 100 percent field of view and an articulating 3" LCD display. The top-mount mode dial offers SLR-like shooting modes (P/S/A/M) and Sweep Panorama mode. A mode-dependent dial on the back, plus a separate control wheel on the back, offer very select user-controlled settings. Of course there's Full HD movie shooting with a new Auto Slow Shutter feature for low-light scenes. The Wi-Fi function allows for wireless transfer to various platforms in both Android and Apple iOS. The camera intro is accompanied by new lenses, including a 16-50mm power zoom with built-in optical image stabilization, a 35mm f/1.8, and a constant aperture f/4 10-18mm zoom.
The 16MP Samsung Galaxy (a bit over $600 at press time) breaks many barriers and looks more like a tiny tablet than smartphone clone, or camera. The sleek design is complemented by a rather amazing 4.8" HD "Super Clear" LCD on the back and the ability to perform certain tasks via voice commands. Along with preinstalled apps (what had previously been called Scene modes) one can add functions via the app stores from Google and Samsung, plus connect with other Samsung Galaxy products and, with 3G or 4G, browse the web. When you hold one in your hands it's all screen on the back, and though impressive you really can't grasp the camera without getting some of your fingers in the way of the view. But a breakthrough camera, nonetheless. By the way, Shutterbug readers might appreciate the Samsung press information that said: "The device also features 'Smart Pro' technology, a series of modes that make professional-looking photography easy for anyone to achieve."
The Fujifilm F800EXR ($349) offers a 20x zoom (25-500mm) and comes with a free "Fujifilm Photo Receiver" app that allows you to transfer up to 30 images per session to various devices. The Fujifilm Camera Application can grab the location data from those devices and display that on the LCD.
Not to be outdone, Nikon has also jumped into the Android app-athon with their new S800c ($349), a 16MP "portal" camera with a 10x Zoom Nikkor VR lens. With the camera's Wi-Fi capability, users can upload stills and video to their social networks and download apps, games, etc. For storage there's Nikon's Picturetown, and for amusement one can watch video downloaded from Google Play on the camera's 3.5" touchscreen OLED monitor. Can't find a Wi-Fi spot to do all of the above? The camera can still transmit images to a smartphone or tablet wirelessly.
Super Super Zooms
For those who want one camera for almost any shooting scenario, be it wide-angle vistas or up-close images of wildlife across the veldt, a new crop of integral lens super-zoom cameras are on offer. Starting at 20x and going to even higher ratios, these cameras are touted as ideal for the traveling photographer. And while there's nothing smartphonish about their size and weight (although it must be admitted that they are getting more compact than their forbearers) their focal length capabilities are nothing if not impressive.
One aspect of these cameras was always troublesome, that being the inability to maintain even a hint of steadiness when the focal length was fully extended by even the most centered individual, although backing off from the max focal length helped. But this new crop seems to take that into account with new shake-resistant technology that's a must for any camera of this ilk, as well as processing engines that help tackle noise when the user ups the ISO in order to gain as fast a shutter speed as possible. By the way, all focal lengths are stated in their 35mm equivalent.
One such unit is the compact sensor 16MP Pentax X-5 ($279), a 26x zoom ratio camera that goes from 22.3mm to 580mm, plus has a macro mode for focusing as close as 0.4". To help steady matters the camera has a mechanical sensor shift combined with digital shake reduction technology. Battery life is said to be impressive—on AAs you are supposed to get around 330 shots and up to 1000 shots on lithium-ion AAs. When you zoom out the camera helps control shaky shots with what they call a "triple shake reduction system" (SR in Pentax speak), including mechanical and digital components, as well as SR movie mode. The camera has numerous shooting modes to help users get effects, plus Full HD movie-making capability.
The Leica V-LUX 4 ($899) is a 24x zoom with a new Leica DC Vario-Elmarit lens that has the equivalent of a 25-600mm focal length range with a constant f/2.8 aperture throughout. It has an integrated optical stabilizer and max sensitivity of ISO 6400 on its 12MP sensor. Still and Full HD video are offered and the camera can deliver up to 12 fps at full resolution. There's also a new electronic viewfinder with 1.4MP resolution and a zoom function to help magnify the image while working, with the viewfinder and monitor working in concert. The articulating monitor has 460k dots.
Introduced right before photokina, but of interest in this group is the Olympus Stylus SP-820UZ iHS ($329), a mouthful but nevertheless a 40x optical zoom camera yielding 22.4-896mm with a 14MP CMOS sensor and video capability. The camera also has a dual image stabilization setup that engages in both still and video modes.
Canon's contribution to the above 20x group starts with their PowerShot SX500 IS ($329), a 30x optical zoom camera that uses Canon's "Intelligent Image Stabilization" technology that is said to base its compensation on scene analysis and to deliver steady images even when panning or walking, in still and video. For a true super zoom there's the Canon SX50 HS ($479), a 50x zoom offering 24-1200mm coverage with optical image stabilization, an ISO range up to 6400, and 1080p Full HD.
To snag subjects with the long-range tele there's what Canon calls "Zoom Framing Assist," which "remembers" your previous zoom position, zooms out to help you locate your subject and zooms right back to your previous tele setting. The function also locks Image Stabilization (IS) onto the center of the frame for additional shake compensation. Speaking of IS, the SX50 HS promises 4.5 stops of effect with what they call "Intelligent IS" to detect and use the most effective IS solution and, for videomakers, Dynamic IS to reduce the rolling motion that usually occurs as one is walking or moving while shooting.
Although we previously covered Samsung's Galaxy above, it does have 21x optical zoom, so I include that information here. A built-in optical stabilization feature is said to help deliver steady shots even at long-range focal length settings.
Medium Format
While recent advances in full-frame D-SLRs have certainly challenged makers of medium format cameras for the attention of studio pros, there were a number of new large sensor "medium format" digital cameras at the show.
Hasselblad debuted their H5D Series cameras, coming in with 40, 50, and 60MP models as well as 50 and 200MP "multi-shot" versions. The hardware and especially the user interface has been redesigned, plus the camera now delivers "print ready" JPEGs as well as Raw files. Along with the camera comes a new 24mm lens (17mm on 35mm format) and Macro Converter, improved weatherproofing, and an optional battery adapter for stand-alone operation of the digital capture unit.
The Leica S has gotten an upgrade, yet no new designation, in keeping with the new Leica nomenclature mentioned earlier. The new S, if we may, has upgraded image and sensor boards, said to enhance color and white balance while decreasing noise. One enhancement is a built-in "gray card" function for easy white balance control of studio setups, as well as an expanded ISO range of 100 to 1600. It sports 37.5MP resolution on a CCD sensor and there's a double buffer setup that allows for as many as 32 consecutive full-res Raw images to be shot without pause. Enhanced AF is also featured, with predictive included, as well as the inclusion of a GPS module in the camera. The monitor offers 920k dots on a 3" screen.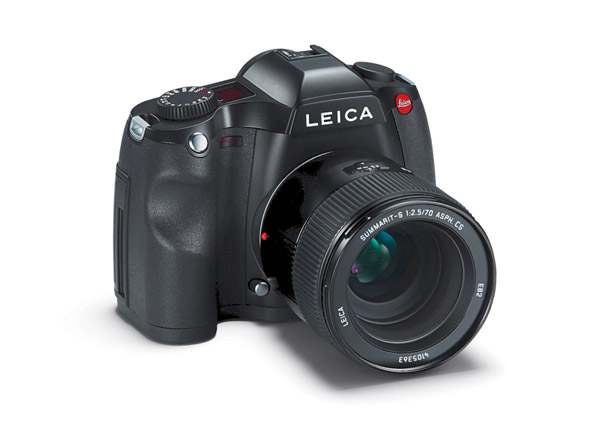 The Mamiya 645DF+ is said to have an enhanced AF mechanism, especially when working in low light, as well as a custom adjustment feature for fine-tuning the back to the camera, said to be a good idea because of the wide range of backs available for this camera platform. There's also a new rechargeable lithium-ion battery, claimed to handle up to 10,000 shots (!) on a single charge. The makers say the new model is constructed from aircraft-grade aluminum and magnesium. Along with the new platform comes a Mamiya 28mm LS f/4.5 Aspherical, designed by Schneider and made by Mamiya. The company also showed Leaf Credo 80, 60, and 40MP backs, along with a 1.15MP display and 3.2" touchscreen.
Hasselblad And Sony
Perhaps the most startling news out of photokina was the announced partnership between Hasselblad and Sony, and the subsequent announcement of Hasselblad branding on a new generation of D-SLRs, interchangeable lens compact cameras, and perhaps even compact cameras. In what apparently is a run at Leica and its high-end clientele, the premium line starts out with an interchangeable lens compact dubbed "Lunar." Italian-designed, and said to be customizable in look (including a mahogany wood handle and gold-plated body, or if you prefer, crocodile leather and antique gold plating), the approximately 5000 Euro camera ($6500 at today's rate) is not for those who worry about price.
What does $6500 get you? A 24.3MP APS-C sensor, 3" AMOLED display, Full HD video, 10 fps shooting rate, ISO 100 to 16,000 range, and the above-mentioned and more styling options. While the camera certainly caused a buzz, we're eager to see how the Hasselblad/Sony partnership develops and what they might think of charging for a Sony D-SLT in Hasselblad clothing.
Leica Digital Dress Up
Leica will now be offering the Leica à la carte program on their X2 16.5MP APS-C-format camera. The fixed 24mm lens camera can be dressed in a variety of colors and textures, including lizard and ostrich leather patterns and "Aztec" and blue colors. You can even get personalized engraving on the flash cover or top deck.
Instant (Print) Access
The Polaroid Z2300 instant camera ($159) doesn't use Polaroid film. Instead, the 10MP Z2300 uses Zinc "zero ink" technology to deliver a wallet-size print in about a minute right after exposure, or after review of those shots on the 3" LCD you've recorded to the camera's SD card. The plastic base prints are loaded into the camera via a small pack (10 sheets to a load, available in 30- or 50-sheet packages, $15 and $25 respectively) and make the camera a kind of instant digital print factory. The company's Z340 is a somewhat larger model that makes 3x4" prints using the same setup, albeit with a 14MP sensor and 25-sheet capacity.
And speaking of instant prints, the Fujifilm Instax Mini 8 now comes in five colors and kicks out credit-card size instant prints.
apps-a-poppin'
With the melding of camera and smartphone and tablet you could call it the androidization of cameras, charging for apps that don't come built-in. Previously the realm of memory cards and computer connections, users will now be able to do all this on the Wi-Fi fly. Here are just a few interesting apps and app locales:
• Bracket Pro (Sony PlayMemories, NEX-5R): Two to three image bursts that bracket shutter speed, aperture, focus settings, or flash output.
• Canon iMAGE GATEWAY (PowerShot S110 and EOS 6D): GPS from smartphones, connectivity with a range of platforms, social sharing, connection to select Canon cameras and Wi-Fi printers.
• Google Play Apps (Samsung Galaxy and other Android OS phones): Choose from the whole menu. Watch a video. Read a recipe. GPS your way to a rib joint.
• Photo Retouch (Sony PlayMemories, Sony NEX-5R): Post-exposure processing for saturation, brightness, resizing, "soft skin," and more.
• Auto Cloud Backup (built-in, Samsung Galaxy): Sends photos the moment they are taken to auto backup cloud storage.
• Time-Lapse (Sony NEX-5R, in development): A series of stills taken at assigned interval, later processed as video clip.
• Smart Content Wizard (built-in, Samsung Galaxy): Creates folders, tags faces, and even "suggests which pictures to delete."
• Smart Remote Control: (Sony NEX-5R, in development): Tethering for camera to tablet and offers Live View on device, exposure adjustments, and shutter release.
Contacts
Canon: www.usa.canon.com
Fujifilm: www.fujifilmusa.com
Hasselblad: www.hasselbladusa.com
Leica: www.leica-camera.com
Mamiya: www.mamiyaleaf.com
Nikon: www.nikonusa.com
Olympus: www.olympusamerica.com
Panasonic: www.panasonic.com
Pentax: www.pentaximaging.com
Polaroid: www.polaroid.com
Samsung: www.samsung.com
Sony: www.sony.com