PMA Show Report; 2010's Latest Digital Cameras; Redefining The Digital Capture Experience
"Of all of our inventions for mass communication, pictures still speak the most universally understood language."—Walt Disney
It's a photokina year and you know what that means; all of the camera manufacturers will be holding off their newest SLRs for launch at the big show in Germany this fall. While Canon was not at PMA, they officially launched the EOS-1D Mark IV at the end of last year and if history is any guide, a 1Ds version is just around the corner, probably at photokina. That didn't mean that other manufacturers were holding back.
New From Sony
Contrary to what was reported in some photographic media, Sony did announce a new D-SLR at PMA 2010 but it was kept under glass and away from my paws. Details were few (check the Shutterbug website for updates as they come in) and Sony would only confirm that the camera shown was a concept for a mid-range SLR that's "a successor to the Alpha A700" and is designed for advanced users. The new model is expected to employ an Exmor APS-sized CMOS sensor that will also provide full AVCHD (Advanced Video Coding High Definition) video capability. Also under glass were prototypes of a 500mm f/4 G super telephoto and a Distagon T* 24mm f/2 ZA SSM wide-angle lens. See Jack Neubart's report for more details on the lenses. In addition, Sony announced and showed—under glass—a very Olympus E-P1-like concept of a compact interchangeable lens digital camera system that they claim packs SLR quality in a small body, which may or may not have an APS-C-sized sensor. You can expect Sony to launch all this goodness at photokina but they might surprise us by announcing them to coincide with the Feast of Lugh (August 1st) or another propitious date.
Sony Prototypes: 500mm lens, 24mm lens, and D-SLR
New and actually available by the time you read this is the Cyber-shot DSC-TX5 digital point-and-shoot camera that can be used in water at depths up to 10 feet for one hour. This 10.2-megapixel compact camera is Sony's first digital still camera with an Exmor R CMOS sensor that's certified to be freeze proof (down to 14?F), shockproof (for up to about a 5-foot drop), and dust proof. The DSC-TX5 has a 3" touchscreen along with features such as Intelligent Sweep Panorama, 720p HD video recording, and in-body image stabilization. And get this: the DSC-TX5 accepts Memory Stick Duo/PRO Duo/PRO-HG Duo and SD/SDHC media. The latter must stick in Sony's craw as much as did building their first VHS deck. The camera is available in silver, black, pink, green, and red.
Sony Concept Compact Interchangeable Lens Digital Camera System
You Can Always Use A New Pen
Olympus expands its digital Pen line of interchangeable lens Micro Four Thirds System cameras and has hit the ball out of the park with the euphoniously named E-PL1. It has all the features I've been asking for in a Pen: it's slightly smaller, less expensive ($599 with lens), and has a built-in flash. New shooters will like the Live Guide interface that lets them view in real time how changes in camera settings can produce certain kinds of images, such as capturing fast-moving action with some artistic blur, or frozen in place. Consider it a built-in mentor or perhaps training wheels that can be discarded once newbies get the hang of the E-PL1. YouTubers will like the one-button HD video capture capability and you can toggle back and forth between capturing stills and videos by depressing the shutter release with your index finger or the record button with your thumb.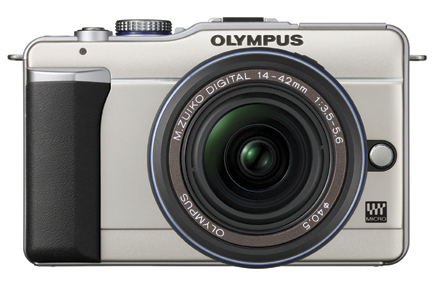 There is lots of other stuff here, including Olympus' world-class Face Detection, iEnhance, and always-fun Art Filters. The E-PL1 has six Art Filters, including Pop Art, Soft Focus, Pin Hole, Grainy Film, Diorama, and the new Gentle Sepia. The camera ships with the M.Zuiko Digital ED 14-42mm f/3.5-5.6 zoom. Olympus announced additions to its Micro Four Thirds lens line-up, including the M.Zuiko Digital ED 9-18mm f/4-5.6 (18-36mm equivalent) and the M.Zuiko Digital ED 14-150mm f/4-5.6 (28-300mm equivalent). The E-PL1 reminds me a lot of the Contax G2, a 35mm interchangeable lens camera that I sold a while ago, and I think that the Olympus might just make me forget this long, lost love.

Picnic Time For Samsung
A few years ago at PMA Orlando, Samsung showed some interesting-looking SLRs under glass amid a teddy bear fantasy display. This year they showed the NX10, a 14.6-megapixel interchangeable lens camera with an APS-C-sized (23.4x15.6mm) sensor, a VGA eye-level electronic viewfinder, and—get this—a 3" OLED preview screen. I've been waiting for one of those since Kodak showed an OLED (Organic Light Emitting Diode) camera at PMA 2003 and promptly didn't sell it in the US. The NX10, however, is real and features manual and 15-area autofocus (normal) or 35-area focusing for close-ups. Its Electronic ViewFinder (EVF) eliminates the biggest bugaboo I have with EVF cameras. A clever sensor automatically switches the picture between EVF and LCD when your eye is placed or withdrawn from the viewfinder.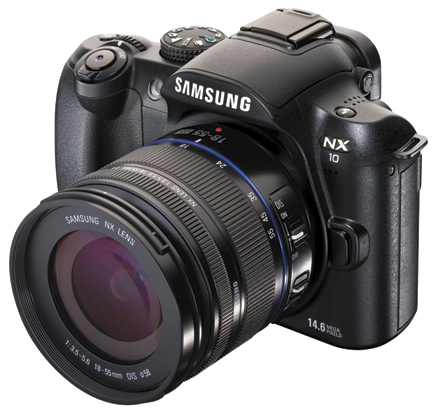 Like others of this new breed of interchangeable lens camera, the NX10 offers all the automatic Exposure modes you might expect as well as Smart Auto along with nine Scene modes. The lightweight (12.45 oz) camera body does not feature built-in image stabilization but two of its new lenses will. Samsung has three proprietary NX-mount lenses available, including a 30mm f/2, an 18-55mm f/3.5-5.6 OIS, and a 50-200mm f/4-5.6 OIS. The company expects an adapter for K-mount lenses really soon now which opens the system to the 25 million film camera lenses Pentax has produced during the past six decades. And yes, would-be Scorseses can record HD video clips to capture their cat Mr. Snuffy playing the piano to the delight of YouTubers everywhere.
FEATURED VIDEO