PMA Show Report; 2010's Latest Digital Cameras; Redefining The Digital Capture Experience Page 3
A few days after the show Pentax announced the under $400 X90 with a 26x megazoom lens (26-676mm equivalent) that also has a Macro mode which focuses to less than an inch. It has a 12.1-megapixel sensor, a 2.7" LCD, and an electronic viewfinder that has a diopter adjustment. The X90 has Triple Shake Reduction via a mechanical sensor-shift SR mechanism, Digital Pixel Track and high ISO SR, Movie SR, continuous shooting up to 11 fps, and its Fast Face Detection technology quickly finds up to 32 faces. The X90 also offers Eye-Fi wireless SD memory card connectivity (Eye-Fi cards sold separately) for Wi-Fi transfer of photos and videos from the camera to a computer or online sharing sites such as Picasa Web, Flickr, Facebook, and YouTube.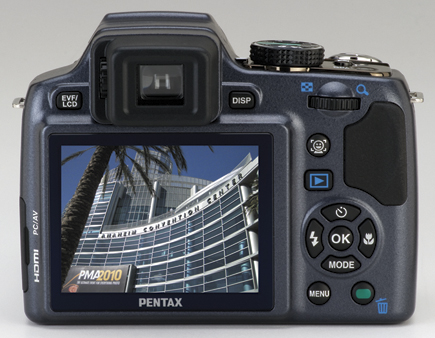 Nikon's Really COOLPIX
It's amazing what $400 buys in a digital camera these days. Nikon's COOLPIX P100 digital camera delivers 10.3-megapixel resolution, 26-678mm (equivalent) optical Zoom-Nikkor ED lens, and 1080p HD video—with slo-mo capabilities, no less. The electronic viewfinder camera has a 3" LCD screen and an HDMI connector for playback on a compatible TV. The camera's CMOS sensor enables full resolution high-speed shooting at 10 fps and there's an in camera High Dynamic Range (HDR) function that merges images of the same scene to achieve a single image with a broad tonal range. The P100's Night Landscape mode combines a series of consecutive shots into a single image with reduced noise, which might be fun at its ISO 3200 setting. In Macro mode you can make images or videos as close as 0.4", which is aided by Hybrid VR Image Stabilization that combines sensor shift and electronic vibration reduction.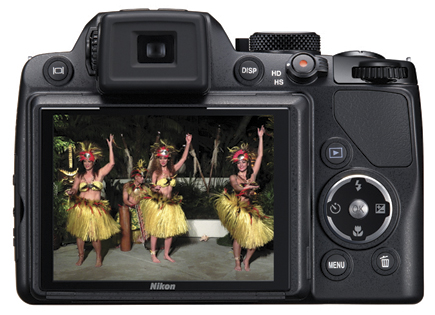 The camera's Motion Detection feature automatically detects moving subjects and adjusts shutter speed and the ISO setting to compensate for camera shake and subject movement. Its pre-shooting cache lets you capture up to 40 shots before the shutter is released. The Subject Tracking feature activates autofocus while tracking moving subjects, and even when the subject momentarily moves out of the frame, the camera restarts tracking if the subject returns within 3 seconds. There's lots to like with the P100 if you photograph people, including in camera auto-fix Red-Eye Fix, Enhanced Face-Priority AF that can detect up to 12 faces from a variety of angles, and Skin Softening to smooth a subject's skin. If that's not enough, Smile Mode detects when a subject smiles and automatically releases the shutter and a Blink Warning notifies you when a subject blinks. And the P100's Blink Proof feature detects the subject's face and automatically takes a series of sequential shots, saving the image in which the subject's eyes are open!
Casio's Superstar
Casio's EXILIM EX-FH100 offers 10.1-megapixel resolution and a wide-angle 24mm 10x optical zoom lens in a compact body that's easy to carry anywhere. It has a burst rate of 40 shots per second for still images with a 9-megapixel maximum image size and a maximum shooting capacity of 30 shots. The EX-FH100 enables up to 1000 fps high-speed movie recording that captures motion too fast for a human eye to see. The camera's mode dial enables manual exposure burst shooting and has a feature that sets burst shooting speed to the optimal rate just by selecting the type of scene. The EX-FH100 has a big 3" LCD screen and can shoot in Raw mode using Adobe's DNG format using either the camera's Aperture- or Shutter-Priority modes or with full control through Manual mode. Casio's Pre-Record mode begins recording images with a half-press of the shutter. When you're ready to capture action, depress the shutter and start a Continuous Burst mode that continues recording even after the shutter button is fully depressed. Casio has combined both modes into automatic Best Shot Scene modes. All you gotta do is pick your scene type and you'll never miss a shot due to shutter lag!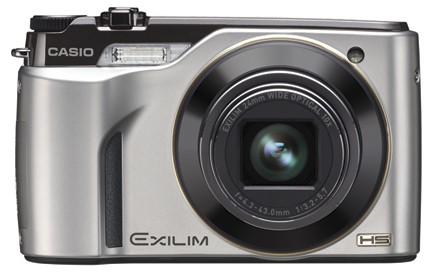 Spotlight: Classic Style From Minox
In recent years, Minox has produced downsized versions of classic European cameras that used their 8x11mm film format and more recently has done it in digital versions. Their new Digital Classic Camera DCC 5.1 looks like a Leica M-series camera—albeit 1:3 scale—and measures 27⁄8x17⁄8x13⁄4" and weighs just 3.88 oz. Although tiny, it has 5-megapixel resolution and a 2" LCD preview screen but, keeping it retro, has a small detachable viewfinder. The DCC 5.1 has a 4x digital zoom and video clips can be captured in AVI format and stored on SD cards with capacities up to 16GB. Accessories include a leather strap, satin-lined wood presentation box, rechargeable lithium-ion battery, USB cable, and manual for a retail price of $249. Optional accessories include a tele-converter, a wide-angle converter, a close-focus lens with a range of up to 20", and a cool-looking Classic Camera Flash.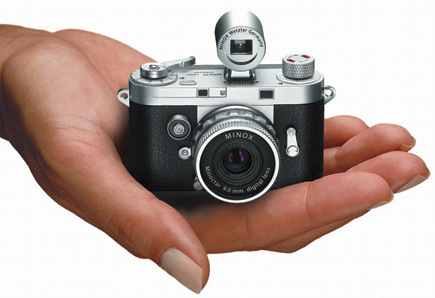 Manufacturers/Distributors' website addresses can be found by visiting the Instant Links section of our website at: www.shutterbug.com/currentissuelinks/.

LATEST VIDEO