Photography Is The Universal Language; From The Internet To Face-To-Face
"We are advertis'd by our loving friends."-- William Shakespeare
Contrary to popular opinion, friends who meet on the Internet do get together in person to share their love of photography. Members of SmugMug's (www.smugmug.com) online photo sharing service get together for an annual shootout and invited Mary and I to join them. This year's SmugMug Shootout was held during May in Bryce Canyon and Zion National Park. Members came from all over the country and from as far as Australia. One Dutch member who couldn't make the event sent candy. It was de-lish. Our host for the event, SmugMug's resident pro, Andy Williams, held the event together with the right balance of order and flexibility. Instructors were Marc Muench (http://muenchphotography.com) and David Porter (http://daveporter.com) who provided attendees with insights as well as the best critiques of images I've ever seen. Mary and I left the shootout with lots of real friends.
© 2006 Mary and Joe Farace, All Rights Reserved
www.myfeebleefforts.org
Isharaka Gunasinghe's site bears the modest title of "My Feeble Efforts With The Lens," but is anything but. The clever site design by Templatesbox (www.templatesbox.com) belies its humble origins. There's a lot to love here, but go to "Photographic Diaries" first. Here you'll find his personal images of Sri Lanka, Ceylon, and Singapore, including Gunasinghe's visit to the Pinnawala Elephant Orphanage that provides caring refuge for elephants homeless due to human invasion of their "rightful homes." His images of older elephants with their young are both sad and hopeful. The "Images of Anuradhapura" collection contains delicate photographs of this first kingdom of Sri Lanka that lasted more than 1000 years from 5th century B.C.

Gunasinghe is at his best when capturing tiny details or panoramas--an interesting dichotomy--of everyday life in Anuradhapura that will be of great interest to us armchair travelers. When he gets to Ceylon's Polonnaruwa, he continues to focus on the details rather than the entire gestalt, with the resulting photographs making the place seem more mysterious. While many of Gunasinghe's images lack strong color, he occasionally punctuates them with bright reds. In Singapore, he's found a colorful place to photograph and gleefully shares it with us. As is Gunasinghe's style, the flora and fauna are examined in detail, making you want to keep looking. And that's a good thing for any photographer to accomplish.
© 2006 Isharaka Gunasinghe, All Rights Reserved
www.sensitivelight.com
Graham Jeffery lives in Hinckley, a small town in the middle of England. He had other sites in the past but told me "nobody ever visited them." The Sensitive Light site presents Jeffery's photographic interests, ranging from portraiture to bugs. Before bouncing over to Galleries, check out "Favourites" for an eclectic mix, starting with a shot of a bee harvesting pollen that is breathtaking. I'm no fan of bug shots but this and #29 are amazing.

Galleries harbor a similar assortment of genres with my favorites being Landscapes and Candid Portraits. But be sure to check the rest out because they reflect Jeffery's way with lighting, especially his portraits. The walk through "Bluebell Woods" in Landscapes is a veritable magical mystery tour of subtle color showing incredible, can I say it, sensitivity. "Autumn Colour" takes you to the other end of the color spectrum for warm looks showing the English landscape bathed in a warm glow. The Prepared Portraits (as compared with Candid Portraits found elsewhere) are fun, no more so than "Sisters," which appears to be a session with two charming little girls. Jeffery's images capture them having fun in a delightfully stylish way. Don't miss Fashion, featuring designs by students of North Warwickshire and Hinckley College and Jeffery's expressive photography that's spectacular when he's using available light and not when he's using flash. Thanks and a tip of the Farace Stetson to Sheldon Buckman for suggesting this site.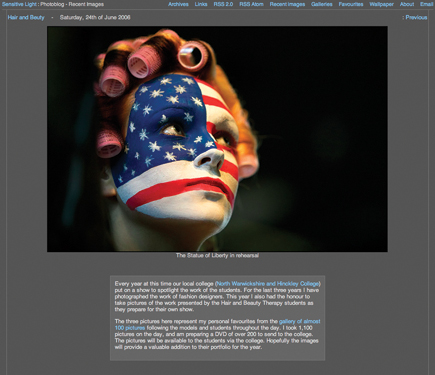 © 2003-2006 Graham Jeffery, All Rights Reserved
FEATURED VIDEO