Our 5 Favorite Photo Gadgets & Gizmos: The New & The Nostalgic
Gary Fong's Dramatic Lighting Kit: Designed to provide the control of complex studio lighting systems in a compact format at a fraction of the cost. The new Dramatic Lighting Kit includes two Speed Snoots, two PowerGrids, a Colored Gel kit, and a custom Gary Fong Gear bag. The Speed Snoots has a newly designed mounting system for quick, easy attaching/detaching along with a collapsible design for easy storage. The Speed Snoots block light spill, allowing photographers complete control of the light omitted from off-camera flashes. Use one Speed Snoot as a main light and the second Speed Snoot as a hair light along with a Color Gel for dramatic portraits. The Gary Fong Gear bag features a zipper closure and buckled strap making it easy to access it, or attach and remove the Gear Bag from the outside of a current camera bag or backpack. The powerful off camera lighting system inside this compact camera gear bag gives photographers the power to control lighting, turning day into night and dull locations into dynamic settings. The Dramatic Lighting Kis is available for $119.95.
More info on the Dramatic Lighting Kit here.
Polaroid Snap Instant Camera: Polaroid is still cool and they are bringing instant photos back with the new Snap Camera and Zink paper. Turn your Snap Camera on by opening the viewfinder and selecting on of three shooting modes: full color, B/W or sepia. Simply frame your photo and press the red button and the photo begins printing and is saved onto a micro SD card. You can even take another shot while that one is printing (the internal memory can queue up to 10 shots). If you run out of paper simply shoot solely digital. The 3x2 inch prints have peel and stick backs. This 10 megapixel digital camera features a self timer and lets you choose prints with or without a white frame. It can use a Micro SD card up to 32GB and is available in black or white for a retail price of $99.99.
More info on the Polaroid Snap here.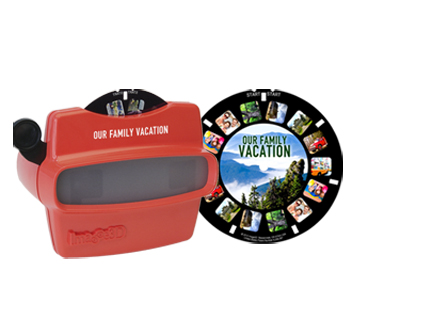 Image3D Custom View-Master Reels: The View-Master toy is a real blast from the past that still has a legion of dedicated fans. Image3D allows users to create their own custom reel using their own images. The process is easy since the template on their website guides you through the process step-by-step. Begin by naming the reel then upload images from your computer to fill the seven frames on the reel (plus one more for the center of the reel)—a selection of background images is also available. The template also allows users to edit images and add text. Prices vary per product chosen (a single reel or a reel and viewer set). A single reel is $23.95 (2-10 reels is $19 each, ect.), a reel and viewer set is $29.95.
More info on Image3D here.
TAMRAC Derechoe Bags: TAMRAC recently introduced the new Derechoe series of urban day shooting bags designed for smaller format mirrorless and compact DSLR camera systems. Derechoe bags are feature durable soft touch webbing, positive locking Fidlock magnetic latches, water resistant PU coated fabrics and strong YKK zippers. The three sizes are optimized for mirrorless camera bodies ranging from compact four thirds up to full frame sensors sizes and a full range of lenses. Each Derechoe bag also includes fully padded tablet sleeves and pockets for the rest of your must have accessories including: your smartphone, keys, a passport and a stylus. Like all new TAMRAC bags, Derechoe line is PVC free and features optimized foams for comfort and protection. Available in two colors (Iron and Truffle) the prices range from $74.95 to $124.95.
Derechoe 3 measures 23x18x11cm and weighs 0.4kg.
Derechoe 5 measures 27x20x13cm and weighs 0.5kg.
Derechoe 8 measures 34x23x13cm and weighs 0.7kg.
More info on the Derechoe line here.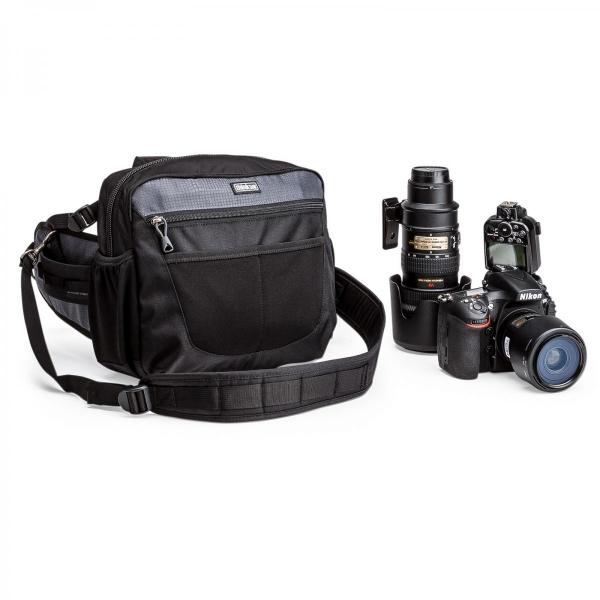 Change Up V2.0: This belt pack from Think Tank Photo easily converts to a chest pack or shoulder bag with a hidden harness system. It can be worn three ways: belt pack, shoulder bag or chest pack. The Change Up is modular component compatible, the built in Modular rails (on the built-in waist strap) add capacity. The bag can fit a standard DSLR and 70 - 200 f/2.8, (detached). It is crafted from durable brushed polyester and ripstop nylon with a polyurethane coating. The Change Up V2.0 measures 11.2x10x5.8 inches and features a Polyurethane coating, Ultra-stretch mesh pockets, 3D Air Mesh, Rock Lockster buckles, YKK RC Fuse (abrasion-resistant) zippers and antique nickel plated metal hardware. The suggested retail price is $146.75.
More info on the Change Up V2.0 bag here.
LATEST VIDEO