Our 5 Photo Gadgets & Gizmos: Filters, Tripods & More
The Cokin 58mm PURE Harmonie Variable Density Neutral Gray Filter: A variable ND filter that provides a reduction of about 1 to 8 stops. The 0.3 to 2.4+ (ND2-ND300) density creates a darkening of the entire image, allowing you to photograph with a wider aperture (or slower shutter speed) than normally required. Control the degree of density by rotating the front filter ring. For easier, repeatable control over density settings, the front ring is also visually demarcated with dots that represent one stop of neutral density.
The EVERCLEAR 5 Coating Technology is a multi-layered anti-reflective coating applied to the filter substrate in order to maintain effective light transmission and suppress surface reflections and flar—the coating provides protection against water, oil, dust, soil, and scratches. This optical glass filter is set in a thin aluminum ring, which measures just 9.5mm-thick. This slender profile is ideally suited for use with wide-angle lenses in order to lessen vignetting. The suggested retail price is $108.99.
More info on the Cokin 58mm Pure Harmonie Variable Density Neutral Gray filter here.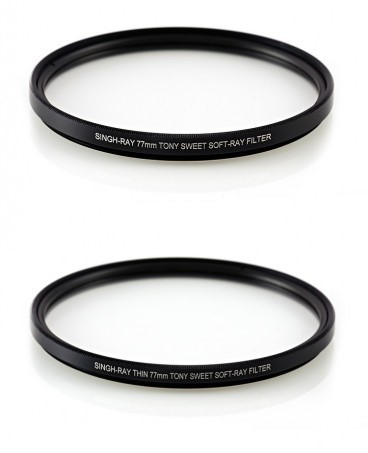 Tony Sweet Soft-Ray Diffusion Filter: This filter was designed to produce a soft ambience from corner to corner and it maybe used with other filters—without losing any detail or contrast. The Soft-Ray creates a muted, diffused artistic look for shots captured both outdoors and indoors. It is ideal for landscapes, close-ups, portraits and to create a romantic feeling for wedding photos (and videos). For added impact, stack the Soft-Ray filter with Singh-Ray's LB Color Combo, Gold-N-Blue or Rowell ND grad filters. The sizes range from 49 to 100mm, prices vary per size.
More info on the Tony Sweet Soft-Ray Diffusion filter here.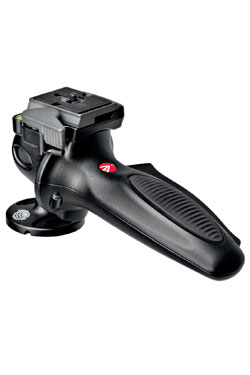 Manfrotto's Joystick Head: The Joystick Head features a single locking lever, 360° panoramic rotation, -3°/ +90° lateral, and -90°/ +90° front tilt. Simply attach your camera to the Joystick Head using the 200PL-14 plate (with ¼ inch male threads). The head to tripod attachment has 3/8 inch female threads. The Joystick Head weighs just 1.4 pounds and can support up to 12.13 pounds. The friction control permits fine framing adjustment and improved camera safety. The stainless steel ball is crafted using a "deep drawing" process that produces a strong, thin-walled, hollow sphere that reduces the weight while increasing the locking power and the ergonomic design is ideal for comfort and precision. The suggested retail price is $199.88.
Mor info on Manfrotto's Joystick head here.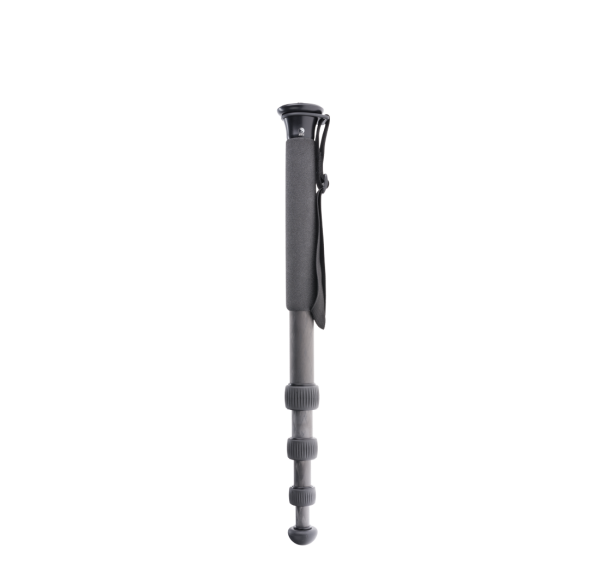 MC-14 Carbon Fiber Monopod: Made in the USA, the MC-14 carbon fiber monopod features advanced leg-lock technology and anti-twist tubing. The MC-Strap is a rotating wrist strap that adds support and security when carrying your monopod. The rubber ball foot has a large diameter teardrop shape that makes positive contact with the ground at virtually any angle. The surface is Anodized for superior wear and corrosion resistance. The twist grip leg extension locks featured textured semi-hard rubber that allows for easy adjustments and a strong grip. The anti-twist leg sections mean each twist lock can be operated independently and the 4-section design provides versatile combination of extended height and compact folded length. The MC-14 has four leg sections, a load capacity of 25 pounds, a max height of 51.4 inches and it weighs 1 pound. The suggested retail price is $320.
More info on the MC-14 carbon fiber monopod here.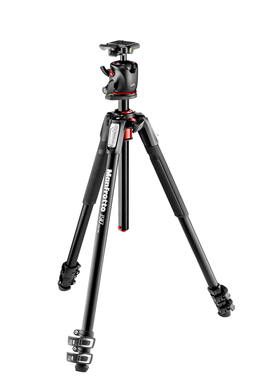 190XPRO3 Tripod With XPRO Ball Head And 200PL Plate: This kit includes a compact 190XPRO3 (3-section) aluminium tripod and a durable ball head. The tripod's 90° center column mechanism allows the column to be extended vertically or horizontally—suitable for many types of photography. The horizontal column mechanism is housed in the tripod's top casting and can be easily extended when needed. Switching between vertical and horizontal column orientation requires no disassembly, and can even be done with a camera attached. The legs are also fast to extend and adjust—thanks to the Quick Power Lock levers that block and unblock each leg section. A bubble level is built in to the top of the center column for precise framing. The bubble level rotates freely around the center column, so it can be positioned easily. The tripod's top casting has an Easy Link connector to support a photo or video accessory (such as an LED light, flash, reflector, or other piece of equipment) on an extending arm or bracket. The new XPRO Ball Head has a triple locking system which guarantees camera position stability, friction control helping the user balance the weight of camera equipment and two leveling bubbles to precisely frame composition. The suggested retail price is $299.99.
More info on the 190XPRO3 by Manfrotto here.
FEATURED VIDEO