Nik Collection 3 Plugins for Photoshop Now Available
DxO just released their third major upgrade to the popular Nik plug-ins for Photoshop. Here's what's new in Nik Collection 3.
Leading the list of features is the newly designed Nik Selective Tool 2, the suite's plugin launcher for Adobe Photoshop. If you use Nik filters frequently, the new tool is a real timesaver.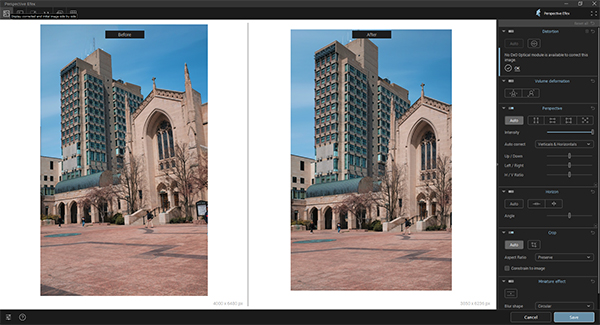 Leveraging the perspective control that has made DxO famous, Nik Collection 3 features an eighth geometric correction plugin, Perspective Efex. In addition to banishing distortion and correcting wayward parallel lines, Perspective Efex includes a Miniature effect option that is shown in the photo at the top of this story.
Nik Collection 3 by DxO also offers a new non-destructive workflow, a feature that is sure to be appreciated by Adobe Lightroom Classic users.
Last but not least, the Message Center enables Nik Collection users to access new online resources and stay informed about upcoming features.
A fully-functional, one-month trial version of Nik Collection 3 by DxO is available on the DxO website. If you've never used Nik, find out what you're missing.
One of our favorite Nik plugins is HDR Efex Pro 2 as shown on the right-hand side of the shot below of a photographer (me) at the Jersey Shore back in the days when masks were worn mostly by raccoons and cartoon bank robbers.
Intermediate Upgrades
For a look at the new features that were added in Nik Collection 2.5, click here to read our review from February 2020. Or to learn about the enhancements made when DxO upgraded the original Nik set to Version 2.0, click here.
Price and Availability
The Nik Collection 3 by DxO (Windows and Mac) is now available for download on the DxO website for the introductory price of $99.99 (instead of $149) and $59.99 (instead of $79) for the upgrade until June 30, 2020.
Upgrade Opportunity
Folks who already own Nik Collection 2 By DxO or a previous version can upgrade their software by logging into their customer accounts. A fully-functional, one-month trial version of Nik Collection 3 by DxO is available on the DxO website.
—Jon Sienkiewicz