Meg Smith: Capturing the Spirit of the Moment
All photos by Meg Smith
Meg Smith's wedding photography goes beyond the typically posed portraits--she has a gift for capturing special, intimate moments throughout the event, resulting in some very memorable images. Her attitude, which translates to her images is, "Weddings are fun--they're celebrations!" During the eight years she's done weddings, this Napa-based photographer has traveled the world, shooting weddings in locations such as Nantucket, the Hamptons, and even "the Bahamas a few times." At the time of our interview, she was looking forward to photographing a wedding in the West Indies. Her images have been featured on Television's VH-1 News and Entertainment Tonight. She's photographed celebrity weddings for InStyle magazine, and her work appears regularly in Martha Stewart Weddings. Additionally, her seemingly effortless photographic style has graced the pages of The New York Times, Town & Country, and Vera Wang On Weddings.
A romantic view of a couple in Napa Valley (who had actually eloped).
Discovering Her Niche
"What inspires me to keep shooting weddings is the positive feedback. These couples really appreciate the work," Smith says, adding that she felt this wasn't the case with her first foray into photography. Born and raised in the Napa Valley in a wine-making family, she started her career by shooting advertising photos for the wine trade: "Wine bottles, the winemaker--it was boring just taking pictures to sell something."

Nonetheless, she enjoyed photography and decided to explore her options. She says, "When I first shot weddings, I thought formal posing was how it was supposed to be." But she wasn't "artistically satisfied" with the results and wanted to do art photography on the side to express her creativity.
| | |
| --- | --- |
| | |
| A happy "little man," applauding for the bride and groom. | A bride and groom dance at their reception in Malibu (this image was taken in available light). |
As an art history major at UC Berkeley, she did a documentary series of photographs, and concluded, "that's how I wanted to approach weddings." Today, she jokes, "My background in wedding photography was shooting riots."

Smith's parents were against her wishes to go to photography school, but she now acknowledges, "I think my fine art background sets me apart." She's learned (and continues to explore) much about various artists, photographers, and their work--"to see the Masters who started it all." According to Smith, she learned photography "from the school of hard knocks."
A bride in the doorway of an old mission in Sonoma, where the wedding was going to take place.
After college, she began assisting a National Geographic photographer, Charles O'Rear, who had recently moved to Napa. Not long after moving to this region, she says, he shot the "largest collection of wine photography in the world." She recalls that this lighting specialist used creative techniques such as flashlight, and flash with specular highlights to achieve his style. Although she learned much from him, she notes, "Ironically, now I use mostly natural light," as it gives the viewer "more of a feeling of being there." Occasionally, she says, she'll use some very subtle flash.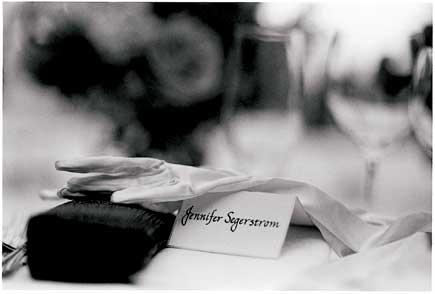 Smith says she loves to photograph details, as they help tell the story of the couple's special day.
Also, she says her unobtrusive style lends itself better to natural lighting. Smith doesn't like to be disruptive with "flash going off in people's face." She also prefers "to capture events as they happen, instead of stopping the action." She says that she often wears tasteful, black outfits to shoot weddings. "It's another way that I can be more invisible." This low-key approach moved one grateful bride to write to Smith after the wedding, "...We were afraid we would feel like we were being pursued by paparazzi, but you were subtle enough so that we hardly noticed you, and you still managed to to be everywhere!" According to Smith, another way she achieves this is to "hide behind people's shoulders. It's also a framing technique."
FEATURED VIDEO