Fujifilm's FinePix S100FS; Capturing A "Digital Film" Look Page 2
For the diehard purist, the big question is whether or not Fuji provides the digital equivalent of Provia and Velvia. I shot a series of images at the playground using FSB mode and you can see the results on these pages. Since I have no control over the size of these comparison files and there are the inevitable variations in reproduction from one copy of this magazine to another, use the text as your guide rather than the actual reproduction. The answer to that "big question" is that it's close enough for most people. The emulation found in Alien Skin Software's (www.alienskin.com) Exposure 2 is similar to what the S100FS produces, but that Photoshop compatible plug-in also offers emulations for Velvia 50, 100, and 100F film, with and without grain, something Fujifilm's own simulation does not provide.

Studio photography turned out to be a challenge. The S100FS offers both Portrait and Soft modes and I was able to make some nice available light portraits using Soft mode, but when I tried to use the camera in my studio I ran into problems. The camera has a hot shoe but it refused to function with Booth Photographic's (www.boothphoto.com) Flash Waves wireless transmitter that works perfectly with all my other hot shoe cameras. I tried the slave on my monolight, hoping to trip it using the S100FS' pop-up flash, but the camera's pre-flash fired the monolight first. In the meantime, I made a few portraits using higher ISOs and softened the camera's built-in flash with Speedotron's LightSox Flash Diffuser. The only studio solution might be to connect a sync cord from the camera to the light, but alas the S100FS does not have a built-in PC (Prontor-Compur) connection. I was not able to test it with a hot shoe to PC adapter and would be surprised if it did not work. Tip: Because of the high voltages across the tip of a sync cord, using a cheapo adapter might fry the electronics inside your digicam, so it's a good idea to use one that, like Booth Photographic's High Voltage Safe Hot Shoe Adapter, only allows 3v to touch the camera's sync circuit.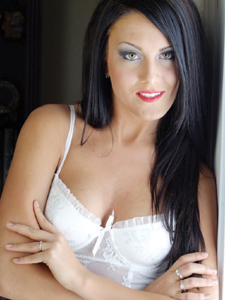 A combination of Diana Lareé's (www.dianalaree.com) makeup skills and the S100FS' Soft setting eliminated the need for any retouching on this available light photograph of Shayna. The camera's built-in Face Detection worked great picking out the facial area and making sure it was sharp. Light was from the window at camera left and was filled using the gold side of a Flashpoint (www.adorama.com) 5-in-1 reflector. Exposure was 1/100 sec at f/4 in Program mode at ISO 400 with a +1-stop exposure compensation to open any shadows.
© 2008, Joe Farace, All Rights Reserved
While the S100FS does not officially offer a digital Infrared mode, like many Fuji cameras I've tested in the past, it is responsive to the use of IR filters. The lens accepts 67mm filters but all I had that would fit the camera was an A-series Cokin 007 infrared filter. I could have used it in a Cokin filter holder with a 67mm adapter ring but was concerned about pollution from "normal" light coming in the sides of the holder. Instead I held the filter in front of the lens with my fingers. Because you'll need to remove the lens hood there is always the possibility of flare and reflections and I experienced some of those problems and so made sure to shoot more than one exposure of each shot. Since I was bracketing (in Manual mode) anyway, that was not a biggie.

The good news is that the Fujifilm FinePix S100FS is a well designed, high-quality electronic viewfinder camera with almost unlimited imaging capabilities. The bad news is that all these capabilities have the possibility of confusing the newbie who's just upgrading from a point-and-shoot camera. After all, what good is having Dynamic Range Bracketing capabilities if the user doesn't know what HDR is and when they might want to use it? On the other hand, if users of any background are willing to slog through a so-so, no index User's Guide, they will discover that the FinePix S100FS is highly capable and its ability to capture interesting and challenging images appears limitless.
Spring is late arriving in Colorado and the deciduous trees surrounding Barr Lake have not yet sprouted leaves to produce the trademark "white foliage" infrared look, yet this is clearly a digital infrared image and was captured with a Cokin 007 (87B) filter placed in front of the lens. Exposure was 2 seconds at f/8 and ISO 200.
© 2008, Joe Farace, All Rights Reserved
Technical Specifications
Number Of Effective Pixels: 11.1 million pixels
CCD Sensor: 2/3" Super CCD HR
Lens: Fujinon 14.3x optical zoom lens, f/2.8-5.3
Lens Focal Length: 101.5mm (equivalent to 28-400mm on a 35mm camera)
Aperture: f/2.8-f/11 (wide)/f/5.3-f/11 (telephoto)
Exposure Control: TTL 256 zones metering
Exposure Modes: Programmed AE, Aperture-Priority AE, Shutter-Priority AE, Manual
Image Stabilizer: Lens-shift type
Shutter Speed: Auto mode--1/4 sec to 1/4000 sec; all other modes--30 seconds to 1/4000 sec; Bulb mode--up to 30 seconds
Continuous Shooting: Top-7--max. 3 fps, CCD-Raw--Top-3; High-Speed Top-50--max. 7 fps, 3M pixels; Last 7--max. 3 fps, CCD-Raw--Last-3
Focus: Autofocus (Area, Multi, Center)/Continuous AF/Manual focus; one-push AF mode included; AF assist illuminator available
Power Supply: Rechargeable NP-140 lithium ion battery (included)/AC power adapter AC-84V (sold separately)
Dimensions: 5.3x3.7x5.9"
Weight: 32.4 oz (excluding accessories, batteries, and memory card)
Price: $799.95

For more information, contact Fujifilm U.S.A., Inc., 200 Summit Lake Dr., Floor 2, Valhalla, NY 10595; (800) 755-3854; www.fujifilmusa.com.
FEATURED VIDEO