Covering The Photo Beat: Makeovers, Albuming, Straps & More
Free ArcSoft Perfect365 Software For One-Touch Photo Makeovers
Perfect365 is a free photo makeover software application that lets you easily adjust up to 21 facial features on pictures and portraits with the touch of a button. The patented imaging and facial recognition technology offers fast cleanup with accurate, natural results. Style makeup templates are included for various looks with the ability to fine-tune according to your preference. Perfect365 is available as a free download for Windows. An enhanced version for Windows that allows you to save and print high-resolution images is available for $29.99. Versions for the iPhone and iPad are currently available and the Facebook and Mac versions will be available soon.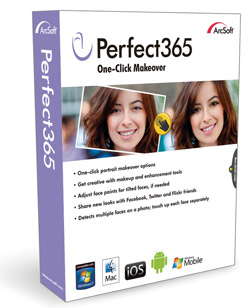 Contact: www.arcsoft.com, www.perfect365.com.
FotoAlbum 7.0 From FotoTime
This latest version of FotoAlbum software offers major enhancements that include Facebook integration, PDF management, and support for the Microsoft SQL Server database. FotoAlbum 7.0 allows you to upload images directly to your Facebook account. The software also provides better metadata searching by importing all photo metadata into its library database, and searches can be done instantly on nearly any EXIF, IPTC, or XMP metadata value. You can also create smart albums that are built from saved searches and automatically add or remove images as metadata is uploaded. FotoAlbum 7.0 also supports the Microsoft SQL Server for library storage. You may download the program directly from the website.
Contact: www.fototime.com.
Hoodman Raw Steel USB 3.0 UDMA Card Reader
The rugged Raw Steel USB 3.0 UDMA card reader provides time-saving 5GB/s data transfer of CompactFlash or SD cards. This device features Pin Guard, an innovative drop-down door that protects the reader pins until a CompactFlash card is inserted into the device. Raw Steel is backward compatible with USB 2.0 systems and supports CompactFlash, SD, SDHC, SDXC, and UHS-1 memory cards. It also has a detachable 36" USB 3.0 cable. The suggested retail price is $49.99.
Contact: www.hoodmanusa.com.
Induro Heavy-Duty BHL Ball Heads
Induro's low-profile BHL-Series ball heads were designed for use with most popular professional camera systems. They provide secure, steady support for heavy camera bodies and lenses. Constructed from advanced composite materials, the BHL-Series ball heads are nearly 20 percent lighter and 15 percent more compact than other devices yet they support significantly more weight. They feature oversized head lock knobs with integrated lock limiter tension control, independent panning action lock, and an Arca-Swiss-style quick-release system with double safety lock. A built-in bubble level is also included for accurate camera alignment. There are three sizes available and prices range from $192 to $311.
Contact: www.indurogear.com, www.macgroupus.com.
The BosTail From BosStrap
Designed to prevent damage caused by hanging your camera from the tripod socket, the durable BosTail is made in the U.S.A. and can support over 60 lbs. It easily attaches to the left side eyelet or strap lug of the camera body and can be used with any sling-style camera strap. The BosTail adjusts from 2" to 4" to accommodate different camera body heights and carrying configurations. The suggested price is $6.95.
Contact: www.BosStrap.com.
The Andy Biggs Safari Rig
Really Right Stuff (RRS) partnered with renowned photographer and African safari guide Andy Biggs to create this innovative, low-profile system for use inside safari vehicles. The rig connects to an RRS MC-34 Monopod via a low-profile collar and can be secured to handrails up to 3.5" in diameter. The recently developed Ball Clamp makes disconnecting the monopod fast and easy. The versatile Andy Biggs Safari Rig can also be used at sporting events, concerts, and other venues. It is crafted from Type II anodized aluminum parts, features multiple threaded sockets for a wide variety of configurations, and the Ball Clamp can be used as a stand-alone ball head. There are multiple package options to choose from. The Safari Clamp weighs 7.5 oz and costs $110, the Safari Ball Clamp weighs 4.1 oz and costs $130, and the Safari Collar weighs 1.5 oz and costs $60.
Contact: www.reallyrightstuff.com.
The 2 Sues Bag From Kelly Moore
The 2 Sues Bag is designed for professional photographers who want a durable, stylish, and highly functional gear bag. Measuring 14x5.5x13", the front features two 5x6" zipper pockets and two 5.5x5.5" magnetic snap pockets. The back of the bag has one 9.5x5.5" zipper pocket and one 7x8" memory card wallet. The inside offers light, removable touch-fastener dividers and is large enough to accommodate a lens up to 10", a pro camera body or standard body plus grip. Other features include a removable shoulder strap, a removable long messenger strap, antique brass hardware, and a shoulder pad. The bag is available in gray, raspberry, black, or mustard with a retail price of $199.
Contact: www.kellymoorebag.com.
To submit information for Roundup, please contact our New Products Editor by e-mail at: Cynthia.Boylan@sorc.com or regular mail at: Shutterbug Magazine, 1415 Chaffee Dr., Ste. #10, Titusville, FL 32780.
FEATURED VIDEO