Bil Zelman Shapes His Light; He Adds And Subtracts Light For Added Dimension
"My look is all about capturing a natural quality in the person I'm portraying," Bil Zelman observes. "I find that strobe is very distracting for people." That doesn't mean that Zelman entirely shuns strobe. On the contrary, he'll use it, but more often than not chooses available light to imbue the shot with the quality he's after. As we'll see in one shoot of country singer Taylor Swift, he began with an entire strobe setup, then quickly abandoned it, sensing it didn't have the right vibe. He concluded by moving the artist to a quiet corner lit only by ambient lighting, with a few added touches to enhance contrast.

Zelman (www.zelmanstudios.com) specializes in what he describes as "emotive and passionate people photography." A key part of his talent is being able to connect with the various personalities he photographs, and that leads to portraits that capture the person in the moment. The focus of Zelman's work is editorial, commercial, and music industry (CDs and press) applications.
Client: Taylor Guitars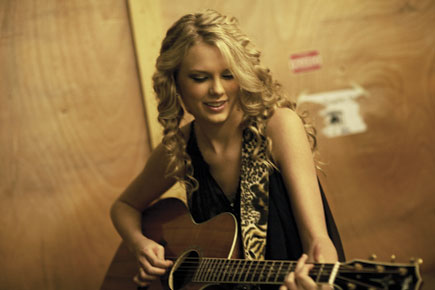 Bil Zelman photographed country singer Taylor Swift backstage for a poster, prior to a live performance (with other shots taken while she was onstage). He'd originally set up four strobes, an Octabank, and a seamless backdrop but abandoned that, realizing it felt lit—not natural. Instead he moved her to a different location and used the overhead fluorescent lights (originally neutral-balanced), but added black cloths off to the left and in front to pull back some light and add contrast. He then warmed up the shot in post. Camera/lens: Canon EOS 5D Mark II and a 50mm f/1.2 lens; exposure: f/2.8 at 1⁄160 sec (ISO 640). (Agency: MiresBall.)
All Photos © 2010, Bil Zelman, All Rights Reserved
Zelman, a pro shooter for about 10 years, began his photographic career soon after graduating from the State University of New York at Buffalo, where he studied photography. Impatient to get his feet wet on his own and to start photographing people in earnest, he assisted for only a short period before opening his own 4000-square-foot studio. Based in San Diego, Zelman soon realized that practically all his time was spent on location, which made the studio a redundant expense. In fact, at the time of this interview he was preparing for a photo assignment that would take him to four different cities across the US.
Client: Risen Magazine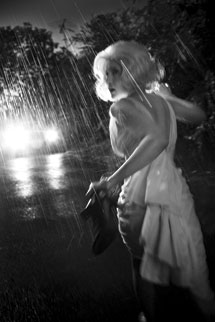 "I wanted to portray this new vocal artist/musician in a unique fashion," Bil Zelman recalls. So he created a Hitchcock-like scenario with this young woman running toward a mysterious vehicle in the rain. The studio outfitted her in a 1950s wardrobe, complete with wig. A hired rain truck added the inclement element, while also wetting down the road in advance of the shoot. "Rain, like smoke, looks better backlit," Zelman points out, so that was the lighting used with the help of two Arri tungsten spotlights. "Running with me, as I tracked the singer's movements, is my assistant holding an umbrella over my head. The assistant also held a small reflector to bounce light back onto her for fill." Camera/lens: Canon EOS 5D Mark II and a 35mm lens.
Operating outside New York and Los Angeles, Zelman points out, "is always an uphill battle if you're going to be a people shooter catering to the music industry." He adds: "You never get discovered. Building a career is a step-by-step process. I've always mixed a good amount of personal (self-motivated) work in with my portfolio so I'm shooting all the time." That and tireless self-promotion directed at the right people (graphic designers and art directors) are pivotal success elements. He works with design shop Savacool Secviar (www.savacoolsecviar.com) to create award-winning promotions.
Client: Personal/Test Shot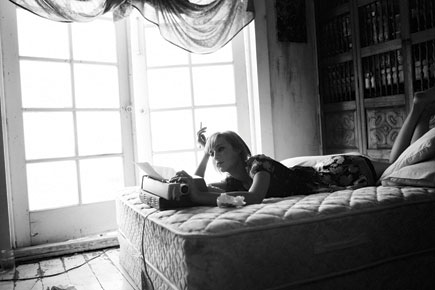 "I wanted to create a moody scene of this girl writing a letter on a vintage typewriter," Bil Zelman recalls. To block out the scene outside and at the same time create a romantic atmosphere with soft lighting, Zelman used a silk as a window covering, which also provided a suitable backdrop. He then added two large reflectors inside to reflect the light back onto the scene. He also used Alien Skin's Exposure 2 to add film grain and a moody touch. Camera/lens: Canon EOS 5D Mark II and a 35mm lens; exposure: f/2.8 at 1⁄125 sec (ISO 640).
Shooting Film And Digital
Much of Zelman's digital work is done with a Canon EOS-1Ds Mark III or EOS 5D Mark II, although he's also employed rented Hasselblads. His Canon lenses center on fast, fixed-focal-length optics—a necessary choice for available light shooting (28mm f/1.8, 35mm f/1.2, 50mm f/1.2, 85mm f/1.2, 135mm f/2, all the tilt-shifts), plus a couple of zooms, namely the 17-35mm f/2.8 and 70-200mm f/2.8. "Ninety to 95 percent of what I shoot is with a 50mm or 85mm lens."