These Are 10 of the Most Incredible Aerial Photos Captured by Drones Over the Past Year
Big Buddha, Ushiku Daibutsuby, Japan ©cliechti
Drones are becoming an increasingly popular tool among photographers looking for a unique aerial perspective that in the past was only possible from an airplane or at least a very tall building. The images you see here are 10 of the most incredible drone photos of 2016.
Red chili farmer, Guntur, India ©Aurobird
Selected by the Dronestagram, a popular social network with over 600 million drone enthusiasts, these images are among those deemed by the Dronestagram team to be the 20 Best Drone Photos of 2016.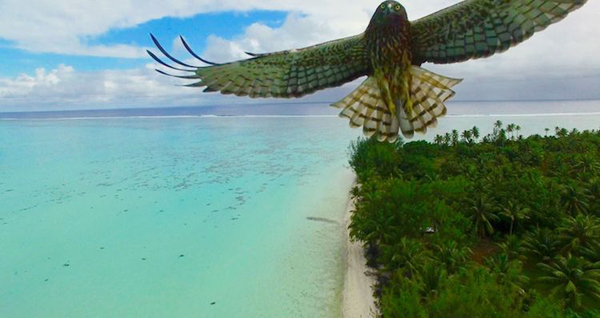 Bird attack, French Polynesia ©Actua Drone
Last summer Dronestagram teamed up with National Geographic to reveal winners of the third annual International Drone Photography Contest, which received more than 6,000 images from across the globe.
Niagara Falls, New York State , USA ©ryanjones
Entries for the International Drone Photography contest were submitted by amateur and professional photographers alike.
Bogata Forest, Transylvania, Romania ©Calin Stan
Contest entries were judged on creativity and photographic quality by an expert panel that included National Geographic Deputy Director Patrick Witty as well as Emanuela Ascoli, Photo Editor of National Geographic France and Dronestagram.
Cable Beach, Australia ©Todd Kennedy
The top 20 drone photos selected by Dronestagram highlight the beauty of aerial photography in a variety of categories, including agriculture, sports, wildlife, landscapes, cultural heritage, people, and romantic moments.
Basiilica of St. Francis of Assisi, Umbria, Italy ©fcattuto
You clearly don't have to be a "dronist" to appreciate the fine quality and composition of these stunning images. As the folks at Dronestagram told the entrants, "On behalf of the whole team, we would like to thank you for showing the world the power of drones."
Summer Camp, Amadores, Gran Canaria, Spain ©Karolis Janulis
You can see Dronestagram's top 20 photos of 2016 on their website, and read more about the International Drone Photography Contest and see all the winning entries here.
Swarm of sheep, Romania ©Thedon
And after you've caught your breath, be sure to read our earlier article about drone photographers who created an epic aerial battle that looks like it's straight out of a Star Wars film.
Copacabana, Rio de Janeiro, Brazil ©Ulysses Pasilha